This Costa Rican paradise house designed by Paravant Architects incorporates indoor and outdoor living into its sleek, contemporary design. The resort feel of Villa Areopagus combines luxury with a laid-back mood that invites you to kick back, relax, and enjoy the view here in Atenas, Costa Rica. Here's the grand tour!

The street side of the home is entirely closed off, allowing for total privacy. In contrast, the south facade is completely open, featuring a sheltered alfresco lounging area facing the lap pool, and sliding floor-to-ceiling glass doors that lead into the living room. On the horizon, the rainforest and mountains provide a breathtaking focal point visible from indoors and out.


The complex composition of the home features exposed dark pillars and beams supporting the roof and framing the windows. This framing brings some structure to the otherwise light design where traditional walls are replaced with glass, or where the walls disappear altogether!
The exposed dark beams overhead seamlessly work their way inside, running across the vaulted ceilings of this vast, open space. By day interiors are flooded with natural light, but when the sun sets, pot lights keep the look clean while washing the home with warm ambient light.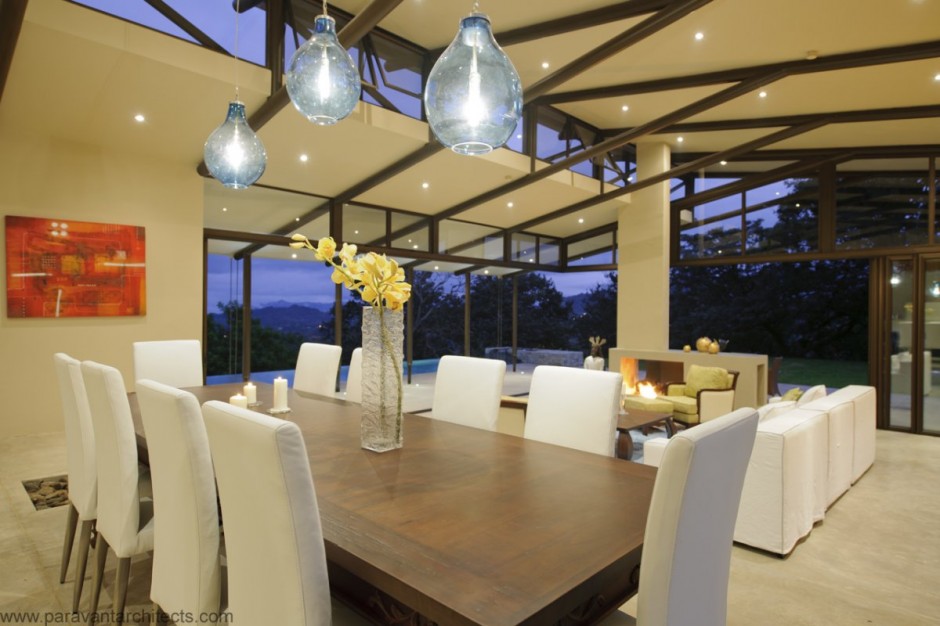 Interiors are simple in their style, with minimal furnishings that enhance the home's expansive area. Nooks built into the interior walls are illuminated, adding some visual interest. A contemporary fireplace becomes a piece of modern art at the heart of this home.


Paravant Architects
Via Contemporist