Located by the waters in Belarus, this contemporary residence shows generous open spaces with a lot of natural light. The architects, Anna and Stanislav Makeev, have paid a lot of attention to materials and details, creating a sleek design with elegant accents. The house is structured on three floors, with the top floor dedicated to the night area, the middle floor to the day time activities, and the underground for the spa. The main floor is an open space containing the kitchen, the dining area and the sitting and entertainment areas. This space also opens to big outdoor balconies, where extra dining and sitting spots have been created. In term of colors and materials, this space remains cool and neutral with white walls, creamy tiled floors and glossy white doors. The touch of color is brought in by the fabrics, with acid greens and royal blues. Big open spaces have been allocated to the kitchen and dining area, which is the main social spot of the house. The L-shaped layout and the large island create a lot of storage and work surfaces. The island has a double function as breakfast counter or bar.

The living room is the statement piece of the house. The space is minimally furnished, with the accent on the glossy white piano and the two organically shaped blue armchairs, set on a beautiful blue and floral area rug. The fireplace and long white board create just a background for these central pieces.


An additional sitting room completes the footprint of this floor, with a lounge sofa and a low table, along with views on the water and access to the adjacent terrace.


The kitchen is an important area, with sleek glossy white furniture and stainless steels accents. The circulation around this place is facilitated by the large spaces around the furniture, making it the social spot of the house.


The dining area brings a splash of color to the otherwise immaculate white of the kitchen.The acid green upholstered chairs around the glossy white dining table create a refreshing and invigorating atmosphere. A pendant lamp made of a series of transparent glass cones with a white rim hang low above the center of the table.


Going up the glass rail staircase, the atmosphere becomes warmer and cozier. The floor is covered with red cedar wood.


The master bedroom is elegant with a rich wallpaper on the walls, a white chandelier and a white leather bed.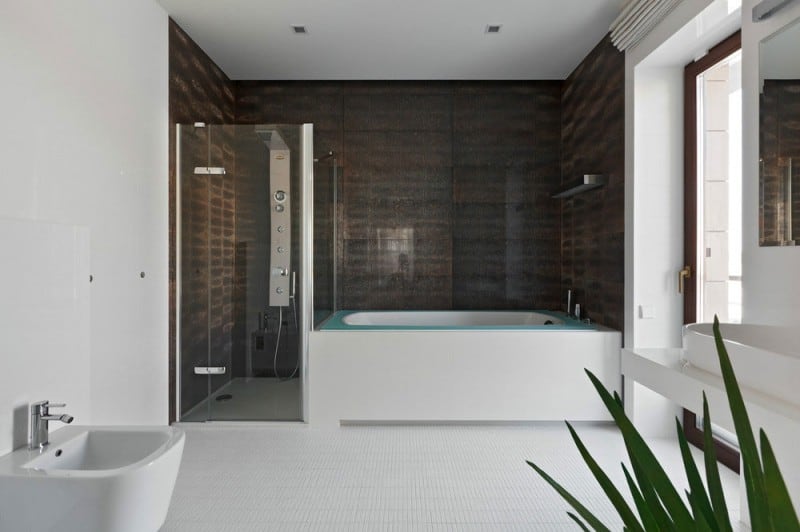 The en suite bathroom keeps with the same elegant atmosphere and color scheme, with the walls lined in rusty copper tiles with a textured surface.


The guest toilet makes a statement with its black quartz counter and the printed glass panels on the walls.


The pool sits under arched ceilings on the underground floor, with its intense blue mosaic lining. A very three-dimensional splash of blue and green on the wall creates a ultra realistic visual effect.