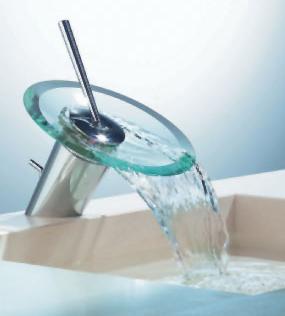 [Contemporary Bathroom Faucet]
The waterfall type faucets are my favorite, and Murano is on the top of the list. If you thought you knew KWC, take another look… at the Murano. It is not that new, it has been around for about a year… but it's original design is still in trend and makes you wonder how did they came up with it…. The KWC Murano, created by legendary director of design for Mercedes-Benz, Bruno Sacco, delivers clear crystal stream of a waterfall. As per RobbReport, "The designers decided to produce a stage for the water itself and to counter today's tendency to design faucets that look like machines. Their idea was to put the water on display and put the product in the background." Simple but elegant. Innovative technology behind the earthy look. It's not just exquisitely looking but it also keeps itself clean thanks to the innovative material called Hansapermatec. Hansapermatec coating is applied to the glass disk and enables the water to roll off easily and eliminate any buildup of mineral deposits. The fitting remains clean and shiny, making cleaning very simple. A moist towel is all that is needed, never use aggressive or scrubbing cleaning agents.
Around $600. KWC
The single lever lavatory mixer (6.5″ in diameter) is shown above. The KWC Murano line also includes the shower head / tub filler, 8″ in diameter and the smaller single lever bidet mixer called PICCOLO, 6″ in diameter.