When it comes to decorating, having an awkward corner can be a true difficulty. There's an air of "what do I place there?" "why doesn't anything look good in that specific space?" the answer is simple: awkward corners are difficult on their own to decorate, but with these ideas decorating will become a breeze. Here are a few redecorating corner ideas that are sure to help guide you along the way.
Embrace Unique Shapes
When selecting furniture for a unique space do not be afraid of going with pieces that seem to not work in a particular room or have a unique shape to them. Having a unique shape will remove the awkwardness of the room while helping you embrace the space in a different kind of way.
Extend a Gallery Wall
If you already have a gallery wall, its time to extend it and fall in love with your awkward corner all over again. Choose artwork and pieces that vary in sizes, shapes and even texture to make a bold impact. This idea works great if your awkward corner is in a smaller space to allow you to have a tighter fit that is still very much daring and bold.
Focus on Additional Seating
Having a corner that does not fit the rest of your décor can be a true pain because of not knowing what décor will work best in that specific area. If you have been meaning to add additional seating while still being cohesive with your décor your corner is the perfect place to do so. The idea is adding two chairs and a small table in order to round off that specific corner.
Consider a Window Seat
Just like two chairs will work great in that area, adding a window seat will as well. You can create custom display by having your window seat perfectly match with what you already have going on or you can consider a bold move by thinking outside of the box and going the modern route. The modern route will allow you to go bold exactly when and where you need it.
Lighting
When in doubt, add a light fixture. Sometimes all a room needs is the ability to feel grand by looking up. Creating an upward visual appeal will create a trick on the eye making the room feel larger. This trick will make your corner appear almost as if it wasn't there. Think of it as the ultimate décor fantasy.
Shelving
Another form of bringing visual appeal to a room is by adding shelves. Adding additional storage will not only make the room have a diverse appeal. You can use the shelves to minimize the corner's appeal, display cool objects or simply make the room feel more together. The key is making sure your shelves have a uniqueness to them that flows in the room.
Add a Sofa
Sometimes all a corner really needs is to be embraced. While most of us might want to hide or remove the corner, this idea will help you embrace the space while making sense to the room. Add a stylish sectional for a nestled look that sits perfectly right where you need it while making the room look put together.
Greenery
Greenery is a top contender because of how easy it is to add and remove. If you tend to upgrade your home on a regular basis adding greenery will always come in handy. Not only will you have added color and texture, but you can change your display as the seasons and trends change. Pair plants in different colors, and sizes to make a bold statement exactly where you need it.
Put a Chair
A simple change can do wonders to a room, do not be fooled. Having a chair works because it distracts the eye while adding an additional cozy element. Furthermore, it allows you to have a special place where you can sit down, relax and enjoy a good book or TV show. Additionally, adding a chair works well because you can work it into your décor or make it an accent piece.
Swing It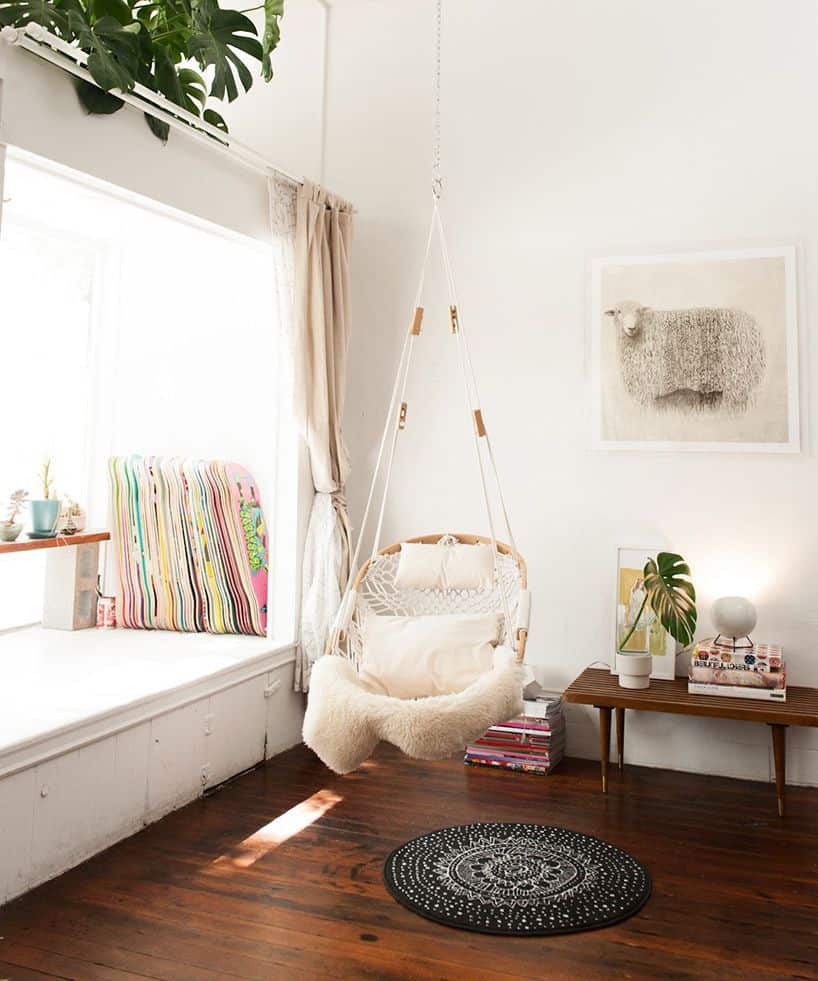 Having a swing is back on trend and we are here for it. If your corner is large enough, consider having a swing incorporated. A swing is a great option when you want to keep the room fresh and airy with just the right amount of décor. Think of it as one of those fun elements that make a room come back to life without the need of numerous elements added at once. Pair with a cushion and throw pillow to emphasize its cozy element.
How do you decorate your awkward corner? Please share with us your ideas below.