When designing your outdoor living room, all you really need is one versatile piece to get you started, like the Palmetto All-Weather Wicker Sectional by Pottery Barn. This alfresco essential offers stylish yet comfortable seating, and its synthetic fibers are made to withstand any weather. And when we said "versatile," this sofa delivers. Offered as a "build your own" piece, the Palmetto's various components can be reconfigured whenever, however and where ever you like. Here are some hot ideas for your outdoor living room, in any season and setting!
No matter what place you call "home," there's a place for the Palmetto. Take it to your beach getaway and create your own little piece of paradise. Set up as a water-front lounging and dining area, this sofa is accessorized with nautical-themed pillows, and coupled with a wicker coffee table and side table for serving up some cocktails and the catch of the day!


Go garden chic and put this sofa among your flowers and foliage. An ottoman makes a casual yet functional coffee table. Colors borrowed from the leaves and blooms are a perfect complement in throw pillows. Overhead, a vibrant green umbrella will shelter you from sun and rain.


Some lanterns transform this from a day-time sitting spot to a softly illuminated setting for your evening soiree.


Do you spend most of your lazy summer days lakefront at the cottage? This year, take Palmetto with you for a cool, casual spot to sit, sip and watch the boats sail by. Lake-side essentials include a mini fridge for pop and brew, and the ottoman is a must to kick back and relax.


On the other hand, stay close to home but feel like you're a million miles away. Transform your porch, patio, deck or balcony into an outdoor oasis. Some billowing sheer curtains and an outdoor rug will create that indoor feeling.


TIP: Add a pop of color with a vibrant rug, and pick up those hues in some couch pillows and tabletop accessories.


The ultimate living room accessory is the fireplace, and regardless if your living room is indoors or out, a fireplace will help make it livable in any season. Set up your Palmetto all-weather sectional in front of the fireplace for a warm and welcoming focal point. In the spring and summer, add vibrant green and floral pillows to echo nature.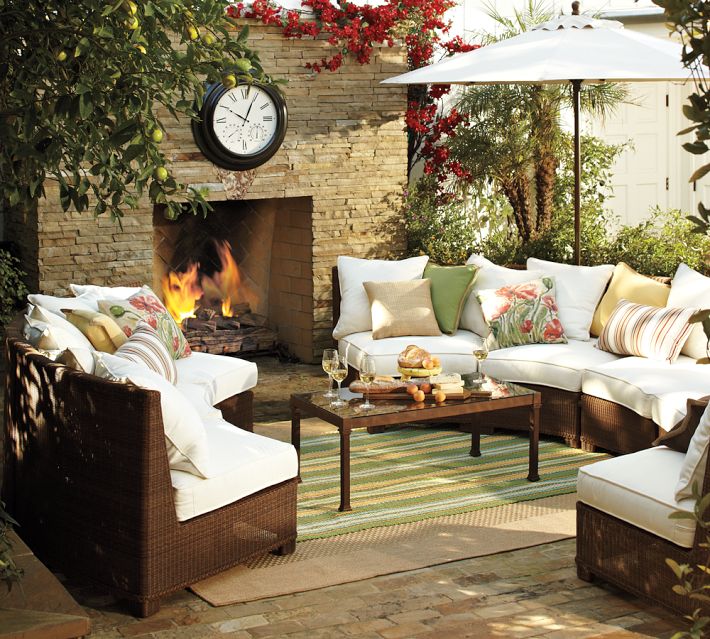 In winter, change to furs, animal prints and themes for a cozy sitting and cuddling spot. Toast marshmallows, sip steaming cocoa and watch the snowflakes dance through the air. All it takes is some garland and twinkling lights to turn this into a holiday hotspot.


For more information, visit Pottery Barn.