Upscale Construction isn't just the name of the company behind this California house – it also aptly describes the high end aesthetic of this cool, clean and contemporary style house here in San Francisco. The original mid-century modern house circa 1940s underwent a total remodel, inside and out, rendering it totally modern through and through, from its rooftop garden and solar panels to its fully integrated basement, and everything in between. The only thing to rival the design of this elegant, three storey family home are its views. Explore, and enjoy!


The bright white window and door trim really pops against the home's warm yet contemporary grey facade. The many windows dotting the exterior invite the outdoors in, but perhaps the best place to take in this stunning view is from this chic outdoor entertaining area. Just imagine sitting, sipping a cool white wine and toasting to the city sprawling at your feet.


Interiors are a perfect reflection of the contemporary facade, featuring a palette of earthy tones for walls and furniture, illuminated by a continuous bank of windows stretching from wall to wall.


This white brick fireplace lends a focal point, if ever you should get tired of the skyline views. It also provides a little privacy to the sitting area tucked behind it within this open concept space.


The ever-present views continue through the dining area, where the neutral choices in color and materials creates a warm, welcoming atmosphere for dining and entertaining. Suspended overhead, these glass globes are equally appreciated for illumination as for interest.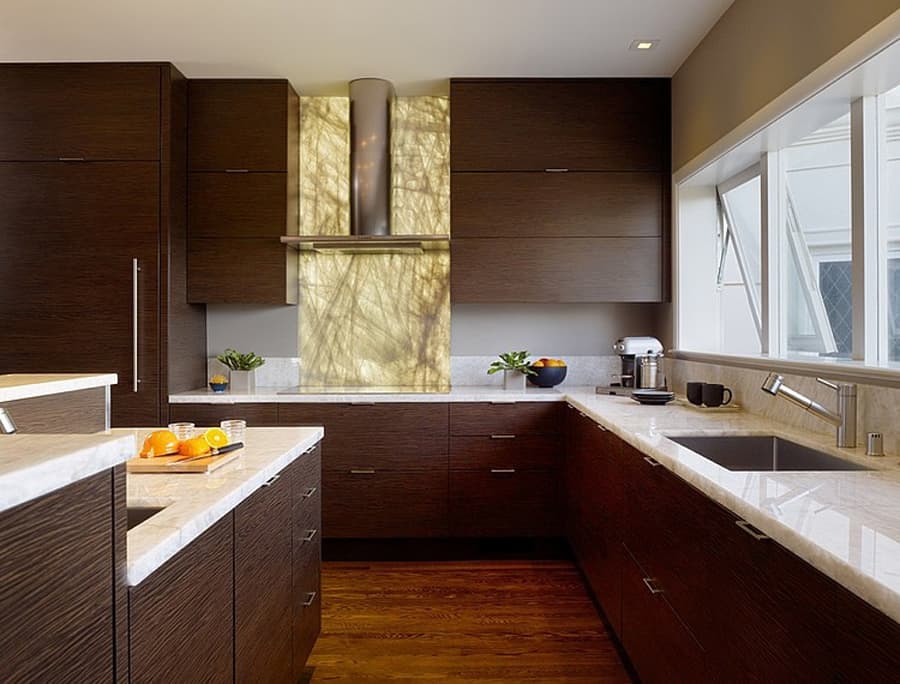 The kitchen is a delicious space indeed, wrapped in rich wood cabinetry with bright pops of marble and outdoor views. The back-lit back splash behind the stove is an instant attention grabber.


Follow the walls of glass up the glazed staircase, which lets natural light and continuous sight lines flow freely through this tri-level home. Contemporary art and lighting highlight refined tastes in style.


This bedroom echoes the home's most awesome elements – a warm atmosphere, modern art, and awe inspiring views.


This bedroom also mirrors the home's characteristically cool aesthetic, though in a very different way, featuring the signature grey and white palette of the exterior, and windows to connect indoors and out.


This bright white bathroom is a spa inspired space, from its chic simplicity and luxurious details (love the freestanding soaker tub and massive shower with marble slab wall) to the serene scenery.


Though smaller in scale, this secondary bathroom doesn't disappoint when it comes to the details!


This bedroom is a dreamy space indeed, featuring a walk-out to the patio overlooking the city.


A little piece of paradise, high above the hustle and bustle below.
Upscale Construction