With numerous different holidays quickly approaching upon us it may be time to re-decorate your living room and give it a warm festive feel. One living room item that will always remain a classic staple in any home is a fireplace. Having a fireplace is always a plus for a living room space not only because it adds a warm, cozy feel that is also elegant, but because it offers an excellent additional decorating space. Give your fireplace a twist by using one of the following country chic ideas that are sure to inspire you to want to add a country feel to your living room.
Rustic Wood Antlers
Antlers are a big part of country décor because they are easy to have an easy to place around the home. They also add the rustic country feel that we aim for when you decide to add a country chic twist to the fireplace. Add different size antlers on the mantle of your fireplace for a fun twist, that is easy to remove if you decide to do so.
Art Pieces
Art is always a great decorative element. It adds personality to the space as well as a unique twist that offers visual appeal.  Instead of having one simple piece of art on the wall above your fireplace have a collection of unique mix and matching pieces. The mix and match aspect of this idea will bring together the chic feel of the room.
Charming Pieces
Select a few charming pieces that speak to you such as owl statues or a few little charming trinkets that give the room a charming feel. The charming aspect of having these pieces on top or surrounding your fireplace is that it makes the space seem more cozy and warm. It will also provide a focal point in the living room. If you really want to add a few charming pieces, consider making them colorful pieces this will make you and your guests directly focus on the fireplace space.
Large Clock
Working with a neutral palette can cause you to think your decorating pieces need to be a certain color or a certain style in order for them to work well in the space. However, neutral palettes are great as you can add color without disrupting the current décor. You can also maintain the entire space neutral and just add bolder richer colors that will enhance what you have. A large clock is a great way of extenuating the current décor you have by being a bold piece that is large and makes a statement.
Smooth Hues

When in doubt paint your fireplace a smooth hue. A smooth hue is considered a neutral tone that is bold yet subtle. Consider an off-white, beige, taupe, or a pastel shade for the best results. These colors will not interrupt your current décor instead they will enhance the space. Painting your fireplace will add a cohesive feel in the room as well. You want the color to stand out against your current wall color.
Masculinity Twist
For a more masculine take on the country chic style paint your fireplace black. Black is a neutral that is also bold and powerful. However, it works well with numerous different shades while providing an edgy twist. It also provides a country old feel that is warm and captivating all at the same time.
Mirror, Mirror on the Wall
Regardless, of the size of your living room or the size of your fireplace, a mirror on the wall above the fireplace will make a huge difference. Mirrors reflect light which in return will cause the space to appear larger and more expandable. You may even want to incorporate multiple different mirrors of numerous different sizes for the best effect. This will give the room a chic twist that works every time.
Pop of Blue
Let's say you don't like the idea of a black fireplace because it's too edgy and the idea of a pastel fireplace seems unoriginal a pop of rustic blue may be exactly what you need. An antique, rustic shade of blue will add character to the fireplace while still being country chic. The color should look and feel aged. Doing so will create a space that chic yet trendy with a bit of a twist.
Shades of Sage
Sage green is a beautiful color to have in your living room space. It is chic while still being bold and even subtle in a way. You can call this color a contradicting shade because it plays well with a multitude of colors while still being considered a bold hue. Paint your fireplace and the wall behind it sage green for the ultimate complimentary take on country chic.
Take Your Fireplace Outdoors
An outdoor fireplace can help you want to spend more time outdoors. The idea is to have something that belongs indoors as part of your outdoor decor. Add a warm effect in your backyard works great for gatherings of family and friends especially during the cooler months. Have an all brick fireplace for the best effect that also adds a bit of country chic to the outdoor space.
Intricate Detail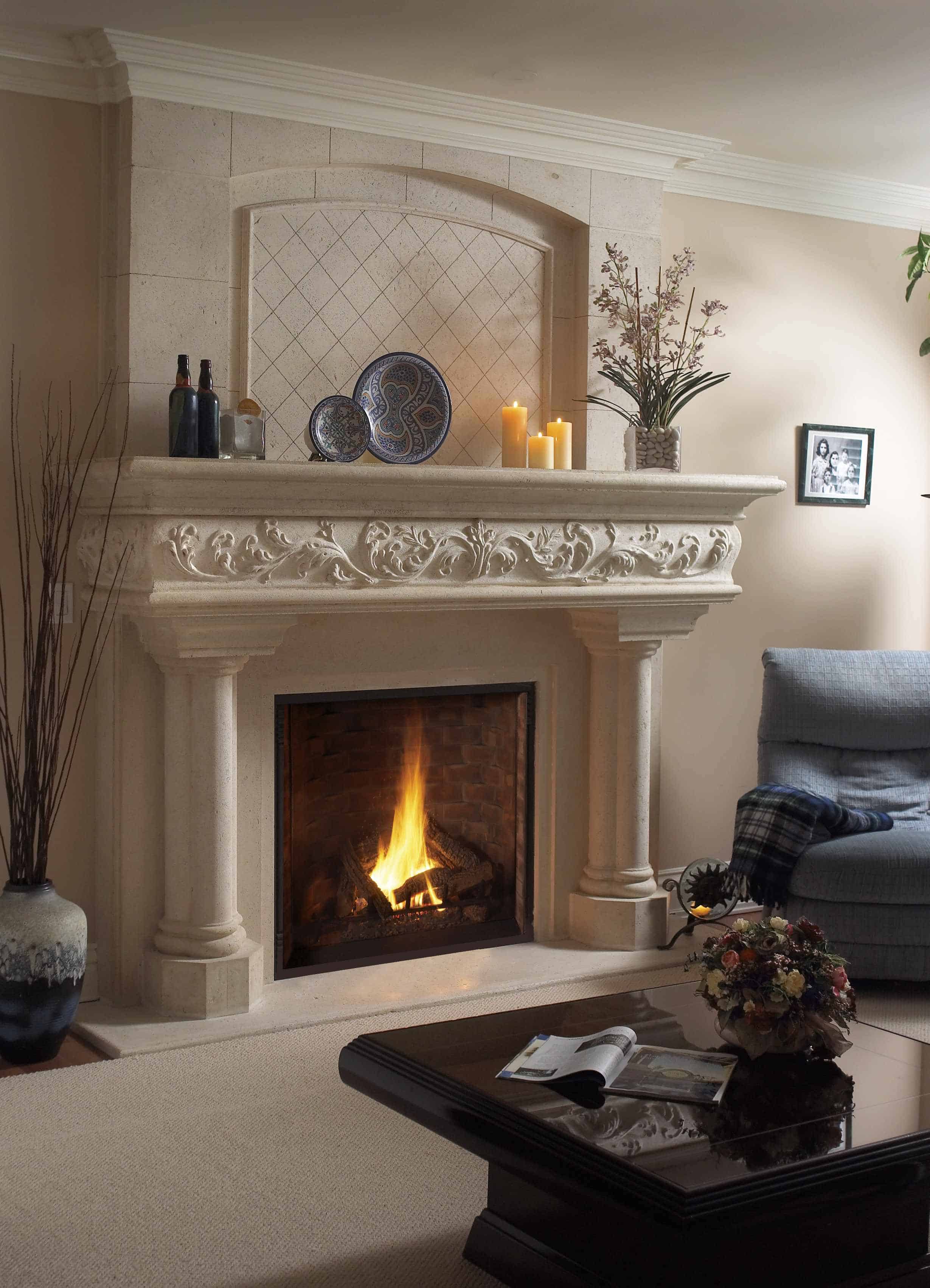 Add an intricate touch to your fireplace by having a professional paint a design onto your fireplace. This will elevate the feel of your simple fireplace. You can have them paint a simple design for a hint of chic or an intricate and elaborate design for a more upscale look. You want the design to be the same color as the fireplace using a different color will not give you the same effect that using the same color will.
Personal Arrangement
Arrange your mantel with personal items such as images, letters, and/or other pieces that resemble you and your family. This will add the personal touch that you want. Do not be afraid of using multiple different items of numerous colors, sizes, and shapes. Doing so will give you a personal area that brings the entire space together. Add a candle or two to bring the entire space together.
Country chic is an excellent decorating style, especially when you want to add a cozy feel to your home. Which one of these will you be incorporating to your fireplace? Please let us know in the comments below.