Fall has officially entered the scene and Halloween is almost here, so it's time to embrace the chiller weather and fall in love with fall decor once again. The fall season is the perfect time to embracing adding cozy decor with a colorful palette. Keeping in mind, that color is huge for fall, we have put together a guide to help you keep up with the latest fall trends for 2019. Our guide isn't only easy but it's an excellent form of inspiring you to update your home.
Heavy Lighting
Fall is the perfect time to spend time outdoors, embrace the cooler weather and fall in love with nature all over again. Hang additional lights on the outside of your home in a colorful array to make your display come to life. It's all about making your outdoors feel twice as welcoming. You want to go heavy on the lighting for the best outcome.
Lightning drama
Keeping with the lighting theme, bring in candles to your home. But not just any candles you want to bring in a large quantity of them so they create a dramatic effect. Bring in darker candles for a bolder touch that makes the room come to life.
Lanterns
Who doesn't love lanterns? Lanterns are excellent decorative pieces to have due to how versatile and easy they are. You can display them, hang them or do both. The idea is to have them make a bright statement without taking away from your original decor. Furthermore, they add a cozy element and fall is all about that.
Mantle with Foliage
Dress up your mantel by bringing in color and foliage. Adding foliage to your mantle works because of how much color and texture it adds without taken away from the Mantles aesthetic. Furthermore, your foliage should have an array of green hues paired with a deeper shade such as berry, red and even orange blended with unique bits of green to truly bring it all together.
Time to Layer
Whether you layer accent pillows in your living room or bring in an additional rug, the idea is to layer as much as you can. Layering creates an added dose of coziness which is exactly what you want from a fall decorated room. You want it to look and feel cozy without being cluttered or overworked. It's about being effortless, without going overboard. Use fall hues and allow them to make the room have a special touch.
Don't Forget the Porch
The porch is extremely important, especially during the fall time. It's one of those places where most spend their time. Take it a step further by bringing a fall vibe. Add a cozy blanket, unique throw pillows and hues of Orange to give your porch a sleek new look. Furthermore, create that indoor/outdoor feel by adding a bench.
Set the Table
While keeping the table set isn't always possible, during the fall months consider keeping it as seamlessly as possible. Set the table with neutral yet fall-inspired pieces so it can look put together the entire time. You want to create a standout piece that still blends with the rest of your home. It's all about keeping your decor flowing even in your formal dining room space.
Cozy up The Fireplace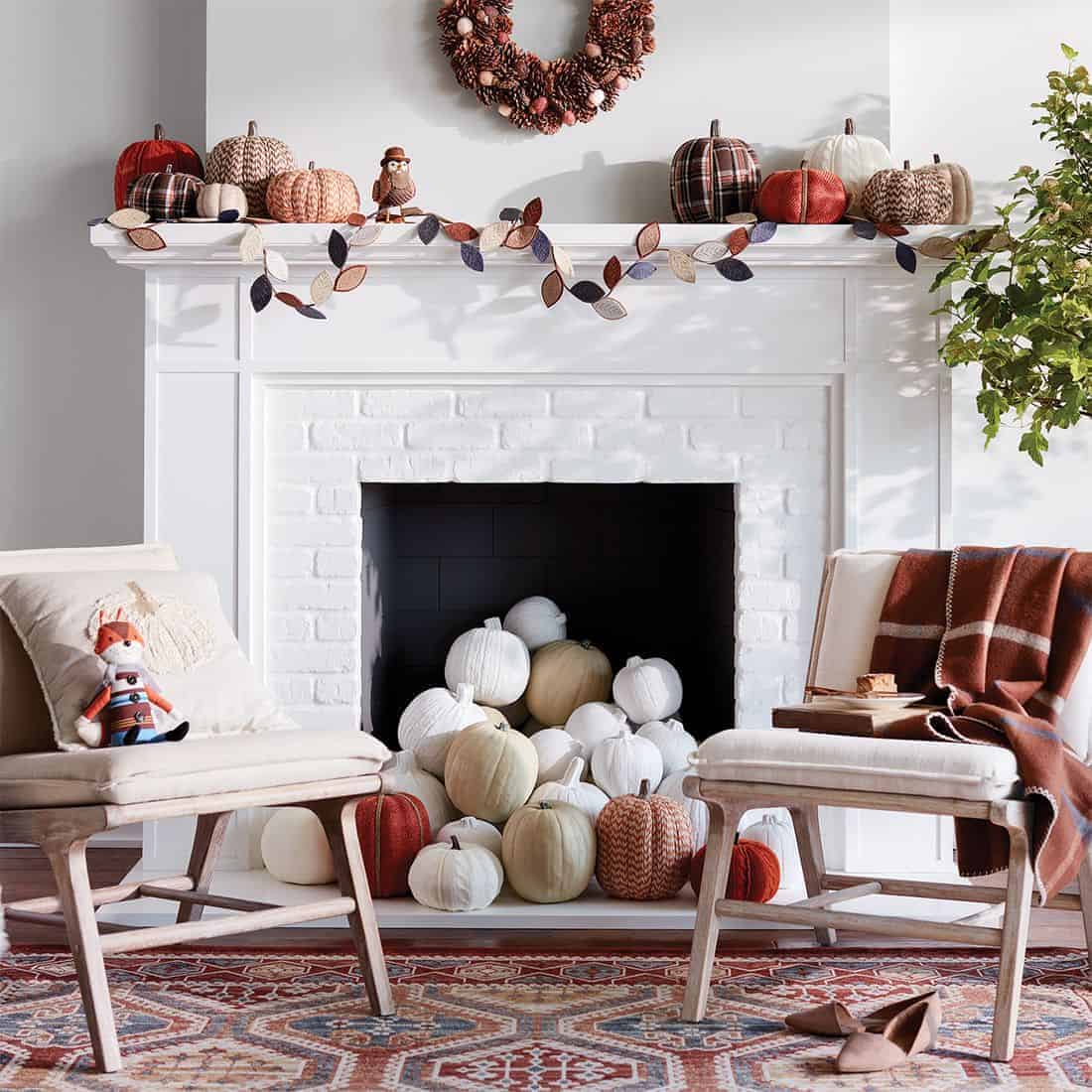 Bring the ultimate cozy element into any room by revamping your fireplace. Let's face it, during the hotter summer months the fireplace doesn't get much use, the reason why it might become dingy and even lackluster during that time. Bring it back to life by adding cozy bits around it or to the mantle for that fall feel that stands out from the rest
Pumpkins
Even though most of us do associate pumpkins with Halloween, they tend to add a whimsical feel. Particularly, when they are painted white. White pumpkins are great to cozy up a room while still being festive. It's a tiny bit of festive that comes to life in small doses, consider bringing in multiple pumpkins in numerous sizes for a contemporary approach.
Moody Hues
This year, it's all about working with moody hues! They are the perfect shades for the fall time. Additionally, they don't take away from the decor you already have. Being in rich hues of berry, plum, green and gold to add that beautiful contrast that is extremely fall-inspired.
Which is these ideas is inspiring you? Share with us below.