Eclectic is the first word that comes to mind when you look at this small house by Aussie architect David Boyle, followed by "saturated," "quirky" and certainly "cool." The architect approached the reno and re-design with a vintage eye, both in terms of aesthetics and actual characteristics of elements used within. Recycled timber and bricks salvaged from the old building add a rustic edge to the clean, modern backdrop of straight lines and high ceilings. Though small, the house packs a big punch with vibrant features like bright furniture, lighting, decor and artwork, which really define the home's unique, unusual character. For more information, visit David Boyle.

Taking center stage in the living area, a 1970s-style fringed curtain features every color in the rainbow – an instant attention-grabber for its vibrant colors and vintage look. A collection of staggered, varied pendant lights are suspended from the double-height ceiling in the living room, visually tying together the upper and lower levels of the main living space.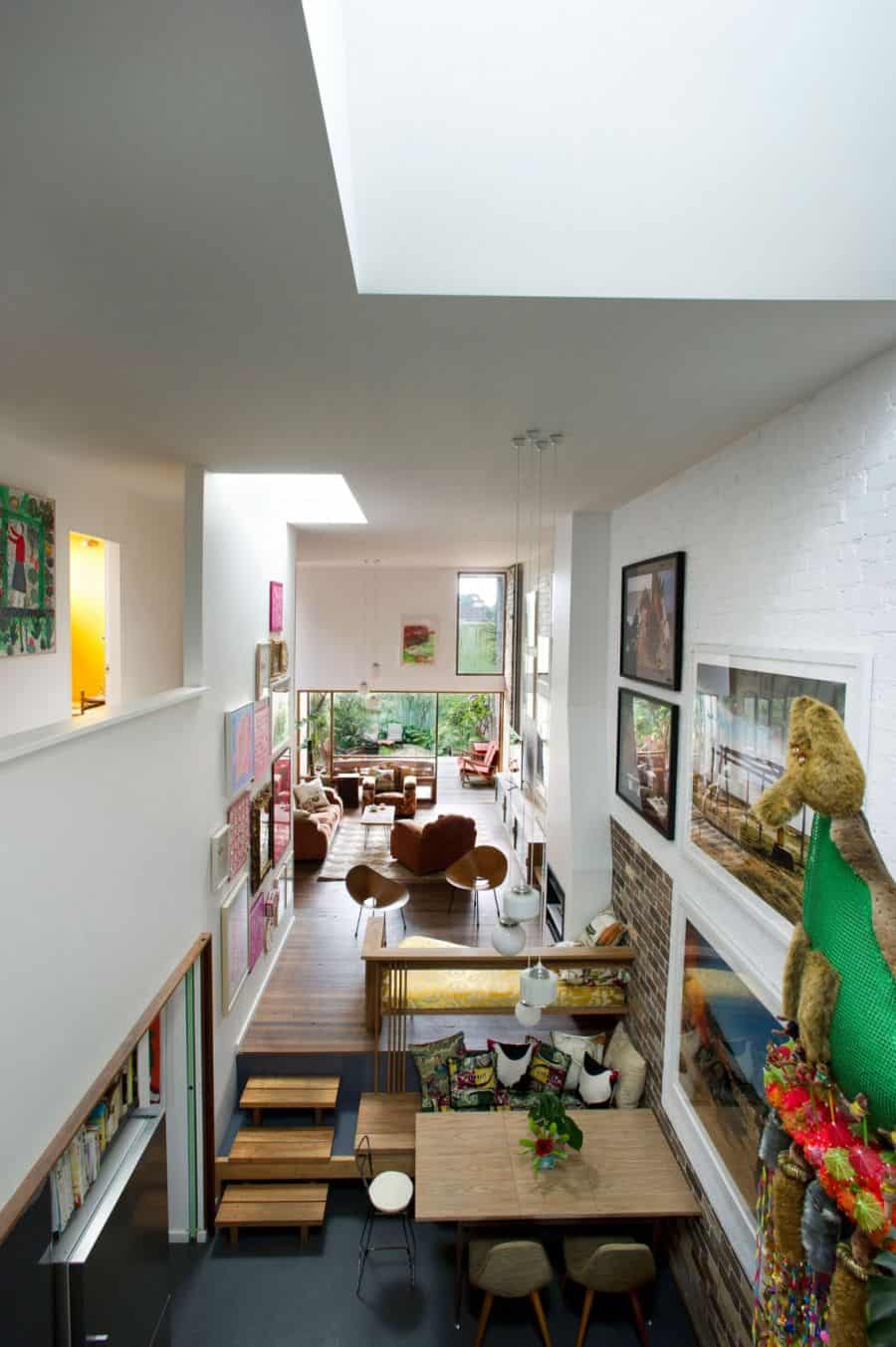 The open upper level really enhances the small home's sense if space and natural light.


The kitchen tucked beneath the upper level loft enjoys intimacy via the partial ceiling, which is finished in exposed wood planks. The warm, rustic wood matches the exposed brick.


Opposite the kitchen, the other end of the living space find itself at the opposite end of the spectrum in look and feel as well. This sitting area takes advantage of the extra-high ceiling to feature a collection of art on its massive white walls. Plenty of windows flood the space with natural light. The furnishings carry the home's characteristic vintage feel, but in a more formal way.


The art matches the overall design – quirky eclectic, downright odd.


An office occupies the upper loft space, which is private, yet connected to the living areas below by a large slatted window.


Well, hello Slim! This tall, skinny library makes the most of its wall space with built-in shelves providing plenty of storage for books and collections.


The view down from the upper level reveals a boldly patterned banquette.


Bathroom bathed in yellow!


For more information visit David Boyle Architect.