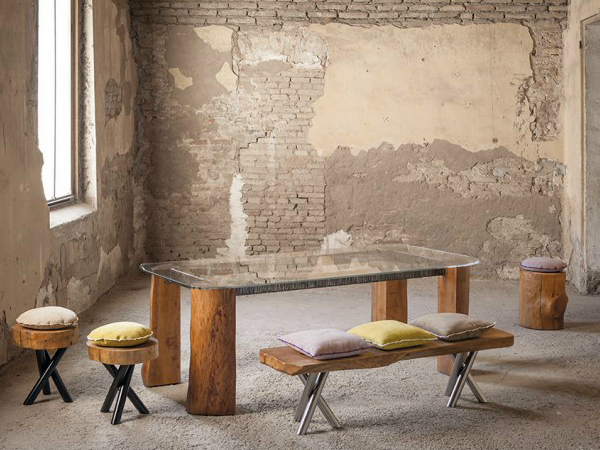 The Mountain Collection of tree trunk furniture has an incredibly raw and natural nature, while being refined and sophisticated at the same time. Just look at the beauty of these pieces – they are treated with natural waxes or walnut dye and finished by hand. The table, bench, mirrors, stools and shelves are just enchanting. The collection brings to mind hobbit houses and fairy tales. Just imagine how incredible these would look in any setting – from the most modern of glass-walled lofts to a rustic log cabin. The bases for the stools and small tables are your choice of natural metal or bronze, or matted lacquer in black or white. Tables are available with a natural top, digital print top, silver mirror or black-white clear glass top for a wide variety of choices. The stools are incredibly perfect looking slices of tree trunk and the mirrors are made from slices too. The Mountain Collection is rustic and natural with modern touches – functional furniture that will help bring nature inside your home. Hobbits not included.
Stool legs are available in white or black lacquers or in natural metals.
The bench and table make a perfect pair.
The stools are natural tree trunk slices!
The wall mounted mirrors are tree trunk slices too!
More information: Momenti