This unexpected mountain cabin rises like a rock from the sloping field in front of a mountain range, in the Austrian Alps. Like a miniature mountain, it stands erect and strong, promising to overcome any rough times that might come. Marte.Marte Architekten gave an intriguing shape to this cabin. Not the usual mountain chalet, this concrete tower looks like two cubes set one on top of the other, with hollow spaces that mark the openings. The exterior surface of the cabin is quite rough, reminding of the texture of sugar cubes or frozen snow. A flight of stairs leads to the main entrance of the house, which is given a lot of importance in the overall architecture of the tower. The building opens at about mid-height into a platform that allows for panoramic views of the natural landscape, like a "belvedere" point especially created for people to stop and contemplate the view. The openings for the windows are quite small and because of the thickness of the walls, they look like the openings of a fortress. Seen from the inside, the windows look like landscape pictures in wooden frames that come to ornate the bare concrete walls. In order to make the most of the views, the living area is set in the upper part of the tower, while the bedrooms are located under the entrance level.

The facades are very tactile. Even though the texture is rough, it has something to it that makes you want to touch and see how it really feels to the fingertips.


At the level of the main door there is a platform protected by a metallic handrail. This landing aims to surprise the visitor that arrives at the top of the stairs with panoramic views on the mountains in front.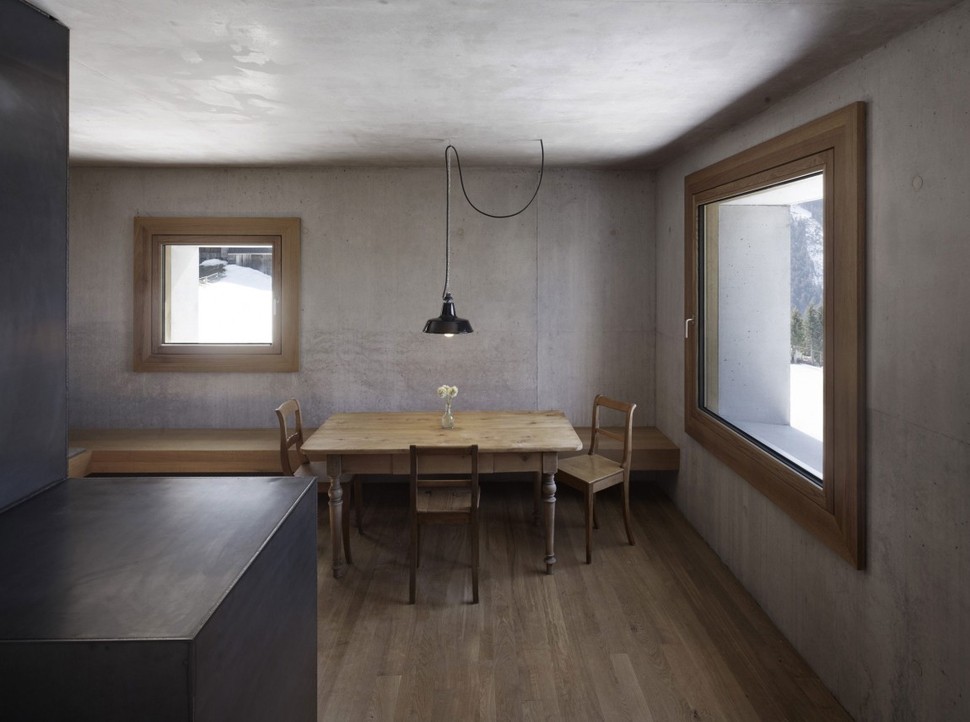 The interior remains very spartan, and only the natural oak wood brings a little warmth to the space. The furnishings are minimal, like inspired from the mountain shelters where survival is the main function.


Despite its minimalism, there is a very contemporary approach to the interior design. The rough concrete and wood combination makes a strong impact , while the lack of decoration creates a zen atmosphere.


In the bathroom, the coldness of the concrete is balanced by the ornate shape of the wooden frame of the mirror and the presence of the textile shower curtain.