The holidays are in full effect which means it is time to decorate not only the inside of the home but the outside as well.  Christmas happens to be one of the best holidays to decorate your home because of all the options you have. You have numerous different options that work for the inside of your home as well as for the outside of your home. Country chic décor is great for Christmas time because it adds the coziness of country décor with a chic twist.  Here are a few country Christmas ideas for the outside of your home that we know you will love.
Festive Rocking Chairs
Rocking chairs on the porch have always been an all-time fall favorite. However, for the Christmas time, you may want to upgrade your rocking chairs and give them a festive twist. This can be done by painting your chairs, white, red, or green. Painting them one of these colors the chairs the classic festive feel. Add a cozy throw blanket on the chairs and pair it with outdoor cushions for a cozy and comfortable effect. You may even want to consider having an accent table that allows you to lay down your hot cocoa.
Sign of Joy
Christmas time is a time for joy why not display it on your outdoors by having a large sign that spells joy. This can be a DIY project for you or you can purchase a sign that says JOY and decorate it to your liking. Add a wreath in the middle for an extra touch of holiday cheer. It is also an excellent way of secretly hanging a wreath that will stay in place.
Brighten up the Space
Lights! Christmas would not be the holiday of cheer without lights. Add multiple different lighting fixtures hanging from the outside of your home for a beautiful light show display. Having multiple different sizes for an even better effect that will increase the beauty of your home.
Winter Décor

Keep things simple by having winter décor that is soft and simple. Use colors such as white, blue, and lots of greenery. Using these colors will give you the winter enchantment that you want. Make sure to top off the décor with outdoor lanterns. This will provide the cozy winter wonderland vibes you seek in a simple and classic manner.
Christmas Joy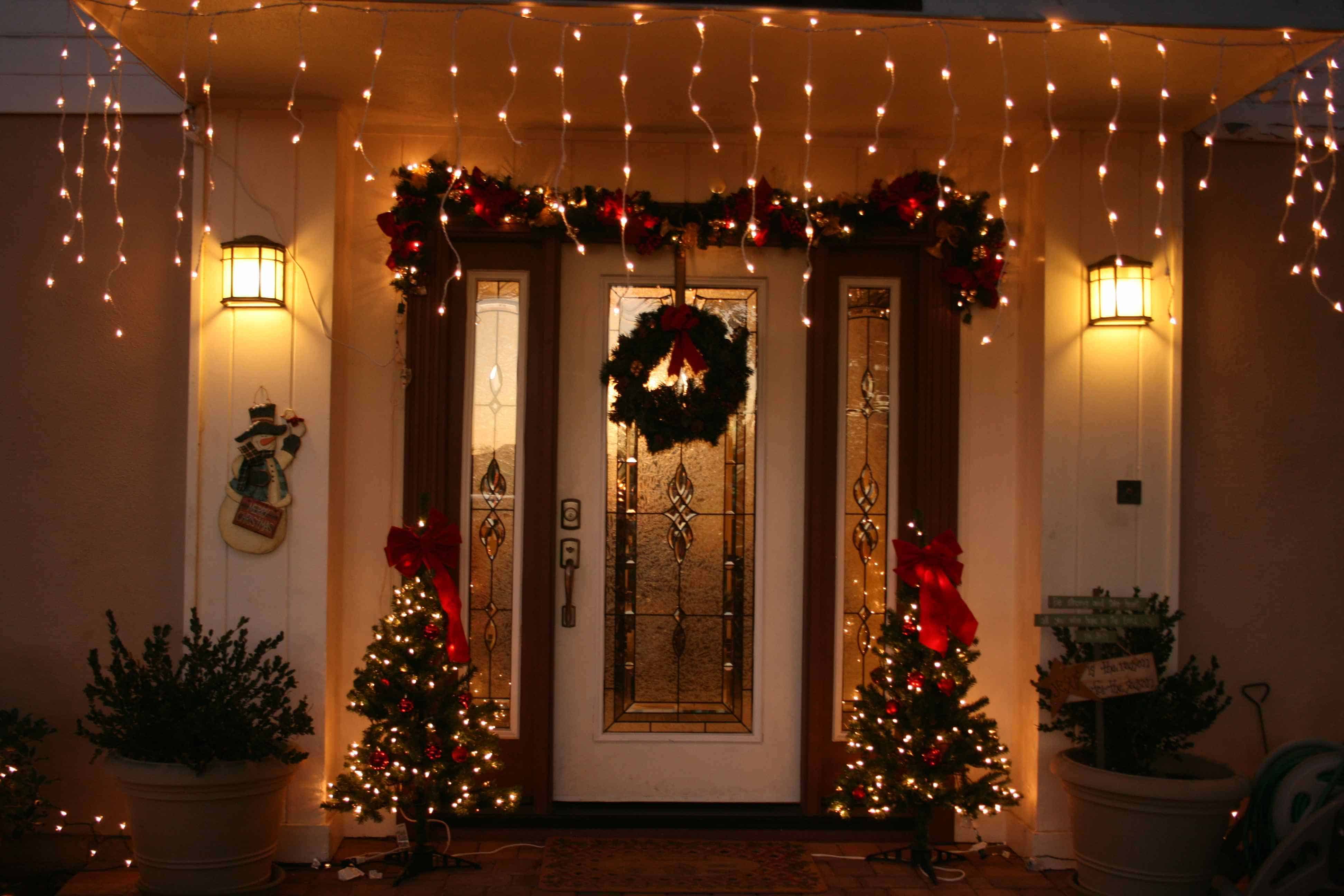 Go all out for the Christmas joy by decorating your porch with Christmas essentials such as garland, bright Christmas lights, outdoor lanterns, wreaths with patterns, and let's not forget a Christmas tree. Add a chalkboard with a welcoming sign to bring happiness to everyone who passes by your home. The idea is to bring Christmas joy directly to your porch for everyone to enjoy.
Hot Cocoa Bar
Although, hot cocoa is a staple in the winter and holiday time having a hot cocoa bar displayed in your outdoor space is a treat your guests will not want to miss. Display items such as Christmas themed cups, marshmallows, sugar, and cocoa powder. You want to make sure that all the items that are placed outside are in an airtight container so that they remain fresh the entire time.
Pretty Pinecones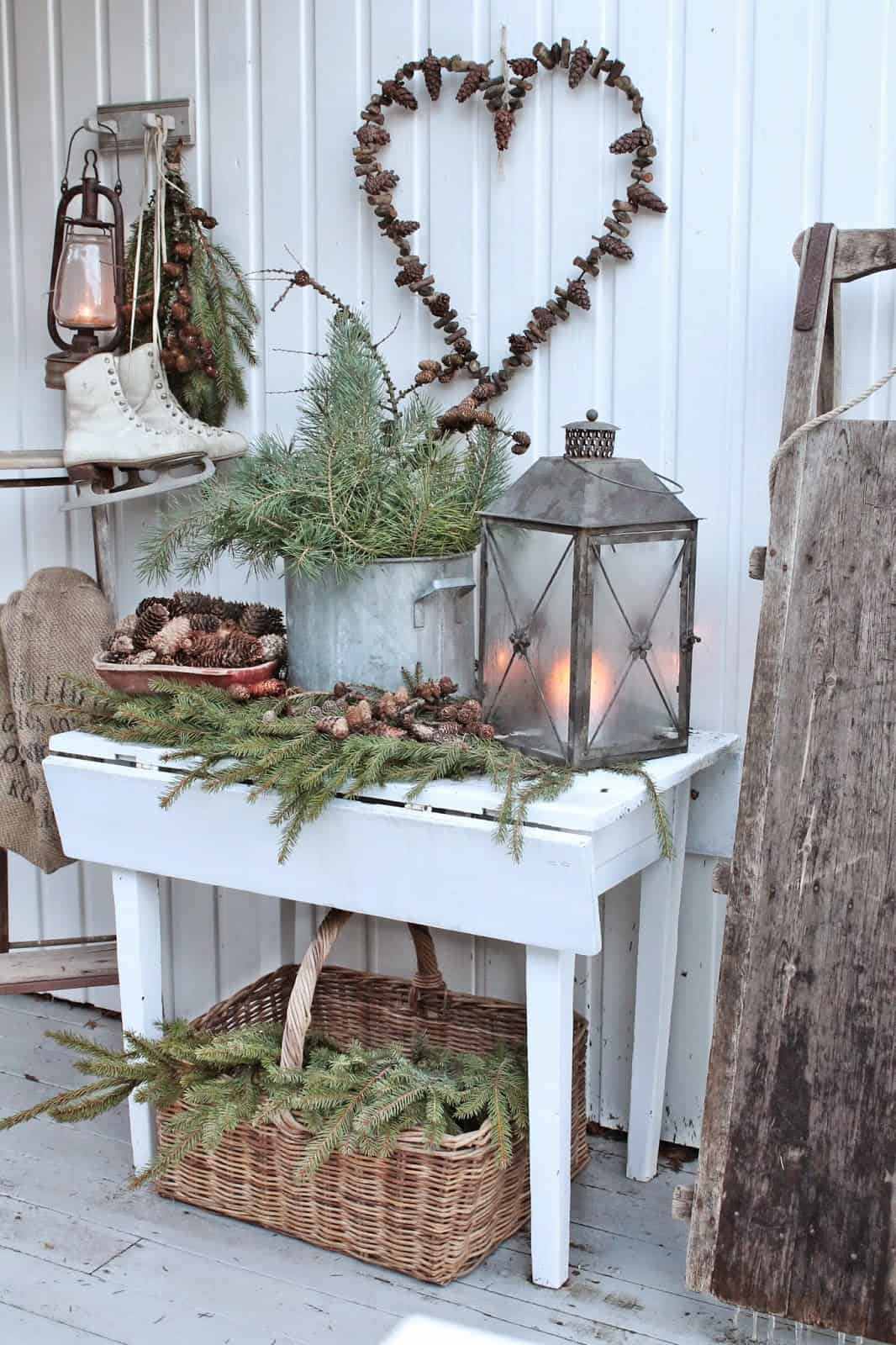 Pinecones are great for decorating in cold weather. They are easy to find and even easier to use because they can be painted. This allows you to construct multiple different DIY décor using pinecones. Incorporate them into wreaths, outdoor Christmas trees, and you can even hang them from your door.
Mason Jar Lights
Mason jars are great because of how versatile they are. You can use them as drinking cups, centerpieces, and even as a holiday decoration for the outside of your home. Take a couple of mason jars and fill them up with colorful lights, then hang them around the outside of your home. You can choose to cluster them together or have a few of them hanging from different areas of the exterior of the home.
Royal Outdoor Feel

The beauty of having poinsettias is the color that they provide. Poinsettias are a bold red color which makes them appealing and fun to look at. They are also the Christmas flower which makes them work great even in very cold weather. Pair it with bold green shades for a holiday feel thats undeniable.Create a royal outdoors feel by using bold holiday colors with natural items. The idea is to make a holiday statement with plants such as the poinsettia. Poinsettias are known as the "Christmas plant" therefore, having blossomed poinsettias will work beautifully outdoors. Hang a few of them on the entryway or have them as garland on your door. You can also the entire plant displayed on the outside of your home.
Christmas Signs
Christmas signs are not only as cute as they sound they are also an excellent form of decorating the outside of your home in a country chic manner. You can choose to DIY the sign if you would like to create something more personal to you and your family. Place a few Christmas destination signs and let everyone know exactly where Santa Clause will be visiting next.
With all the holidays quickly approaching it is never too early to begin decorating the exterior of your home. Let us know below which of these country chic ideas you will include into your outdoor décor? Also, make sure to let us in on any other outdoor ideas you may have.