While on the topic of the holidays and decorating, we have pretty much covered every area of the home, except the kitchen. Why not give the heart of your home a Christmas twist this year? It's the place holiday meals happen, cookies for Santa are baked and adult beverages are consumed, it's the one room you get to have all the fun while having all the food. There is no denying that the kitchen is a well-loved area so embrace it and give it the focus it deserves. Here is how to do just that!
Decorate your Chairs
Though this might be an overlooked aspect of the kitchen, decorating your chairs is not only a cute touch but it brightens the room overall. Don't miss an opportunity to take your chairs and make them the main focus of the room. It's a stress-free idea that's elegant and sleek all at once.
Display the Treats
When it comes to having your treats become the main focus of the room, you want to display it as time goes. Whether you have a display of cookies, brownies or both is completely up to you. So instead of putting your favorite treats, bring them into your display and allow the treats to be the room's overall focus at all times. Furthermore, consider going the extra mile and go for displaying gingerbread houses instead.
Bring in Wreaths
Wreaths aren't just for the outside, they can be used inside as well. Consider bringing in wreaths and allowing them to be the festive element that makes all of your holiday cheer come to life. It's almost as if your festive decor will suddenly feel brand new due to the color wave you are adding in. Consider it the ultimate touch to your decor. Hang them up or leave them in different areas to complete the look overall.
Christmas Tree
Although most people will not think of this at first and they mostly consider having a Christmas tree in other areas of the home anywhere except the kitchen. Take it a step further by bringing a Christmas tree in the kitchen. Decorate it as you wish and allow it to be the focus of the room. It's all about making the room come to life with the ultimate appeal.
Use String Lights
String lights are perfect for a brightening effect that makes the room feel clean and festive. The touch will make the room come to life while still giving you a sleek feel. It's almost as if the lights take the focus off of the room, while still making the area feel airy. Furthermore, it creates a contrast throughout.
Greenery
If you want to bring holiday spirit without having to go overboard with decor bring in greenery is perfect. It not only will feel festive, but it will further showcase that you don't always need to have red or bold decorative items to make a room feel festive. Sometimes all you need is some greenery and you are all set. It's about creating balance and allowing it to feel fresh.
Why not Pine cones?
Pine cones are not only a staple for fall, but they are one of those elements that scream winter and holiday. Surprisingly, it doesn't take away from the room in any shape or form, which means you can place your pine cones anywhere and watch them take life. Bring in glittery ones to truly give the room a festive touch.
Ceiling Fun
Why not make the room appear larger by extending your ceiling. Do this simply by hanging garland or even other festive plants with hints of red from your light fixture. Not only will this extend your ceiling, but it will make the room come to life with just a bit of color weaved in it. If you can't find any ceiling fun with color, add it in yourself for a DIY touch.
Scatter Accessories throughout the Space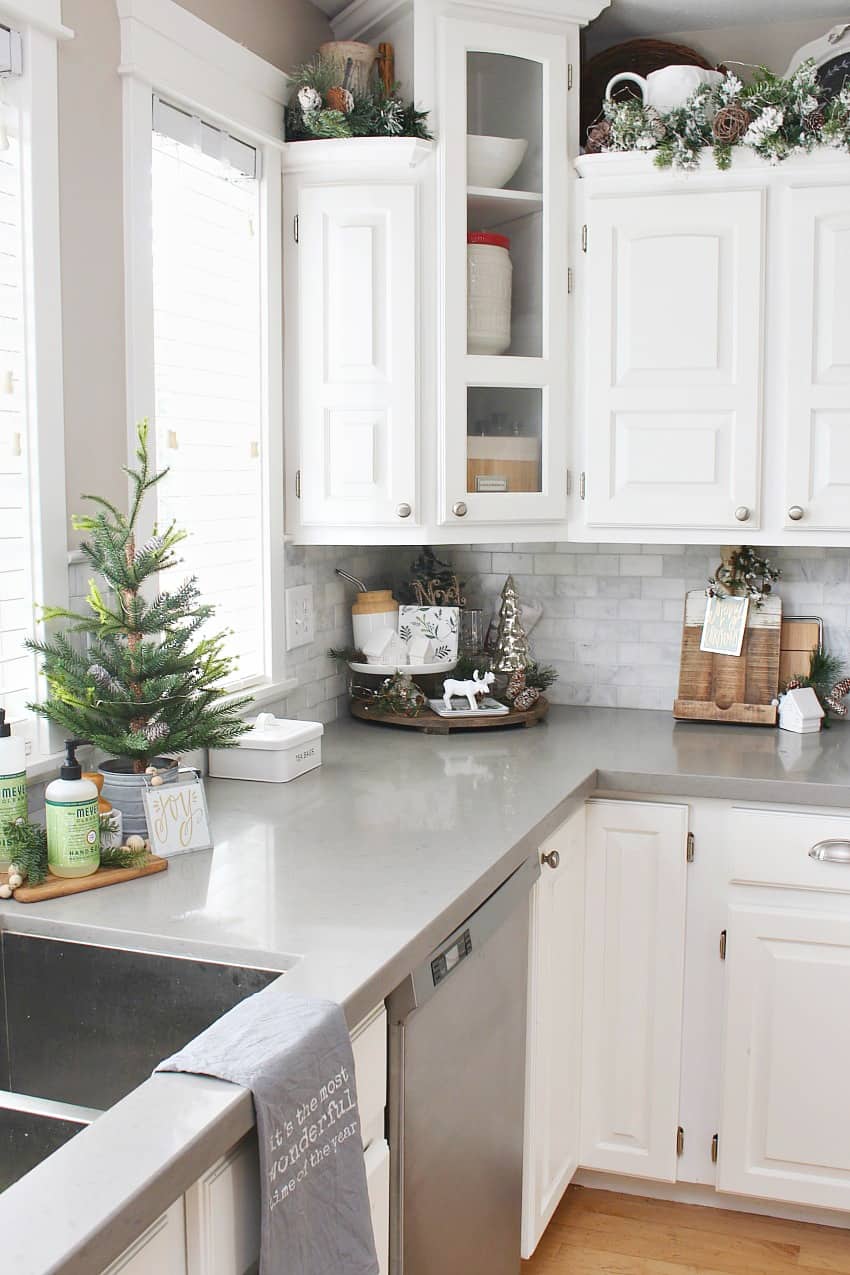 Contrary to popular belief bringing simple accessories and scattering them around is the way to go. Bringing simple things such as wrapped present boxes, striped straws, or even ornaments. It's all about making the room have that festive feel without taking the room for granted. Furthermore, it enables you to make the room come to life.
Rustic Chic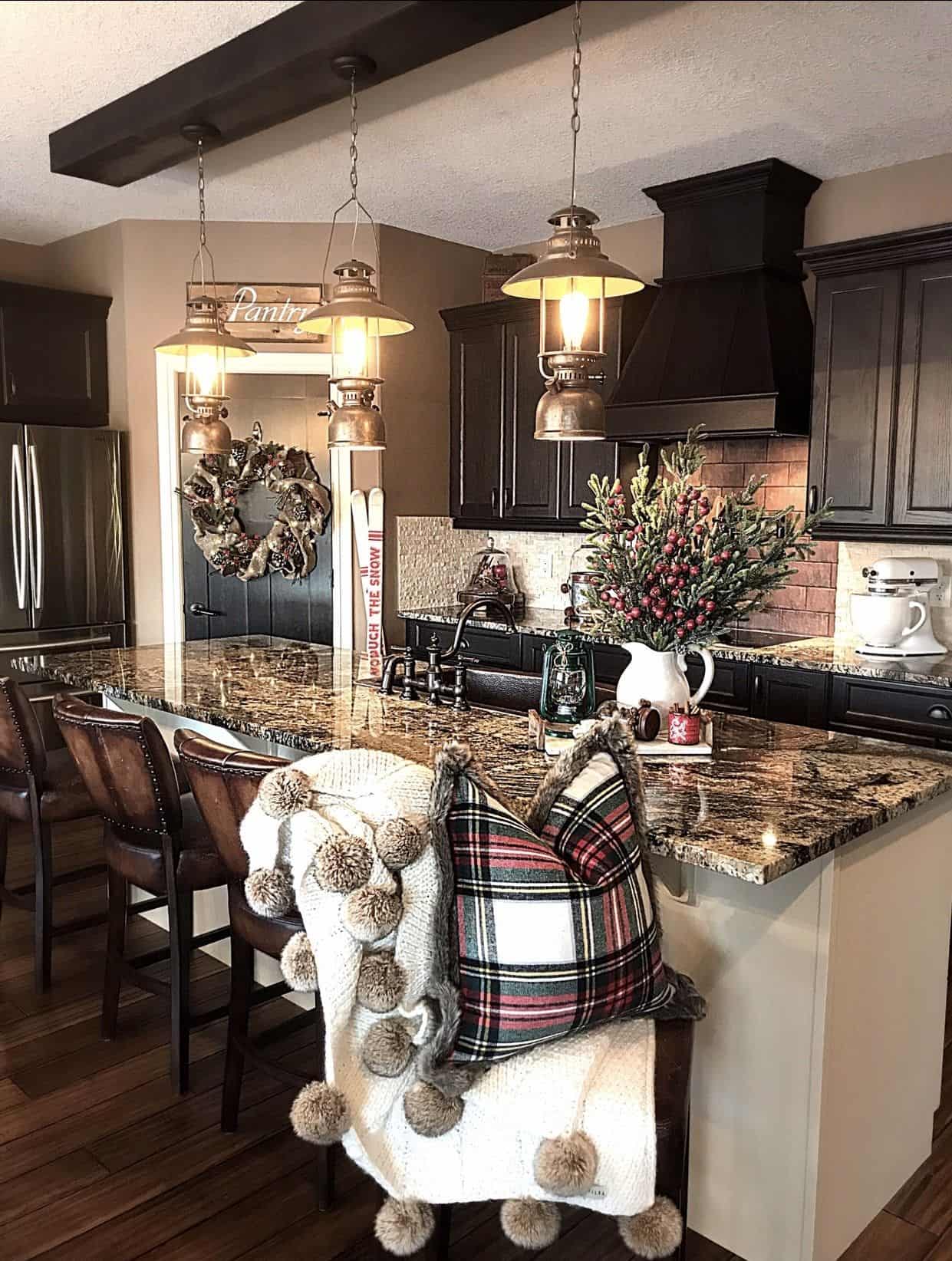 Bring a rustic-chic touch by embracing the room's natural aesthetic. Not only will it make your decor come to life, but it will further push the cozy aspect you need. Sometimes you can bring a rustic touch by adding a sign or two or even weaving in the farmhouse and adding greenery to it.
Keep your decor chic and charm with a festive touch in your kitchen. It's all about embracing the holidays everywhere. Which of the following ideas are you excited about using? Share with us below.