Singapore based architecture firm Farm stayed true to their ultra modern, innovative aesthetic when they came up with this super cool contemporary loft design idea, converted from a dingy old office unit. The architects explain, "obviously its new owners saw its potential, and we too, as well. Situated on the second storey of a shop house unit in the charming Joo Chiat area, we wanted to reinvent, with a localized design language, the concept of a chic industrial loft. Well, we end up calling this apartment endearingly by the name of 'the brick loft house'." Interiors are replete with whimsical features, like this striking spiral staircase framed in a glossy white cage which echoes the pattern of bricks. Winding through the double-height living area, this sculptural structural element sets the stage for the weird and the wonderful. Here's the tour.


To transform this space from dark and dingy to bright, open and airy, the architects removed walls to let light flow freely throughout. An outdoor verandah welcomes residents and guests, blurring the boundary between indoors and out while adding alfresco living space to the home's limited square footage.


Where walls were a requirement (it is a house, after all!) massive sliding glass walls deliver shelter without closing off the space.


To maintain that open feeling throughout, the see-through stair enclosure leaves clear sight lines through the principal living areas. Polished concrete floors and ceilings are contemporary, yet warm, adding to the home's industrial aesthetic. On the walls, plaster was removed to reveal the original brick underneath. These new exposed brick walls also became the inspiration for the spiral staircase enclosure and the continuous built-in shelving that stretches across the wall from end to end.


From the architects, "The feel of the industrial is brought out through the sensitive use of building materials and the reinvention of their vocabulary and usage. Taking a cue from concrete ventilation blocks found in old houses, we updated the look with a new custom-made pattern. This pattern is then abstracted and transformed again and brought into the living area via a laser-cut metal screen folding door."


The screen can be pulled across the space to lend privacy between the kitchen and office space / sitting area. The kitchen is equipped with contemporary light strips that become an unconventional and functional artistic element overhead. This culinary space offers plenty of prep space and storage, putting all your kitchen essentials easily at hand.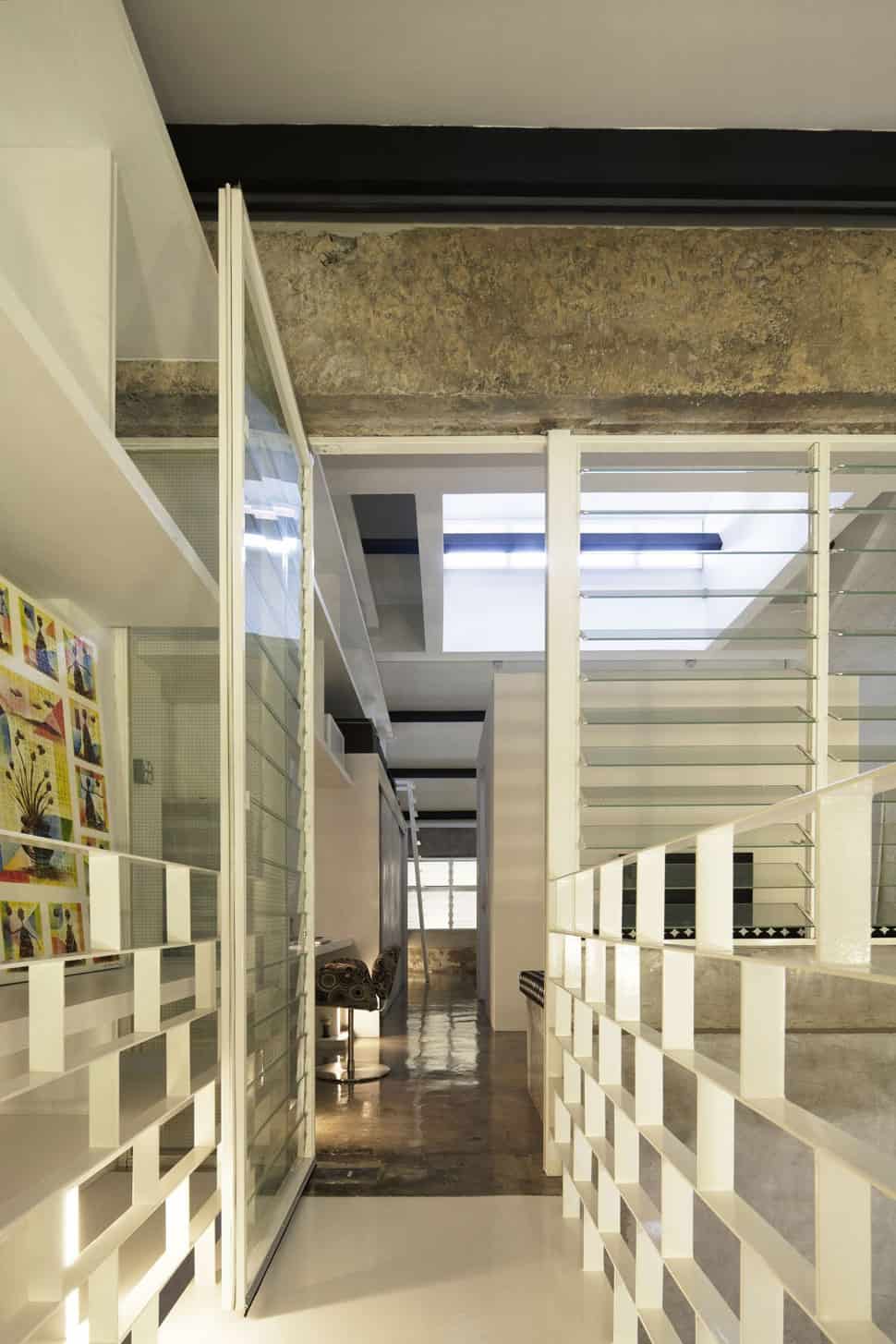 Make your way up the spiral stair to the upper level loft area overlooking the living area below. The cage wrapping the staircase works its way across the upper level, allowing for open views down below.


Upstairs, louvres let light spill down from the skylights to the mezzanine bedroom.


An upper level den is light and bright, boasting these slatted walls that let light flow in and out.


A central "cube" provides some separation and privacy between the den and bedroom without closing off the space entirely.


Tucked within this central volume, a bathroom is chic and minimal, bringing some sweet simplicity to this modern industrial renovation.
Section 1:


Section 2:


Farm
photo credit: Jeremy San TzerNing