This unusual forest home has a certain old-world, Euro aesthetic that makes it one of a kind here in the community of Alpine Peak in Tahoe City, California. This snowy setting is the picture-perfect spot for such a cabin-style home, which looks like something straight from a storybook. Surrounded by towering evergreens and a thick blanket of snow, this popular ski destination has no doubt inspired this cottage custom home. Nestled above the Trukee River, residents and guests are welcomed home by a 25-ft. waterfall – just the beginning of this enchanted fairytale. This is "chalet chic" to the extreme.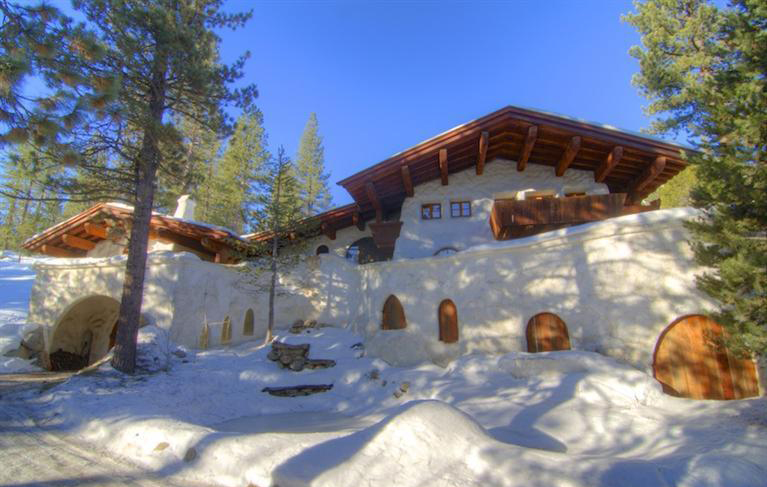 An exterior of heavy white plaster almost disappears into the snow-covered hills surrounding it. Timber sourced from the Oregon coast – which was hand distressed on site – accents the arched doorways, irregular-shaped windows and exposed rafters. But even this unforgettable exterior doesn't prepare you for what's behind the heavy wood doors.


Interiors are the epitome of chalet living, telling a tale of warm winter evenings spent sipping hot cocoa by the crackling fire. Ceilings and window frames embrace the knotty wood's natural imperfections, while the stone fireplace surround and uneven plaster walls induce images of a bear cave, or perhaps a scene from the North Pole?


Wood-framed windows line the living area and make their way into the kitchen, where between the exposed-beam ceilings, hardwood floors and furniture-style wood cabinets, it's a nature-lover's dream come true.


By day, natural light and forest views work their way into the home. After sunset, a Gothic-style chandelier adds a romantic glow to this warm honey-colored space.


This large, open area is perfect for entertaining family and friends, promoting socialization with a lack of walls, and comfortable sitting and dining areas that invite you to linger into the wee hours. This large home still has a warm, cozy look and feel – a welcome contrast to the wintery scene outside.


But when you just can't keep your eyes open an instant longer, retreat to the bedrooms via the romantic sculptural winding wood staircase. A massive wall of windows encircles the exterior of the stairs, offering dreamy views of nature and treetops.


The upper level echoes the warm, woody charm of the main floor. Wood-clad ceilings and heavy exposed beams lead the way to the bedrooms. An iron light fixture suspended overhead casts dramatic shadows across the ceiling and floor.


Speaking of fairytales, this bedroom takes us to the story of Goldilocks – and we'd bet this masculine bed belongs to Papa Bear! Irregular shaped windows and arched doorways add to the home's characteristic chalet charms.


This dreamy bedroom really highlights a wonderful work of wood in its ornate antique headboard and furniture suite – in stark contrast to the knotty, raw, rough wood beams overhead and underfoot.


This woody den could not be better equipped, complete with a comfy leather chair and ottoman that invites you to sit back, kick up your feet, and warm up from the inside out with a hot brandy. An arching doorway leads out to the balcony.


And here's another sweet spot to crash. Of course, a house like this is well equipped for lots of overnight guests, complete with 7 bedrooms, 6.5 baths and 4,507 sq. ft. of inviting living space.


Three fireplaces warm up the home both in look and feel – a must after skiing the slopes or hiking through the woods. After a day spent out in nature, it's nice to retreat to a home that embraces its surroundings through and through.
Currently on sale at Redfin