The Stein Residence is located on a ridge in Orinda, California. Originally a one-storey ranch house with low ceilings, small rooms, a disjointed floor plan and very few windows the home did not take advantage of the panoramic vista of the Bucolic hillsides and valleys, nor did it have the open floor plan that the homeowners preferred. Now the homeowners have a modern 2-storey open plan house that takes full advantage of the views thanks to the extreme makeover by Swatt Miers Architects.

The house was taken down to its original footprint and the existing foundations where reused wherever possible to help keep the construction costs down. The footprint was long and narrow, traveling from east to west so the architects redesigned the home in a linear path along the north edge ending with an entry court at the front door that is approximately on center with the east/west axis.


The walkway that leads to the main entry is covered with a deep, open welled stucco clad trellis which gives the pathway a sense of enclosure without loosing the benefits of natural daylight.


The entry splits the home's living areas into two distinct wings that are connected by a double volume living/dining area.


The trellis extends over a small landscaped garden area and a water feature complete with waterfall.


The home opens directly into the living room with the dining room on one side and a stairwell on the other. Completely exposed to the panoramic views, walls of glazings slide and stack into the wall for a seamless transition to the terrace and swimming pool area.


The dining area takes advantage of the double volume space by featuring a mesmerizing chandelier of cascading light globes.


the kitchen table pendant references the dining room chandelier with its one large minimalist white globe.


Aside from opening up to the terrace, the kitchen has its own front yard entrance. This west wing also has the family room next to the kitchen and the master suite and terrace upstairs.


The ensuite within the master suite is as large and spacious as the rest of the rooms and features a free standing soaker tub next to a large and spacious walk in shower.


The terrace off of the master suite projects out to the side of the home, wrapped in the same white stucco as the entry trellis.


Below the terrace a walkway leads from the front of the home to the back as it wraps around the family room.


The family room is positioned in the corner of the home and as such has the best views of the house with its two walls of glazings.


While the family room has the best views in the house, nothing compares to the views from the swimming pool and terrace area.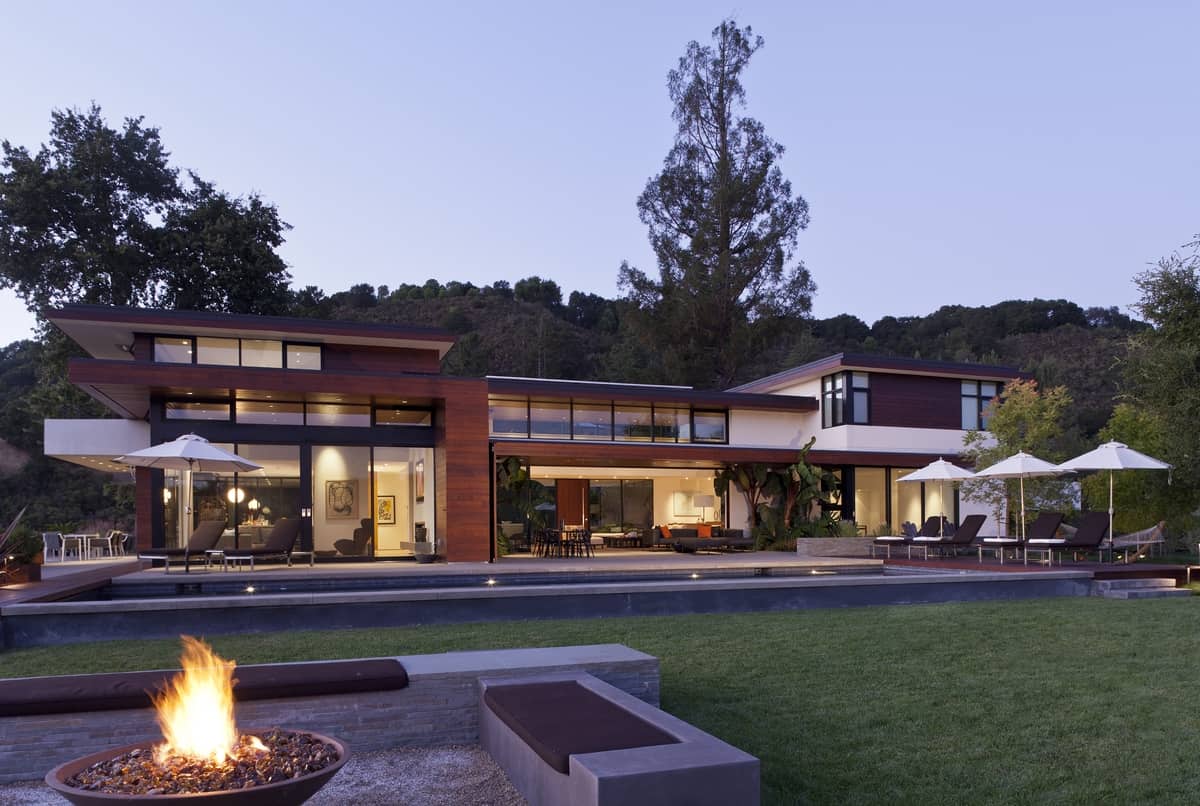 To complete the outdoor living area, the architects included a fire-pit with seating just past the swimming pool.


The east wing of Stein Residence includes the garage, guest suite, office and wine cellar o the ground level, and the 3 children's bedrooms upstairs.
Swatt Miers Architects
Photography by Russell Abraham