Located in Laguna Beach, California, this beautiful residence benefits from a privileged beach front position. Perched atop a coastal promontory,it opens stunning views on the ocean and the horizon. The design solution found by Horst Architects to the owners' brief is a main residence and a detached guest house, connected by a series of courtyards and communal outdoors spaces. There is an obvious preference for open spaces and transparent vertical surfaces. The boundary between indoors and outdoors is eliminated by the use of sliding, concealed pocket doors. Glass balustrades are used wherever possible, indoors and outdoors, with the same purpose of eliminating every obstacle that could come between the eye and the view. The public spaces are situated on the ground floor, while the private quarters occupy the upper floor. This way the intimacy of the occupants is protected, while still giving them the opportunity of admiring the views from their bedrooms. The Italian touch of Aria Design is felt in almost every detail of the interior design. There are noble materials, soft neutral colors and carefully chosen decoration.

The outdoor spaces are important in the layout of the residence and they are seamlessly connected to the indoor living areas. They are carefully landscaped with native, drought tolerant vegetation.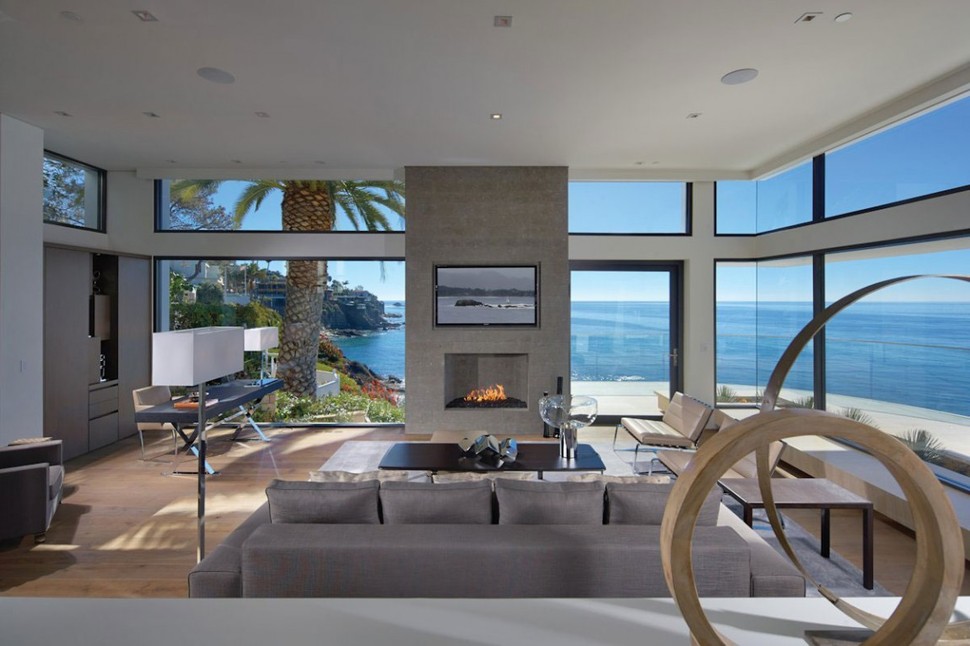 The day area of the main residence benefits from high ceilings and big glass facades which let the light flood in.


The colors of the interiors are soft and neutral. Limestone covers some of the walls, while the floors are a mix of tiles and bleached wood. The large modular sofas and poufs follow in the same color scheme, emphasizing the refinement of the atmosphere.


The various sitting areas are organized around built-in fire places and a flat screens.


The kitchen is white and neutral, and the central cooking island is continued with a perpendicular dining table in a darker, contrasting color.


The main dining table is sleek in glossy white, of elliptical shape. The upholstered armchairs that surround it have a smart stainless steel handle on the back that is both practical and decorative.


The platform bed placed in a fully glazed corner looks like a raft floating on the ocean. The bedroom has a minimalistic design, as the star is the view, which is overwhelming.


The live-in bathroom creates a transition from the bedroom to one of the balconies, and has a real spa look.


The home office is protected by a wooden screen on one side, creating thus a protected oasis. The sleek Maxalto desk faces the amazing ocean views.