The bathroom might just be one of the most personal areas of a home, especially if you have a master bath. However, what many tend to forget is that you get to decorate your bathroom any way you would like, particularly if it is spacious. With that being said, having a bench or stool in the bathroom can pretty much be life-changing. It adds a space to sit on but it also adds to your decor. Here are bathroom bench and stool ideas to help give your bathroom additional tranquility.
Rustic Stool
If your bathroom is small, and you just want a hint of Zen to bring in a rustic stool. Rustic typically means made out of wood, which is perfect for those that want a more Zen touch to your decor. There is something about having wood in the bathroom that brings that classic tranquil feel. Furthermore, pair it with a rustic bench to truly make a difference.
Bring it in The Tub
Though most of us would consider having a bench on the outside, not many would consider having a bench on the inside. However, we are here to say that having a bench inside of your touch is not only convenient but it's just as relaxing. Sometimes you wanna sit in the shower and just have a moment, and other times you want to soak up the steam. Ether or you get to do both when you have a bench inside of your shower.
By the Window
Whether you have a large or small, window in your bathroom, take full advantage and place your bench underneath it. It creates a seat while giving you a personal space that you get to sit and relax in. Bring in an upholstered bench to add some personality that makes the room feel sleek with a load of character.
Built-in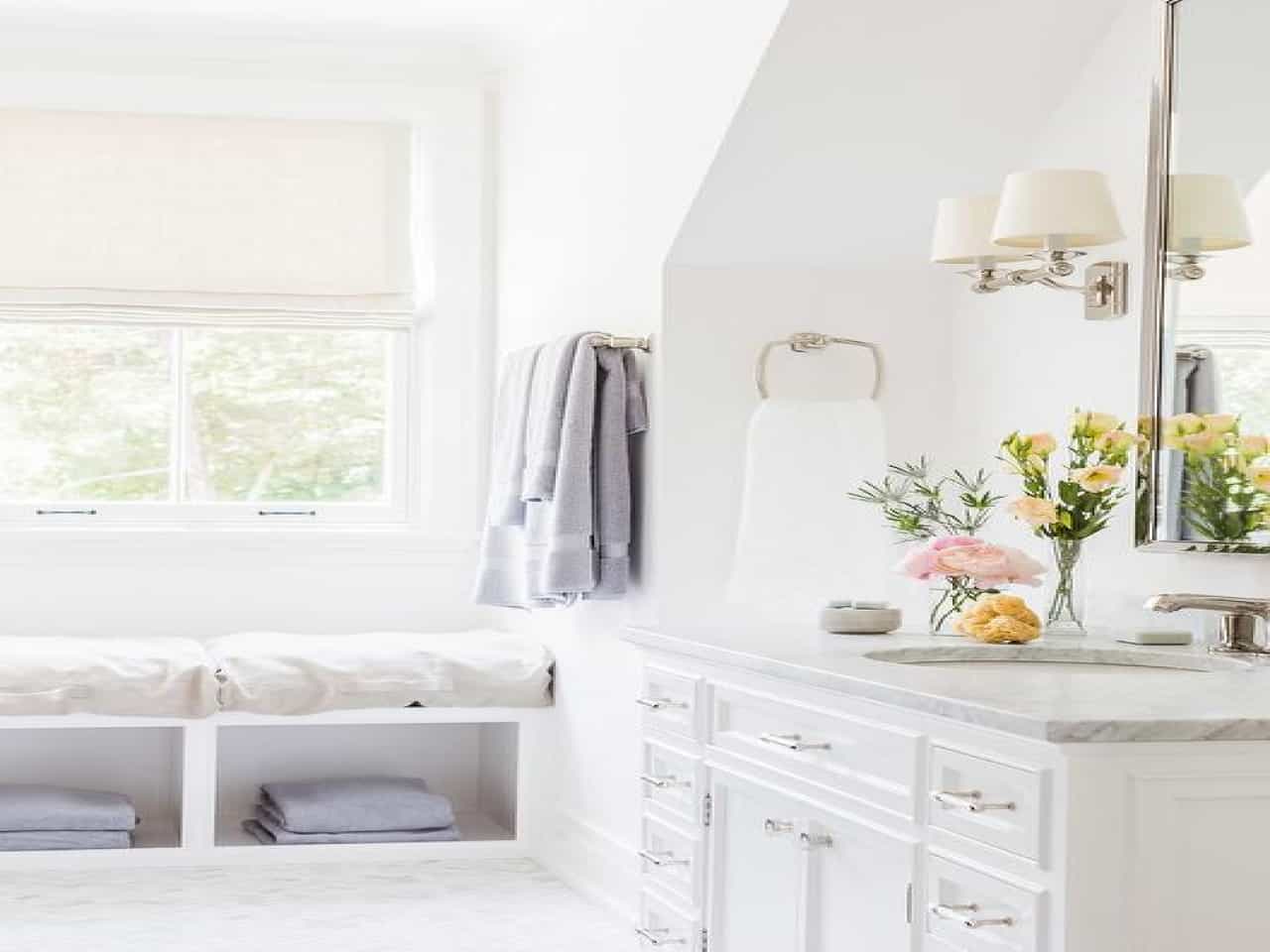 Having a built-in bench might seem like the ultimate convenience, but it's not for everyone. Some people don't want to be attached to the idea of having a bench that must always sit there, in the room. If you do want a built-in bench, add it in slowly enough have it can be in the room without feeling as if it consumes the space and your decor. Pair with elegant cushions to complete the look.
For the Vanity
If you have a vanity in your bathroom take full advantage of it by adding a stool or bench. Doing so will bring comfort and appeal while making the room come to life. It's also as if you are making the space have a hint more of chic and charm. You can almost say it's every girl's dream to have a vanity with a nice soft upholstered chair. Furthermore, it makes getting ready that much easier.
Hidden Storage
One of the best things you can get for any room is added storage. Not only does it enable you to bring additional items without having to be in the spotlight, but it forces you to make use of what you already have. It's a win-win for all when you can have what you need while still adding to your decor.
Subtle
While most people might already think having a bench is a bold moment, sometimes it can be subtle. When it comes to a subtle touch you want to bring in a sleek bench. Place it inside of your tub and allow it to be the main focus of the room but in a subtle manner. Bring in a marble bench or keep it as sleek as you possible. You can always choose a corner bench to make the room feel cohesive.
Upholstered
When it comes to deciding how your stool and bench should be considered an upholstered look. Doing so will allow you to get creative with your decor. You will able to upholster it to your liking allowing you to change it up when you decide to do so. Moreover, you get to go bold with color and pattern as often as you would like.
Minimal
Sometimes you just want a little something that will add to your decor without removing anything, something that is self-sufficient and adds a hint of something. That is where having a minimal touch, comes into play. The idea is to have a touch of simplicity in a modern way. Keep it modern, yet minimal for the perfect appeal that adds just a kiss of character to your bathroom.
Mix and Match
Why have one chair when you can have two? Consider having two stools or two benches or either or and allowing them to be scattered around the room. Although this might be a grand contrast, it's perfect when you can't decide what you want, but you also don't want to leave anything out. Furthermore, this enables you to get creative with the stools you have.
Do you have a bench in your bathroom? If so, share with us how do you decorate? Share with us below.