Distantly resembling their metallic predecessors, contemporary garden benches stand to offer a range of ideas to those seeking to enhance their backyard. They're not only for show, though. Modern benches come with all kinds of design elements and perks to make outdoor lounging extra pleasant. No more shivering from the cold touch of metal or puffing your chest trying to move those things. These outdoor seats are good for anything you throw at them.
Wooden Contemporary Garden Benches
Wooden benches may seem traditional but they look far from that. Here is Modena looking pretty modern while offering your rear a warm surface to land on.
Its metallic base couldn't be more contemporary with its straight lines and a complete lack of ornamentation.
Always found benches to be somewhat space-modest? Here is Oko Lounge offering a bit more space to those who like to lay back and take in the sun rays.
A straight back may not look very comfy or inviting but that three-plank seat must have enough room to make it your daybed.
If three's a crowd, you're better off with a two-seater. They look especially darling in the garden setting. Arkipelago will bring along a romantic coastal vibe.
With a slightly slanted back, you can just sit and relax with your most favorite person in the world.
When it comes to contemporary design, multipurpose-ness is a welcome feature. And even a garden bench can have more than one functions or applications.
In a small or dynamic outdoor setting, a garden bench, splitting into a bench and a chair is a useful addition.
Bench Only in the Name
Hopper bench resembles park tables and benches. It is a great all in-one-set that you can also use as personal sports seats.
It may not be very useful as a double bench, though, as there is little spare space for feet between the two seats. Nevertheless, a good option.
Benches that take forms of sofas look and feel more inviting. They are also more versatile, as you can use them both in the garden and an outdoor lounge arrangement.
Throw some cushions and pillows onto Banca Lounge and it will serve well as a garden sofa.
Garden benches don't exactly make great swimming pool seats but Happy House Cross can do both.
Looking like a kids maze, its design allows users to sit facing different directions as well as to store drinks right beside them.
Diversity of Materials
If contemporary garden benches aren't made of wrought iron what else is there to choose from? Well, aside from wood and metal, benches come in all kinds of materials.
Atelier So Green, for instance, use durable and maintenance-free material to create their Image'in collection of outdoor furnishings.
Fiftie's 1750 by Luxis is made of PMMA translucent (polymethyl methacrylate), which renders it completely clear.
It would have looked very traditional had it been done in wood. Great amount of detail is what makes it stand out further.
Foam is another source of imagination that Stratta uses for its outdoor furniture collections.
It's not only great because of its pliable properties but also because it comes in a wide variety of colors.
Bench Klasen is made of metal, but it is the seat made of a hand-woven water-repellent terracotta saddle hide that gives it such a contemporary look.
The two-seater at best looks very inviting but also very luxe, so you wouldn't want to leave it outside during bad weather.
Storage & Other Perks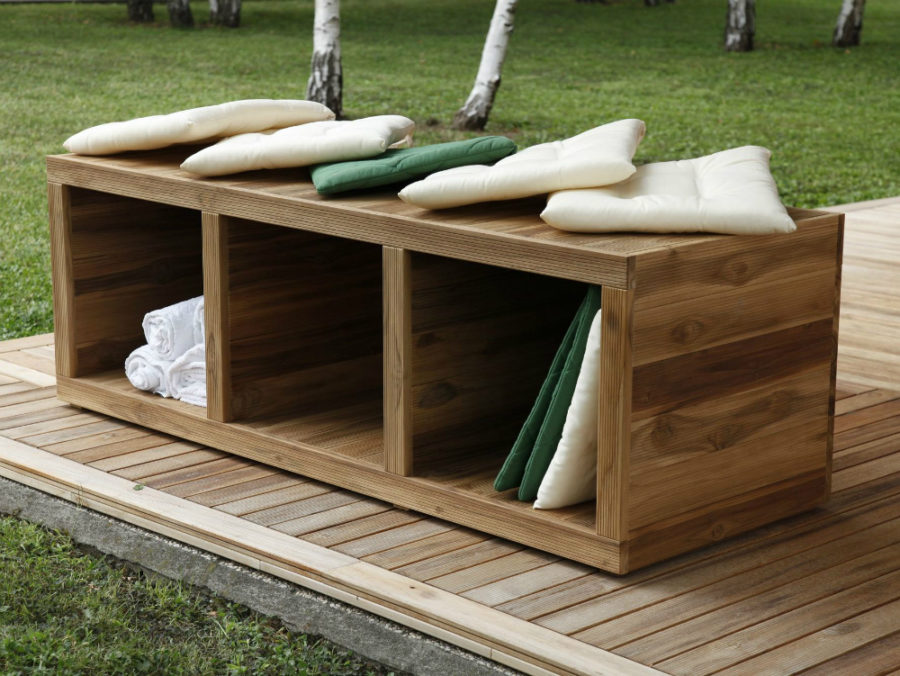 Outdoor storage can be frustrating. Leaking tool sheds and trunks aren't generally very suitable for more delicate stuff. That's where outdoor seats can be helpful.
Turtle 02 has cool cubby-style storage shelves where you can keep your cushions, throws, and blankets for those evening hangouts.
Roma bench is even better, as it protects the stuff in its small, elegant drawers from any type of damage.
Since the outdoor furniture is better protected from the elements in general, it's a perfect way to store your exterior-use textiles.
Isla is the bench you'd typically see in a carefully manicured corporate courtyard, but it can be such a cool addition to your personal one as well.
Looking like a planter pot with oversized edges, it invites users to sit and breathe the very air the greenery planted in it produces.
Stratta's furniture stands out not only because of its unusual material and hues but also designs.
Here is an Easy bench that will give your garden a ray of sunshine along with a green accent.
Padded Contemporary Garden Benches
Padding is a more familiar aesthetic for contemporary outdoor furniture. It's supposed to feel and look loungey.
Here is Soft from Royal Botania that could look right at home inside the house, but it will certainly make a statement outdoors.
Slim Line combines the two trends – soft padding and wicker technique – into one luxurious seat. The white color definitely gives it more radiance but also makes it very high-maintenance.
Padding can really look elegant in addition to creating a soft cushion for the seat. Tropez looks especially so with its intentionally 'interior' look.
White color only strengthens the impression of sophistication in this bench, which is available in two sizes.
Futuristic style is not just a privilege of interiors. Rest by Vondom looks like it's been taken off some spacecraft and is ready to serve you by the pool.
Looking like a sectional for the living room, the outdoor sofa can easily change form and size thanks to its modular design.
Stylish Contemporary Garden Benches
Function and comfort are important for contemporary outdoor furniture designers, but style doesn't go out of…style.
Illusion bench may be sacrificing some comfort for the product users, but it definitely won't go unnoticed wherever it takes place in the garden.
Crakle is an interesting one. It is made of metal, but it looks modern, dynamic, and very cool. A soft gray seat cushion punctuates the look yet contrasts it with its softness.
Its shape is another thing. Unlike most benches, even contemporary ones, Crakle has a more or less monolithic shape with a frame support in place of the traditional legs.
There is just something special about two-tone furniture, isn't there? Just look at the Lausanne bench. It's beautiful!
Made of the two classic materials – white metal and wood – Lausanne is the perfect cottage garden addition that will keep your back comfortably cool.
Village bench doesn't look like it's been named after its looks because it's as urban and cool as it gets.
Its slanted asymmetric back is a perfect modern design element that may not be as comfy but looks unusually creative.
Simple Contemporary Garden Benches
Saler isn't going to be any kind of revelation, but its simplicity is what lends it its charm.
Painted white wooden planks look positively minimal but also elegant. And square-shaped supports prove more modern than the classic bench legs.
DNA looks like it was made out of shutters, which is a very simple but fresh look for a bench. White color makes it look extra cool.
Gandia Blasco has an entire collection of similar elegant outdoor furnishings that you'd definitely want in your backyard, so we recommend you checking it out in full.
Paola Lenti has a knack for designing both stylish and comfy contemporary outdoor furniture.
Frame bench is just one of her creations that looks like it's been made out of a stiffened runner rug. Quite an inviting look.
Metal and wood go together like oil and oil – they may look different but they also mix well.
Gio is another testament to that idea and a cool one at that. With its solid wooden seat, it will fit with the traditional backyard, while its metallic trapezoid supports will give it a touch of modernity.
Contemporary Garden Benches
As all furniture, contemporary garden benches have a tendency for unique shapes. S Bench is a perfect example of that.
Looking like a twisted paste candy, the seat looks minimal but eye-catchy at the same time, which is kind of a contemporary design specialty.
Manutti brings us back to futurism with a Fuse garden bench and its minimal style and sectioned seat cushions.
Removing the seats will turn it into a simple outdoor dining bench, while these soft pads will give your guests more comfort and futuristic aesthetic.
A conversational bench can be a tricky thing. You and your dialogue partner both facing one direction doesn't dispose to a more personal conversation.
Euro3plast solved that problem with a Talea bench that allows users to face each other easily while also looking each in their own direction, if they want to.
Moko seat is the one with a prominent contemporary look. You can place it in the office foyer or near your newly built house, it will work either way.
A rounded seat makes it especially inviting and comfy, which may compensate a bit for the lack of a back.
Ultimate Relaxation Spot
When you are looking to create something more than an outdoor lounge area, the seat is the first thing you have to look for. Contemporary garden benches have a lot to offer.
Do you want a design that will allow you to lie down as well or do you want a more guest-friendly seat? Patioset is great for those who like to soak in the sun in a good company.
Astral bench is also a perfect seat for those who hate lounging alone. With a comfortable enough back and more than a spacious seat, it will get any party going.
What makes it look especially interesting is the number of wooden details fixed together with chromed metallic elements.
Garden Bay is a cool swimming pool lounger with a built-in side table that misses only a comfy back. Or does it?
We feel like it would make a cool chaise longue or a daybed that you could use to really lie down and relax.
Speaking of lying down to relax, here is Square Roma which looks nothing like a bench but can definitely work as one.
Contemporary garden benches are as cool as any other furnishings. They are also much more versatile than their classic counterparts, so take this opportunity to skimp on a sofa or an outdoor dining chair set.