If a bathroom is small, the general consensus is not to do anything dramatic when it comes to the room's design or remodeling. The idea is that bold statements will be too overpowering in an area not much bigger then a pantry or closet. The problem is if a room is kept from making any type of statement, the room is boring and who wants to be bored? We here at Trendir think giving your small bathroom a splash of the dramatic is definitely the way to go because there's nothing better than small spaces with big ideas.


Amit Apel Design loves to twist things up in every space they create and this bathroom is no exception. The wallpaper design of super sized brush strokes is a gorgeous foil to the otherwise geometric layout of the room.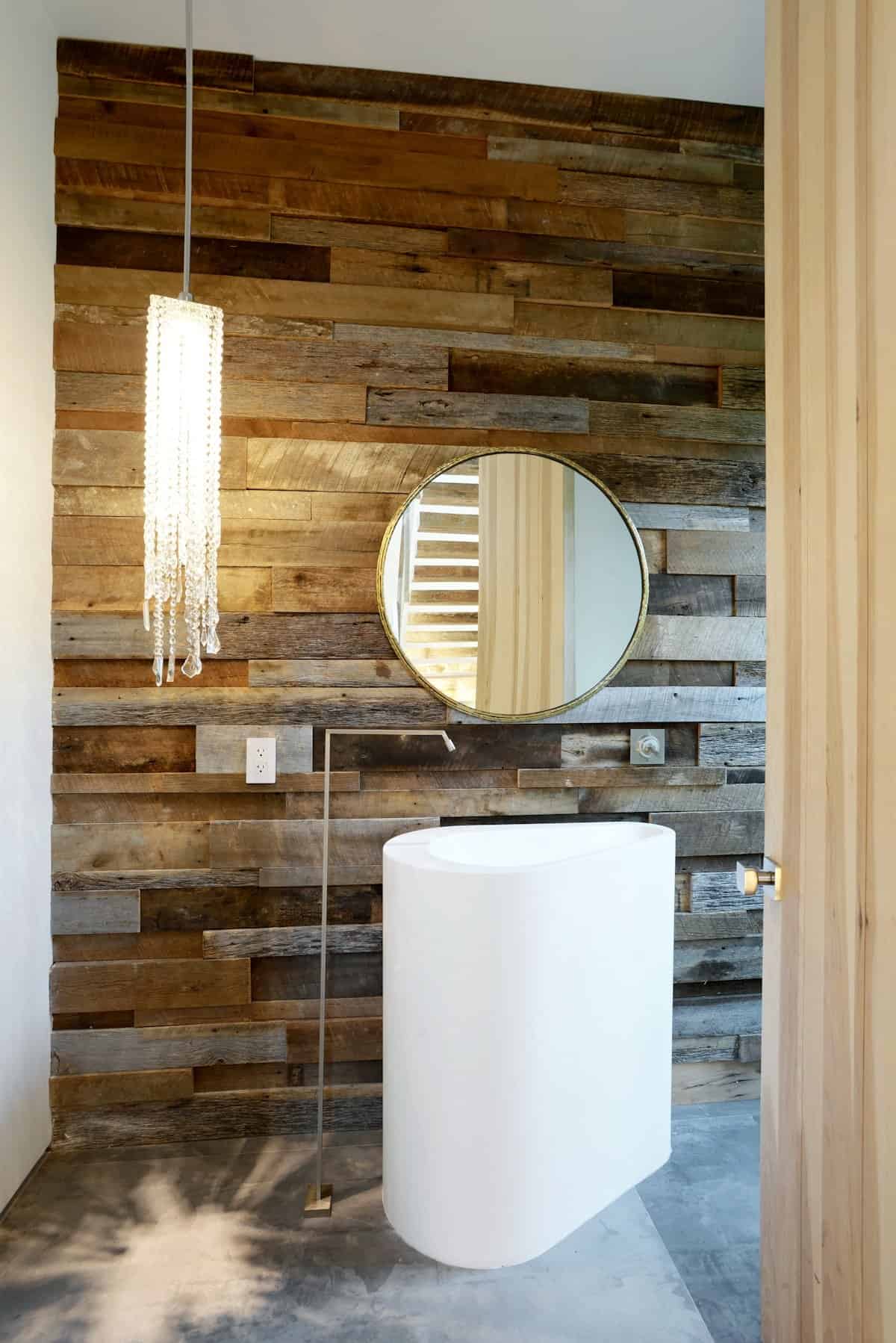 This powder room is in the same house and makes its statement via the wall of reclaimed timber. You would think that would be enough but check out the crystal light pendant, what a fun contrast. Source


Who needs space to create wall art with mosaic tiles? The Kona residence by Belzberg Architects Group is filled with beautiful woodworking but in the bathroom, the tile wall reigns supreme. Source


The blue and white wallpaper design brings on the geometric in a crisp, bold look that can swing both traditional and modern depending on what is paired with it. Source


The powder room in the Wimbledon residence has a real vintage flair with its wainscoting and traditional pedestal sink, but the bold pattern on the chair and floor is modern all the way. Leivars really melded the old with the new in a bold and colorful way that makes this room have serious attitude. Source


Talk about Retro revival, even the black seat pays homage to a time gone by. What really makes this cross-generational design work is the wall of white-framed art next to a black-framed mirror, remove either one of those two features and the room becomes ho hum. Source


I don't know about you but I could spend some serious time just reading the writing on the wall of this powder room (pun intended). Kababie Architects really did poetic justice with this design. Source


A ski chalet in Montana, USA is the location of this powder room is located, so its no wonder Hunter & Company Interior Design chose a color palette that is warm and cozy, filled with patina'd metals and frozen water droplet lighting. Dramatic as the finishes are it's the trough sink that really grabs my attention – what a show stopper. Source


Loft is Loft by MARTINarchitects is filled with dramatic moments, including this bathroom. With walls and floors covered in 12″x24″ slate, the black oil drum sink makes a powerful statement. Source


No matter what color they are, oil drums make a pretty dramatic statement when used as a sink. This blue drum makes a fun pairing with the parrot wallpaper. Architect Guto Requena really went for the more is more in this powder room. Source
If you like rooms with big attitudes you will really like our curated collection of dramatic dining rooms.