Technically not an A-Frame architecture because of the partial vertical exterior walls, this charming and elegant wooden country home sure makes an appearance of an A-Frame design, thanks to the curved profile of the front glazing. Designed and built by architect Jean-Baptiste Barache, it's situated in the tiny Normandy town of Auvillier, France, among farming lands. The project was conceived as an experiment for off-the-grid living but became a practically year around home for the architect and his wife and a holiday spot for family and friends. With no electricity and heated by an old style wood stove via a chimney, the house gets chilly inside in the cold seasons that are long lasting in Normandy. Still, being close to nature and having a sort of old-times lifestyle is worth it. In his childhood years, Jean-Baptiste lived in a barn-style home and he is used to chilly nights. After all, the design of this country home was inspired by the barns.


He built the house by himself mostly, except the framing – it was done by a local barn builder. So not only this is an off-the-grid home but it's also a DIY project that took him 18 months to complete on a $105,000 budget. The living area is almost 2,000 sq.ft. (including two main floors plus a 3rd floor loft), and is built with low upkeep in mind.
A homemade wood-burning stove delivers some heat from the ground floor to the sleeping quarters upstairs through a clay brick chimney. There is a solar-powered battery that allows to work on a computer.


The improvised A-frame sits on concrete piers, and is framed in Norway Spruce and clad with Red Cedar shingles on the outside and low cost particle boards inside. The lumber is mainly recycled and was collected from theater sets.
The front door is clad in the same untreated and weathered Red Cedar shingles and blends in almost completely.


Behind the all-glass facade is the living room that stretches 25 feet to the roof and opens up onto a small deck. Within the same height, there are two more floors that are basically cubic lofts stacked on top of one another, and built around the central chimney.
At nightfall, the house is lit up by the candlelight and gas lamps.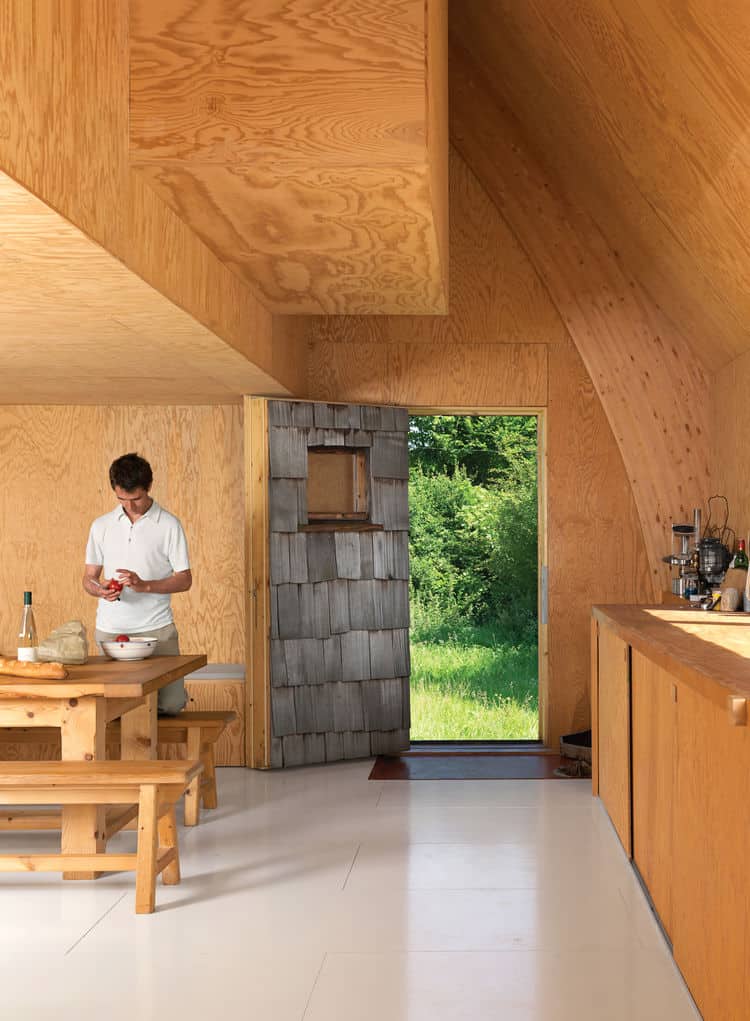 Just like the interiors, the kitchen is built from plywood. The cozy farmers style dining set is the architect's own design.
The simple kitchen stove-top is fueled by a gas canister.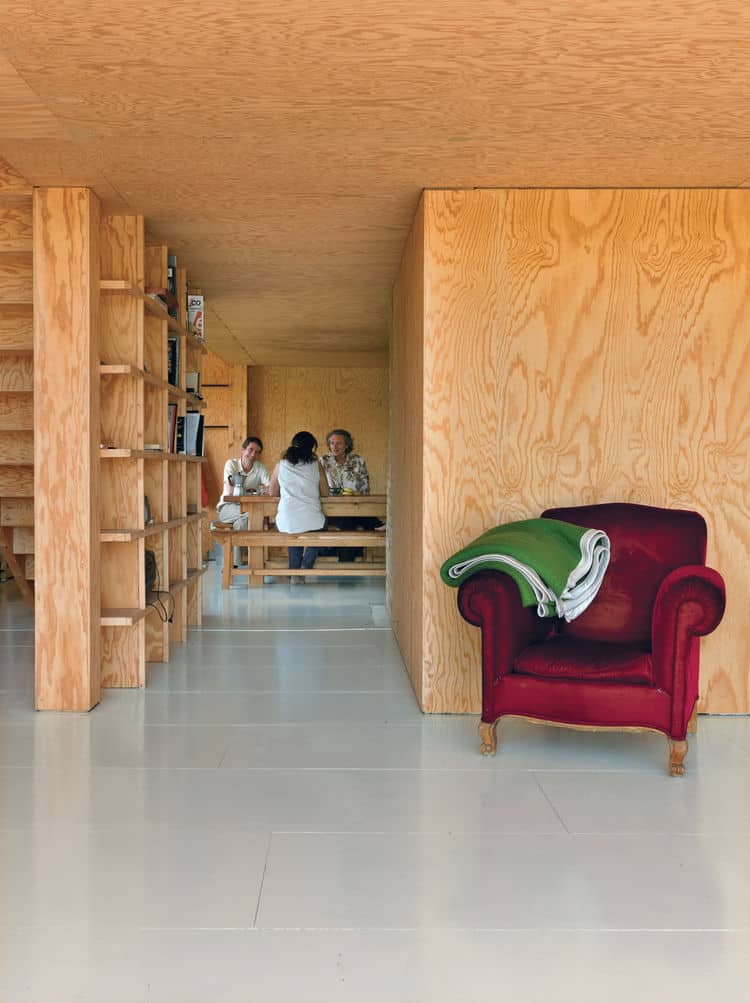 The small bathroom is on the first floor. Unfortunately, we don't have any details on how the house gets running water to the bathroom and the kitchen.


The second floor is the sleeping quarters housing three bed nooks with only curtains for privacy.


The third floor loft is a small bedroom with peekaboo windows.


via: Dwell
Photos by: Céline Clanet and Gaelle Le Boulicaut.