Japanese architecture firm Takeshi Hirobe Architects created this gorgeous wood and glass house in Chiba, Japan, with mountains and ocean as its neighbors. Here's a sneak peek.

Adjacent to Tokyo Bay, this picturesque place played a huge part in inspiring the design of Villa SSK, which reminds us of the inside of a boat featuring exposed wood cladding the angled interior walls. On the other side, majestic mountains rise into the endless sky, with the house nestled comfortably between them, connecting the water with the rocky peaks.
According to the architects, "Architecture ought to be rooted in the place it occupies. The architectural form of this building somehow emerged during the long process of analyzing and studying the location. Although the design process was supposed to have entailed a frantic accumulation of decision-making and choosing between possible options, the finished building gives one the strange, lingering impression of having been constructed according to some law or other."


The slightly skewed pentagonal shape of this house is highlighted by the front and rear glass facades. When illuminated from within, the house stands as a beacon of light in this lush, natural location.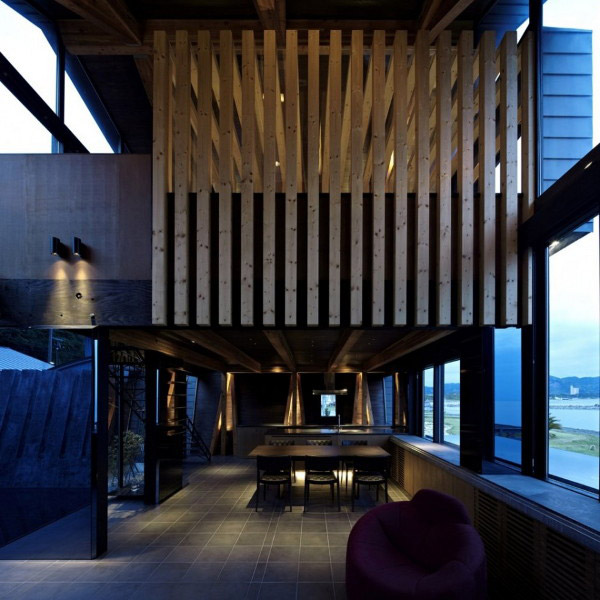 Inside, the structure is like a tunnel, with almost no right angled walls to be seen. Within this wide open space, the homeowner wanted a large living, dining and kitchen area, a guest room, a spare room to display his car…


…And a spa-inspired bathroom with ocean views.


Encircled by the living area, guest room and spare room, a tiled central courtyard is for the dogs, literally – a great place for the pooches to play, and for alfresco entertaining of guests.


Takeshi Hirobe Architects
Via Contemporist