A vacation house is something of a luxury to own, but when it comes to choosing its style, more and more people come to prefer modern glass-heavy designs that allow to take in the views. But while location may be more important, modern architects give a lot of attention to the design of contemporary vacation houses.
Prospector Residence in Sun Valley, Idaho, USA
Prospector Residence is a typical contemporary modern house with enough space to make a permanent home for a family with kids.
Sitting on a hill of Sunny Valley, the $8 million abode features windows in every room and zone, including bedrooms, bathrooms, and its incredibly spacious kitchen.
Off-Grid itHouse in Pioneertown, California, USA
Delightfully eco-conscious and ultra contemporary Off-Grid itHouse takes in the views of a rocky Californian landscape from all sides like a pavilion.
With only 2 bedrooms and 1 bathroom, it must be a breeze to power with those roof-mounted solar panels.
House on Krk Island, Croatia
Combining ancient-looking masonry and sleek contemporary shapes, the House on Krk Island really looks different from all the other modern box-shaped homes.
Built for three families, it ensures there is enough space and mandatory water views for each group of residents to enjoy.
House in the Swedish Archipelago
This asymmetrical pavilion-like house sits in the Swedish Archipelago, contrasting starkly with the green environment. Its black steel frame extends to shape an angular terrace with a sun awning roof.
The white neutral interiors create another contrast with the black facade. The latter is also equipped with glass walls for better illumination and views.
Venus Bay Bach in Victoria, Australia
This house in Venus Bay enjoys the privacy of a green grove, but also a close proximity to the beach.
Its completely contemporary facade creates space for outdoor lounging. Even its staircase is meant for sitting lazily in the sun.
Burton Residence in Mendocino County, California, USA
Modern but modest, the Burton Residence was constructed in a way that would not obstruct the natural beauty of its locale.
Taking advantage of the warm Californian climate, the pavilion-style home opens to the beckoning green landscapes in an elegant, organic way.
Drew House in Australia
When it comes to vacation houses, Drew House is something else. Built as a holiday retreat in 2010, the house aims at the 'luxury campsite' aesthetic rather than that of a modern home.
Partially prefabricated, the unusual dwelling includes rainwater tanks, solar hot water and electrical panels, and a community water recycling system.
Hoopers Island Residence in Dorchester County, Maryland, USA
Another one among unusual vacation houses is the Hoopers Island Residence that consists of separate living blocks connected with a swimming pool deck.
Comprising a master cabin, guest cabin and lodge, the 2,200-square-foot (204 sq.m.) vacation home overlooks the waters of Honga River, all the while enjoying a grove as a backdrop.
Fidar Beach House in Fidar, Jbeil, Lebanon
A fresh vacation house located at the beach of Fidar in Lebanon is a modernist-looking white building that boasts the capacity for a family of five or three guests. But it looks like it could accommodate that many more.
Its partially beige stone blocks seem to ease it into the rocky environment. And the black tall window frames create a dynamic contrast in its facade.
Delta House in Guarujá, Brazil
This seaside vacation home in Brazil drowns in jungle green, but emerges stylish with its extensive wooden louvre system.
The living room overlooking the sea also opens up to the fresh marine air. The nearby infinity swimming pool allows to take a dip in refreshing water without the need to step out of the house.
Brushytop House in Blanco, Texas, USA
This desert-y vacation home looks super contemporary, but it's made almost completely out of wood and masonry blocks. A ton of glass allows it to harvest more daylight and views.
Inside, concrete and wood finishes make for a very lived-in and homey look.
House on Lake Okoboji, Iowa, USA
Overlooking a glacial lake and cornfields, this home is one of the more designing vacation houses. It doesn't just have more elements to its exterior but it also looks interesting on the inside.
It is dressed almost entirely in wooden siding, but concrete and glass as well as wooden louvre systems break the monotony of the natural finish.
Cove 6 in Knysna, South Africa
If there is one building firm that knows how to build cool vacation houses, it is SAOTA. Often working with Antoni Associates, who deal in interior design, they create the most luxurious homes.
Cove 6 sits in the green hills of Knysna, and offers unparalleled panoramas, that can be enjoyed from the house's various levels.
Anton House in Zamora, Spain
A rough concrete block from the first sight, a cool, sleek vacation home with a huge pool from a second glance, this pavilion opens up from both sides with glass walls protected by giant sliding doors.
Standing in the midst of green landscapes and fields, the utilitarian concrete doesn't necessarily add anything to the place, but it definitely takes advantage of the views.
DT Puerto Roldán House in Argentina
While most modern vacation houses look like permanent residences, this one seems like a relaxed but cool beach cabana.
Taking the most of the sunny side, its glazed walls have two levels of privacy. There are white semi-sheer curtains that let the light in, and a wooden sliding door that shuts the property down almost completely.
Baan Citta in Bangkok, Thailand
Baan Citta actually looks like someone's permanent residence. It is spacious, sustainable, and ultra contemporary from inside out. It is located in a warm climate, where such architecture can easily be sustained.
There is much less privacy, though, as the design is very glass heavy and transparent, aiming at harvesting both light and views.
Infiniski Menta House in Reus, Spain
Unique vacation houses tend to result from restrictions. Infiniski Menta House had a budget of just 100,000 Euros and was built in only three months, but it doesn't look bad. It's just different.
It also has passive solar design, natural ventilation, and repurposed designs, which makes it eco-friendly.
Foam Road Fingal Residence in Victoria, Australia
You may not be a fan of contemporary pavilion architecture, but it definitely has its advantages. For instance, those covered outdoor lounge spaces that protect from both sun and rain.
What it also has is straightforward shapes and lines that allow to place glass inclusions as well as other elements anywhere in the house.
House in Menorca, Spain
A more familiar style among vacation houses is that of this House in Menorca. White blocks are connected with wall-sized windows and decks.
Embodying summertime in its very design, this home invites to relax by the pool and bathe in the sun all day long.
Villa Mecklin in Velkua, Naantali, Finland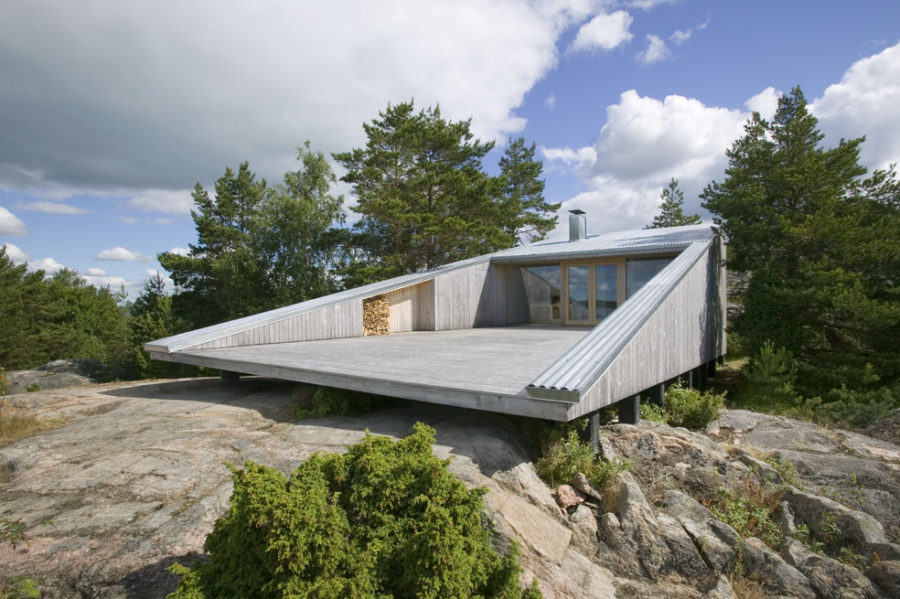 There is no point to invest a lot into a vacation home that you aren't planning to actively use throughout the year. So, maybe a simpler plan is in order.
Reclaimed wood and concrete are pretty cheap, and if you plan for less space, you can save a lot but still enjoy your very own holiday retreat.
Tepoztlán Lounge in Morelos
Vacation houses like this pavilion in Morelos are the most cost-efficient. You can even repurpose a shipping container as one.
If you don't visit very often or stay for long periods of time, this kind of a vacation home is a perfect financial compromise.
Sorrento House in Victoria, Australia
Sorrento House is interesting because it combines a vacation house aesthetic with a brutal modernist twist. Its glamorous white structure is punctuated with a concrete fence and beam constructions.
A surprisingly industrial flair gives it a completely different look from most vacation houses.
Villa La Hilaria in Punta del Este, Uruguay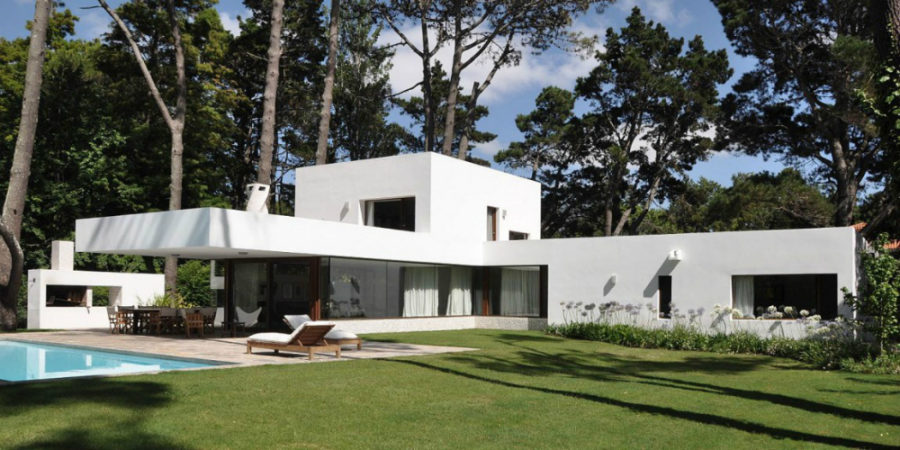 Villa La Hilaria is a modernist L-shaped two story retreat that could come straight out of the middle of 20th century with its blocky shapes and minimal aesthetic.
Red brown wooden window frames add a bit of warmth to the sleek structure, and broken tile white mosaic supplemented the house with subtle details that an observer has to actively look for.
La Lucia in South Africa
Another one of SAOTA's vacation houses is a luxe La Lucia residence that is comprised of two simple stacked pavilions dressed in creative sliding screens.
Although there are plenty of exposed concrete elements in its interior, the unusual villa feels incredibly luscious on the inside as it is always a case with Antoni Associates.
Casa en Melides in Grândola, Portugal
Casa en Melides is a weekend retreat that sprawls across 3,700 square feet (343.7 sq.m.). While it may appear small and limited, the white block is only a public part of it. An earthly-colored base partially hidden behind a hill, on which it's perched, makes for the bulk of living space including more private zones.
Contemporary vacation houses aren't that different from the permanent living spaces. They utilize prefabricated techniques to cut down the costs, and contemporary modern architecture to reduce the energy consumption. This is what can make them more affordable, if you don't choose to furnish with designer home decor.