Set on a dramatic and extensive hillside property in Sri Lanka's Western province, this home by Narein Perera is compact at its roots, but vast overall. Built to both house the estate owner during visits and to be rented out as a vacation cottage, the building consists of three distinct floors, creating a thin, vertical form. However, large steel supports extend from the rooftop and from key structural areas of the home to help reinforce it, lending the residence a much more sweeping silhouette. Most of the wall coverings of the house, inside and out, are various types of wood, with dark metal deck railings and structures accenting those natural browns. As both a contemporary private home and an island getaway, the abode makes for a compellingly attractive stay.

The arrangement of the home is unusual, made up of three distinct floors separated by a rear staircase, each containing a different set of rooms. This unique structure adds vertical might and keeps guests comfortably isolated when visits occur.


The steel backbone of the cottage spreads out its shape far beyond the largely vertical profile of its actual indoor spaces, bringing visual representation to a usually-intangible continuation of the roofline on both sides.


The house is accessibly only by foot up a hillside pathway that ventures deep into the center of the estate property, keeping it removed from maintenance staff and the general public.


Each room of the small home has a wall-height window on the building's flat side, allowing for views unburdened by deck or roofing structure (aside from a few essential steel beams).


With deck space expanding as you move upward through the levels of the cottage, it goes without saying that the largest space for entertainment and living is at the top, set under the tall crest of the dwelling's roof and featuring wide views of the surrounding Sri Lankan geography.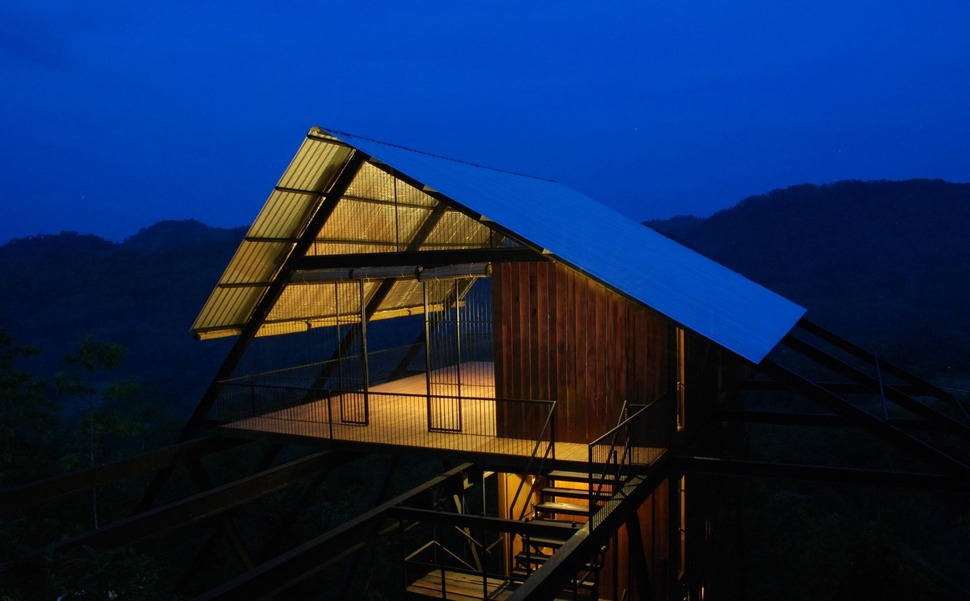 The private estate setting of the home means no worries of current or future neighbors. Even the full-time staff tasked with maintaining the property is housed at the bottom of the hill, far from its owner's secluded retreat.
Narein Perera