This lush eco house located in Mexico City was designed by local architect Paul Cremoux, with an outward appearance that is traditional when compared to the unusual interior elements. A three-storey interior courtyard complete with a garden wall awaits behind the front facade, providing a striking alfresco area while passively regulating the home's internal temperature. "Beauty and brains" describes this smart house design in a nutshell. But that's not to say the exterior isn't exciting in its own way. The slate clad facade is dark and dramatic, yet earthy and modern all at once. It's enough to lure you in for a closer look. Here's the tour.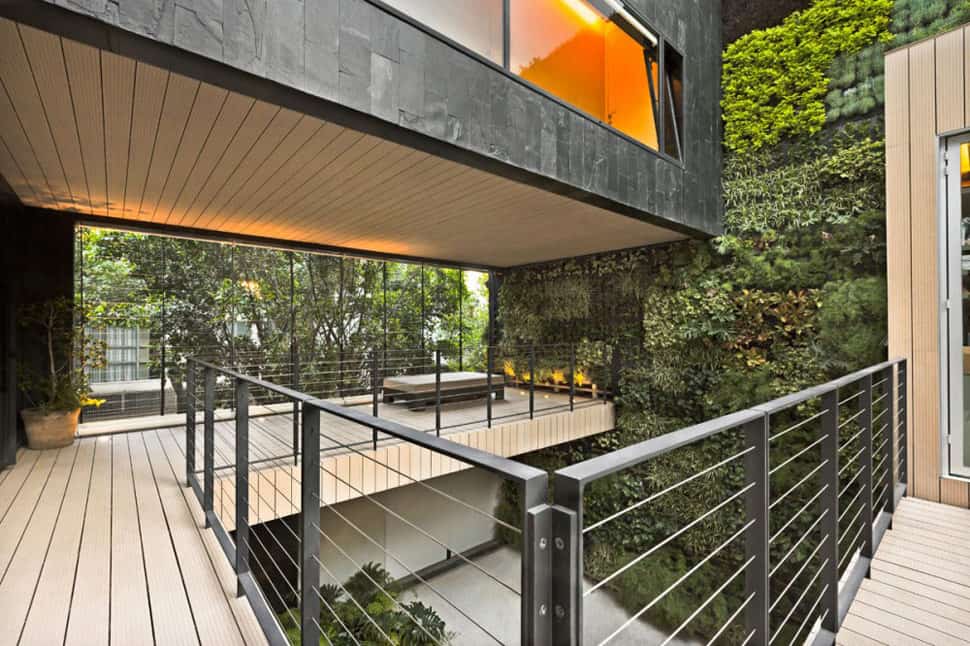 In a residential pocket of this busy city, this urban house blends subtly with its neighbors and surrounding foliage. It's a subtle addition to these surroundings, with a surprise inside.


The architect's eco agenda resounds in all of his designs. "Forty percent of the world's energy is used by buildings. More than fifty percent of the greenhouse gases come from buildings and the construction industry. The way we design and build our spaces responds to the challenge we face as a civilization, considering alternative ways as a goal in the building process," he explains. "We believe from an architectural point of view that everything that is built, must be part of the environment and have to positively interact with it, for that, we design in a responsible way." This house is replete with eco friendly elements, from the more obvious green wall, to subtle elements such as the passive ways of lighting the home and maintaining a comfortable indoor environment.


As you approach the front door, a quick glance upward reveals an upper level terrace that foreshadows the alfresco lifestyle behind this street-side facade.


The dark slate tiles work their way from the outside in, lining parts of the interior courtyard and even spilling onto interior walls as well.


Beech wood was used to finish elements of the courtyard and terraces, defining these alternate living and lounging areas while providing a warm, earthy balance to the cool slate.


A second storey terrace gives a great view of the green wall and the courtyard below, and open sky overhead on one side. From the architect, "We would like to think about vegetation not only as a practical temperature-humidity comfort control device, or as a beautiful energetic view, but also as an element that acts like a light curtain." Where previously there was no vegetation, this new vertical garden is now home to more than 4,000 small, neatly groomed native plants, bringing the whole structure to life. The courtyard is encircled by interior rooms, offering natural views at every turn.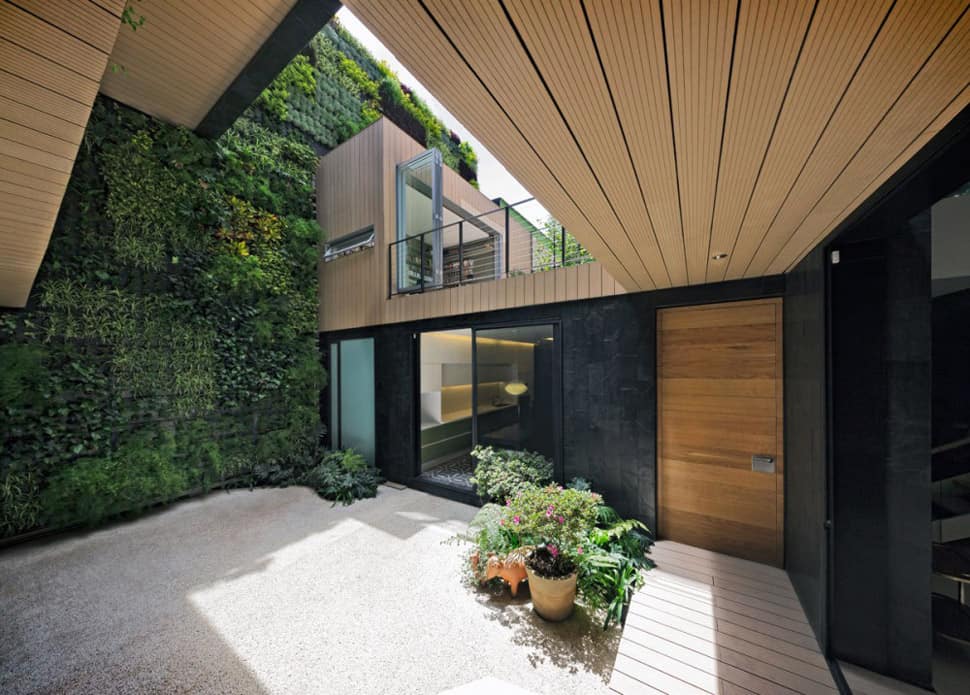 Below the upper level terrace, a double-car driveway opens leads into the dining and kitchen areas.


Interiors boast large expanses of glass that let natural light flow in, soaking every nook and cranny in warm sunlight. The soaring slate feature wall ties in with the home's exterior, leading your eye upward to the clerestory windows overhead.


A zigzagging staircase leads upstairs to the second-storey living room and three bedrooms. This clean combination of steel, wood and glass complements the home's interior materials and adds a contemporary sculptural element to this open space. The stairs don't include rises, which lightens up and opens up this structure, and lets light flow through.


Here are the floor plans that illustrate how these living spaces are organized:


Paul Cremoux Studio
via Dezeen
photo credit: Hector Armanado Herrera and Paul Cremoux W.