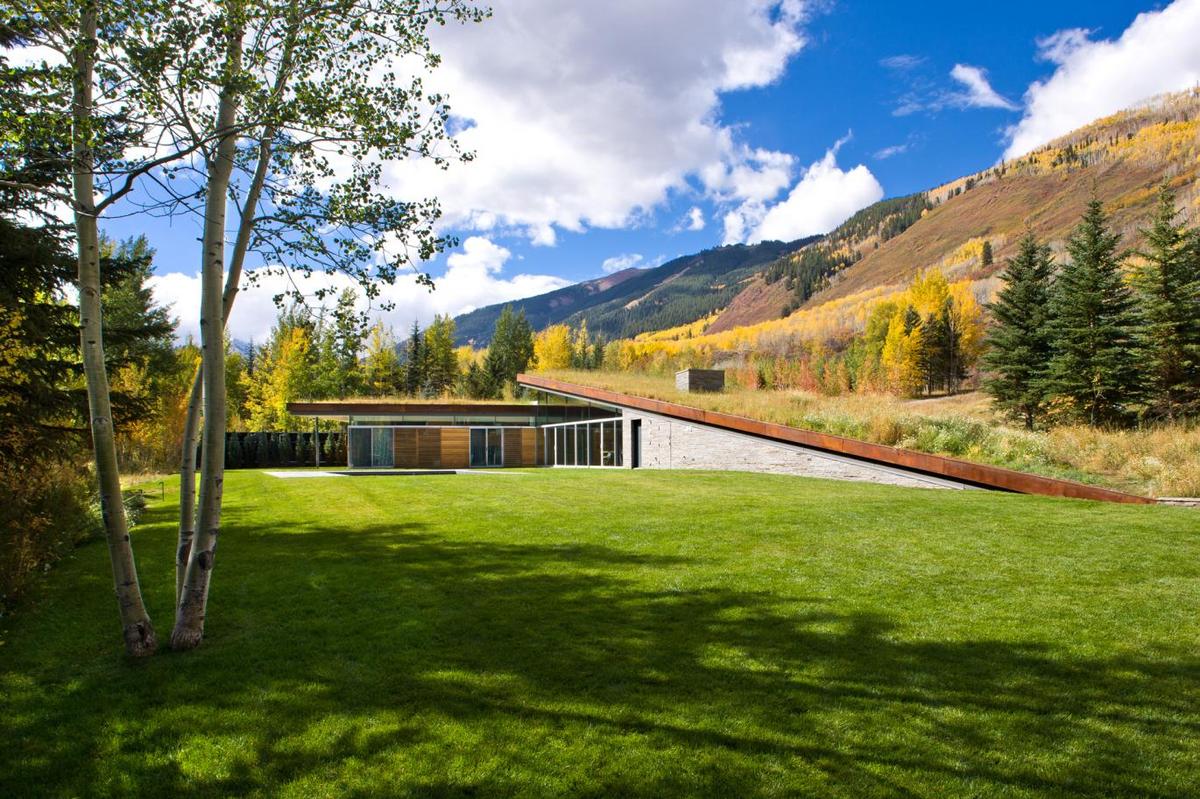 High in the Rocky Mountains in Colorado is a 2,850sqft sustainable house that is filled with urban amenities and yet at the same time it is a place that celebrates its natural and forested environment. Completely integrated into its mountain location, this vacation retreat is the creation of Gluck+ and one of their clever architectural inclusions. The two long and linear roof planes intersect at right angles, creating and hiding a private terrace complete with outdoor fireplace where the homeowners can enjoy the elevated panoramic Rocky Mountain skyline.

If something catches the eye of anyone within the courtyard, a quick jaunt up a flight of concrete stairs leads up to the landscaped and slanted roof that acts as a ramp back down to the grassy meadow area that surrounds the home.


Of course you don't have to see anything to want to go into the yard, you might just want to take a dip in the beautiful swimming pool.


The green roof is so well integrated into the landscape that you might forget that it is a roof at all.


From a distance the roof looks more like a ramp created for Mountain Bike fun. Just zip up the ramp and sail off the end – now wouldn't that be fun?


The 2 rooflines intersect at a point that suggests the original courtyard of the home that previously occupied this location so as creative and beautiful as the design is, it also pays homage to the history of the site – which is really cool.


The intersection of the two volumes creates a large open plan social zone perfect for large family gatherings when everyone wants to holiday together.


Large expanses of glazings slide open, blurring the lines between the interior and exterior living zones and the use of the same flooring material around the pool terrace further enhances the outdoor connection.


Fire on one side and water on the other, it's a hard choice but someone's got to make it.


Aside from the large expanses of operable glazings, Gluck+ also incorporated a continuous row of clerestory windows that allow sunlight, starlight and views of the sky to permeate the rooms even when the window treatments are closed.


Mountain retreat or city house, who wouldn't want this kitchen?


A thick solar wall creates a separation between the service section of the home and the main courtyard making this Rocky Mountain retreat not just beautiful but sustainable as well. Oh and did we mention that the solar panels form a visual screen to hide the parking and storage areas?
Gluck+