It is finally time to spruce up your tired wooden deck. There are actually multiple different ways to spruce up your deck, you can change your furniture and give it a lively new look or you can use paint. Paint is the modern way to spruce up your outdoor space without having to change much of the décor you already have. Here are 10 ways you can spruce your outdoor living space using paint.
One Solid Color
Take a flat finish paint and go to town. When you have a wooden deck, there are multiple different options for you to choose from when it comes to adding color with paint. Paint the floor and ceiling one matching color for the best outcome. Consider using a pastel blue, pink or even yellow for the best results.
Sage Green
Speaking of color if you are looking to create a relaxing atmosphere that will go well with nature use a sage green. Sage green is soft yet intricate and even a little bit underestimated. This color works well when it is paired outdoors with wooden furniture. The trees will also help the color look its best as it will bring out the green hues in it.
Painted "Rug"
Outdoor rugs are great as you can easily sweep away the dirt or hose it down. However, if you do not want to add an outdoor rug to your outdoor space paint one instead. A painted rug adds the beauty of contrast, while still being easy to manage. Select a bold color that will stand out from your décor for the full "rug" effect.
Colorful Stairs
Most outdoor spaces have stairs and most of them are wooden and tarnished. Give them a completely new upgrade by painting them a fun color combination. This is also an excellent way of adding color to your outdoor space.
Geometric Pattern
Thinking of going bold? If so adding a geometric pattern to your deck flooring is the way to go. Patterns work well for adding a touch of boldness and color. Make sure your geometric pattern is drawn in powerful colors. This will add a modern yet eccentric twist to your outdoor space.
Repaint Your Back Door
The first thing people see when they are entering your outdoor space is your back and front doors. If you have a backdoor that leads to your outdoor space contemplate repainting it. Repainting your back door will update your outdoor look. Use a bold color such as red for a bold twist. Consider using the same bold color you have on the door as part of your décor by incorporating pieces that mesh well together.
Dress up Your Old Fence
Fences can look and feel old very quickly. They go through a lot. From rain to snow and even a hit from a ball here and there. Therefore, they may need to be spruced up as well. Paint them a bold and bright color or even add a pattern. It will look like an amazing hand-painted artwork once you are done.
Accent Wall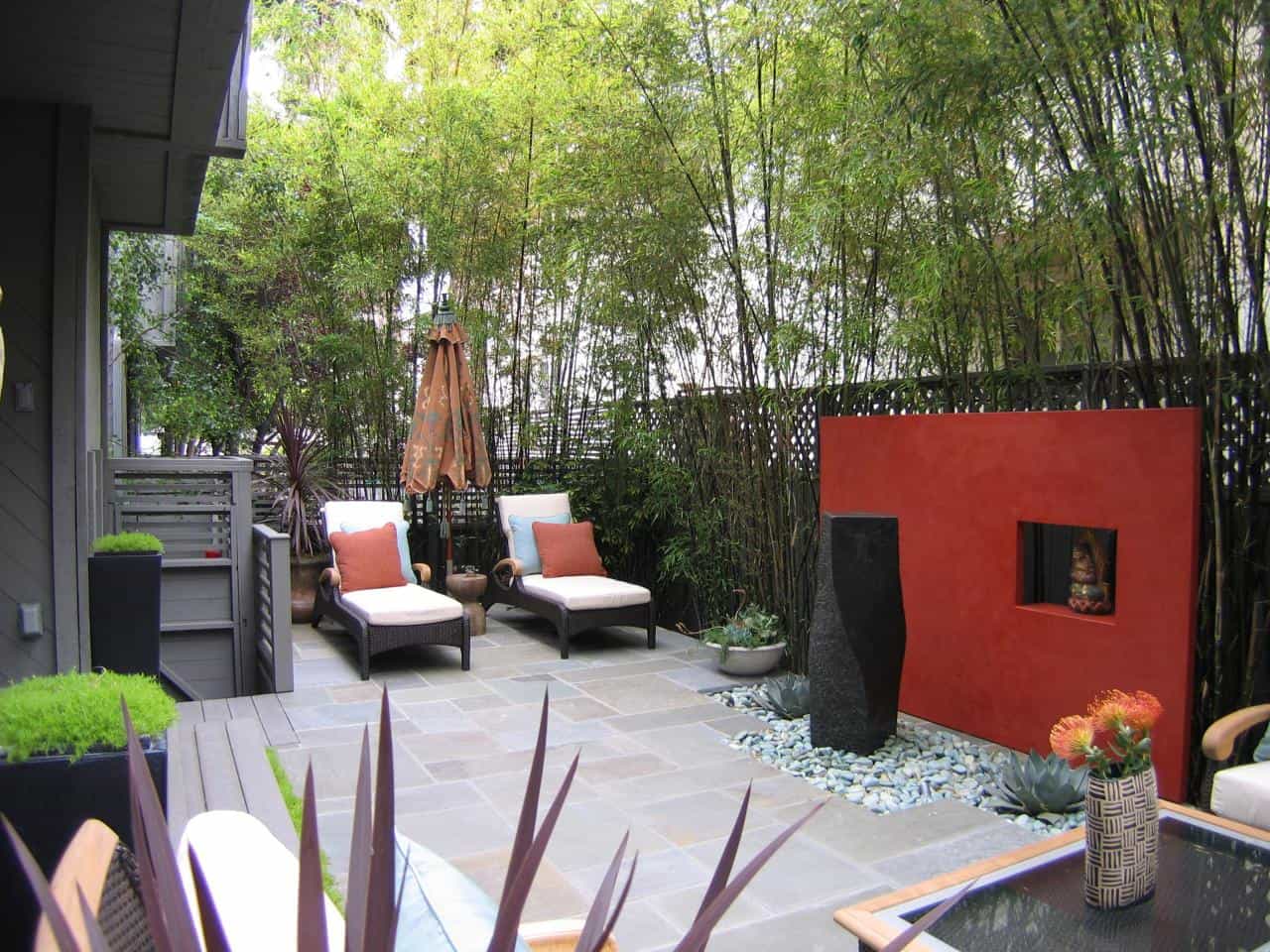 Just like you would paint one wall a distinctive color on the inside of your home. You can do the same on the outside. Accent walls are great because they add color without being overpowering. An accent wall is a strong statement of color while still allowing you to coordinate the furniture to your color liking.
Spray Paint your Table

The great thing about having a wooden table in your outdoor space is that you can paint it any color you like. In order for this to work you want to have a wooden table in a light shade of wood. The lighter the wood is, the easier it will be for you to be able to spray paint it into a bold color that works for your outdoor space.
Mix and Match Colors
When you are thinking of what colors to paint your outdoor space contemplate using more than one color. Using more than one color adds to the modern concept for your outdoor space. You want to incorporate colors that work well together or even the same tone of color in different shades.
Changing the color of your outdoor space may be exactly what your home needs to feel new again. A little bit of paint can give you the vibrancy and modern look you seek. Let us know how you will be enhancing your outdoor space with paint in the comments below.