These spectacular tree snake houses designed by architects Luis and Tiago Rebelo de Andrade are unlike anything you've seen before in terms of tree houses. Situated in the Pedras Salgadas Eco Resort, they practically snake their way into the forest in total harmony with nature. The tree houses are long and slender and they are built on stilts. The architects make beautiful use of wood and other natural materials in accordance to the overall sustainability plan of the resort. Moreover, in order to have a minimal impact on the surrounding Eco-system, the modular tree houses were prefabricated and only assembled on site. Big windows are incorporated to the design which on the one hand brings in a lot of natural light, and on the other offers superb views of the surrounding forest and of the sky. The interior decoration and furnishings are kept to a bare minimum, for the purpose is to let nature overwhelm the guests. Each tree house has a bedroom with a writing desk, a bathroom and a kitchenette. The interior walls of the tree houses are paneled in light colored, almost white wood, which gives volume to the inside and avoids the sauna-feeling. Have a closer look and get snake-charmed by these beautiful tree houses!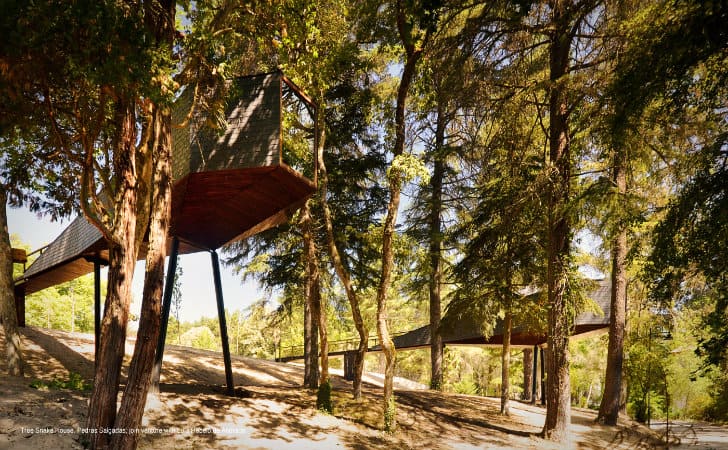 Like the tail of a snake, a wooden bridge leads to the tree house.


At night, integrated lights show the way like lightning bugs.