Italy's Starpool designs and manufactures luxury spa products, ranging from whirlpools and saunas to entire luxury spa cabins. Starpool even produces their own specialized range of beauty products, available only through professionals, designed to work in harmony with their luxury spa cabins. Starpool
Raxul Spa Cabin by Starpool


The Raxul Spa Cabin, rendered in warm stone finishes, is a treat for all five senses. Sight, sound, touch, smell and even taste are each addressed by the Raxul Spa Cabin and the beauty regimen proscribed by Starpool. Multi-color fiber optic lighting provides a range of colors, each designed to work with a step in the spa procedure, augmented by a custom speaker system installed in each Raxul Spa Cabin designed specifically for relaxing ambient music. The sense of touch is addressed by the internally warmed stone surfaces, while the smell of soothing essences and aromas are infused in the steam produced by the Raxul Spa Cabin. Starpool has even addressed your sense of taste, producing an herbal tea designed to coordinate perfectly with the various treatments.


Hammam Spa Cabin by Starpool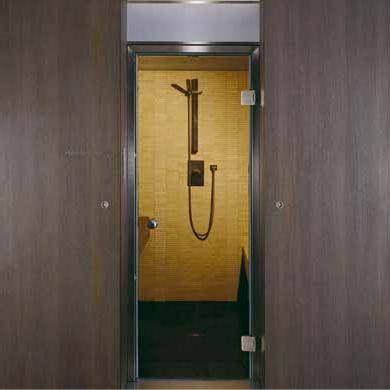 The Hammam Spa Cabin shares many features with the Raxul Spa Cabin, but it is designed around a different wellness regimen. Produced for a heat and water treatment, the Hammam Spa Cabin provides a Dry Bath and a Steam Bath. In a professional environment, this is combined with a Mud Bath using Starpool's exclusive Newera beauty products. The treatment begins with the Dry Bath, combining warmth, natural humidity, and yellow light, the system strengthens and regenerates your body. The Steam Bath follows and humidity increases to 100%. Bathed in green light, the steam cleans the pores and clears the respiratory system. During the Mud Bath, various, specifically produced mud packs are applied to the body and allowed to dry. Steam is then introduced, followed by rinsing of the mud by a warm tropical rain infused with Starpool's Maracuja Essence, gently detoxifying and moisturizing the deeper skin layers.