With a goal of achieving light, air and space, Netherlands architects Bas ten Brinke and Carina Nilsson of 70F Architecture designed this contemporary villa with a modern edge and a nod to Nordic customs and architecture traditions. This full service architecture firm takes the lead when it comes to all aspects of its creativity: architecture, design and interiors. Check it out:

An exterior of classic grey brick and glass has a timeless appeal, with a large wood deck overlooking the water. The largely flat roof takes an upward turn as you move to the front of the house, toward the water, thus affording the main living areas higher ceilings, more natural light and greater views.


And in response to its prime waterfront location, this modern villa puts all the home's principal rooms – the bedroom, master bath, living area, dining room and kitchen – alongside a floor to ceiling glass wall that overlooks the verandah, extending the entire south face of the house with the water just beyond and always within sight.
Inside, the timeless aesthetic takes on a more contemporary style, with cool concrete floors, warm wood ceilings and sun soaked interiors thanks to the expansive glazing.


Beyond its four walls, this modern, three volume house also features a garden shed and a wood clad sauna, which offers peace and privacy with views of the water.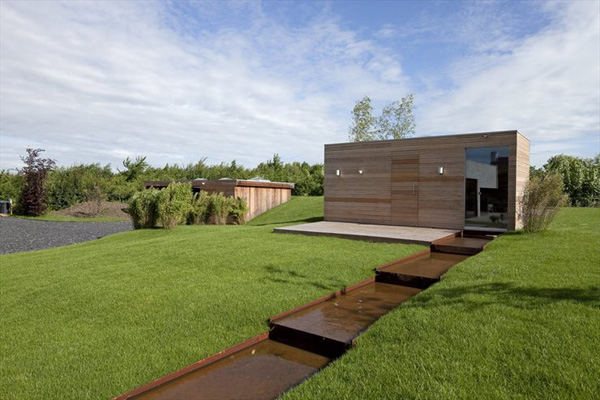 70F Architecture
via Archilovers
photo credit: Luuk Kramer