Jaclo is now offering a range of refreshing modern bathroom fixtures to suit all tastes and needs. Keen on a power shower? You will love the unusual side-mounted Jaclo Rainbar – an adjustable rainbar that brings a powerful car wash effect into your modern shower stall.


Or, if you prefer a 'surround rain' showering experience, you should try the Jaclo Gosh Shower Column. This remarkable contemporary shower reinterprets traditional concepts of showers, offering water jets from above, as well as two separate streams from the length of the column, giving a thorough, all-over cleaning sensation. It can be customised with low flow capacity to save water, and also includes a hand-held shower mounted at the side for hard to reach areas.


For the urban warrior in need of an invigorating shower, Jaclo presents the York Shower Column, which would fit nicely in a New-York style loft bathroom. The York Column is an all-in-one shower fixture featuring two overhead adjustable-angle rain tiles in addition to a waterfall showerhead and convenient hand shower. This innovative unit works with existing shower valves and outlets, creating a totally new look without all the plumbing.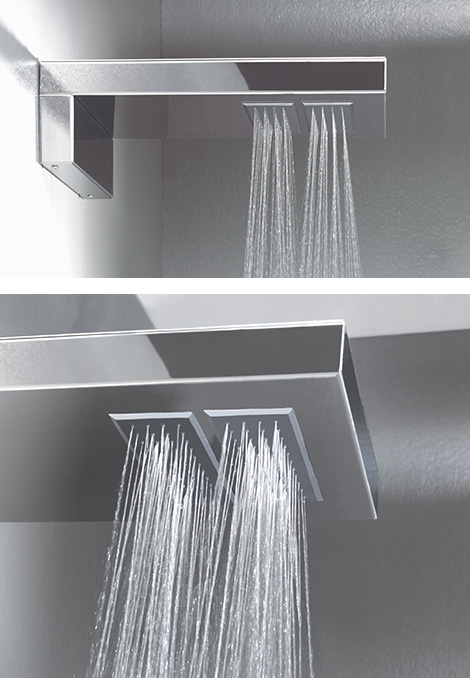 The Jaclo York Showerhead is a replacement showerhead that represents modernity at its best. The York Showerhead is ideal for upgrading bathrooms or creating stylish new ones. It features a rectangular shape, and offers several rain spray options. It is also outfitted with an easy-to-clean function. This replacement showerhead works with a home's existing shower valves – simply remove the original showerhead and mount the new York in place.
These effortless, yet sophisticated upgrades change the entire look of the shower, while enhancing the overall bathroom. Effortlessly replaceable bathroom fixtures by Jaclo will simply enhance your lifestyle.
Check out these other exciting Jaclo products picked by Trendir:
Jaclo Decorative Lamp Showerheads – fabulous modern vintage
Jaclo Rain Canopies – featuring soothing chromotherapy
Jaclo Inspired Bathroom Interiors – for a great open-plan look