The shoes, the backpacks, the grocery bags, the coats; these entryways into our home can hold a lot of "stuff." So, it's imperative that we find ways to keep things neat and tidy – but fit out stylish vision for the house as well. These 15 mudroom benches will not only help organize the family's necessities but accent it in the right way too. Let's have a look, shall we?
For extra-large families, this double-bench space from HGTV is a blessing. With ample space for storage, shoes and a small, locker-style closet in the middle for coats, sports equipment and the like, you've truly got everything you need to keep the family's on-the-go necessities in check. There's even some hooks on the wall to keep backpacks, scarves and hats.
If you're looking for something that fits a smaller space with a quainter, more cottage-esque style then grab some inspiration from this nook at Country Living. The foundations comes from this natural wood bench that you can either DIY or, if you're lucky, find on one of you hunting adventures at the flea market this weekend. There's always an option to add some color if you want to paint a similar design as well – even if it's just a color blocking effect.
Anything with storage is a winner, and this modern bench with drawers is an absolute hero of a design. Hide sports equipment, games, or extra outwear below! Check out more contemporary mudrooms over at Zillow.
For a simpler design, go with a classic cubby bench like the one we see here from House Beautiful. Hide beach towels, outwear or extra blankets below and then style the rest with the right kind of accessories. This is a great example of a mudroom that's both functional and stylish!
If you don't exactly have a mudroom, and it's more like a "mud hallway," think about going for a smaller design. This delicate, traditional bench features on HGTV is perfect. It's versatile and will fit inside more rustic, organically-inspired spaces or ones that are a bit more contemporary as well.
Remodelaholic featured another rustic mudroom bench that can makes for a cozy treat inside this mellow space. Add some cushions and you've got a piece that welcomes guests to sit and take their shoes off. It also provides a good spot to slide sneakers, sandals and the like right underneath it with the extra shelving.
House Beautiful had this family-oriented space featured on their site and we immediately fell in love with its brightness and function. We have a sneaky suspicion that there's some storage options underneath that happy-patterned cushion. A built-in bench makes for a more contemporary, cleaner option when it comes to mudroom design.
If you're looking for inspiration that's a bit more offbeat, look no further than this NK Home space. There's definitely an eclectic, bohemian vibe surrounding this mudroom, but it's those benches – filled with color and organic foundation that take center stage.
Of course, if you have more of a vintage, cottage-style home then this mudroom will tug at your heartstrings. A bench covered in sunflower prints and pillows, it's quite the swoon-worthy treat. Check out more inspiration over at On the Drawing Board.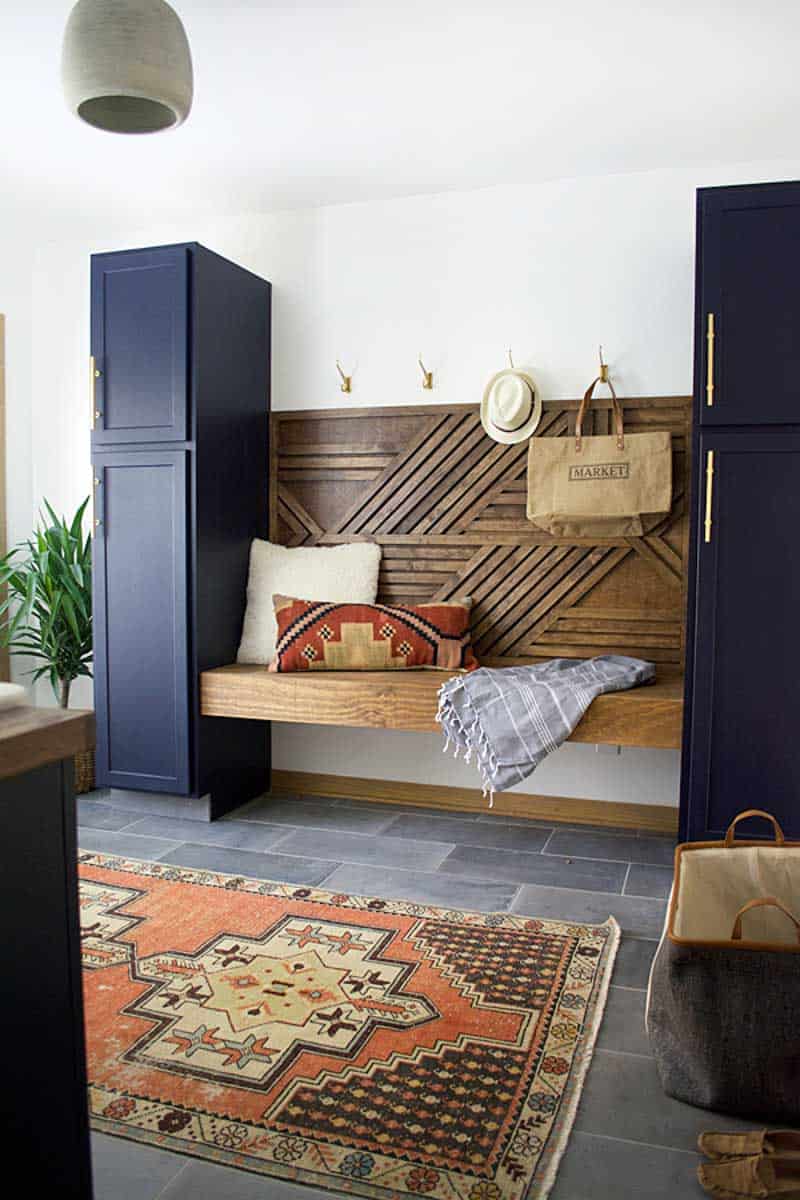 Design Sponge gave us another eclectic space full of slight, boho vibes that we loves too. But again, our focus is on the benches and this floating piece is a favorite. And pay extra attention to its backboard which doubles as a piece of art.
Maybe a white, distressed bench is the final piece to the puzzle that is your mudroom. It works beautifully in this light and bright, cranberry-accented space. The design also holds enough presence to be functional and act as the right kind of personal accessory to the room. We're loving the overall vibe of this subdued, bohemian nook from HGTV.
A bench plus locker-style cubbies is the perfect design for a large family. There's another bench, a black wooden design, in the opposite the large, built-in piece but it's that kind of function that's needed with the comings and goings of a lot of people. Thanks for the inspiration Studio McGee!
We're not all lucky enough to have a mudroom, instead we have to create a makeshift space near our entrances. And if your space is on the smaller side, you may have to go with a smaller bench design. And this dainty piece from Shelterness is the perfect bout of inspiration.
Here's another mudroom bench that has storage too! Just lift the lid of this Designspiration feature and fit all of the family's necessities inside. This is a great piece for those that are looking to build and create a more minimalistic and modern styled space.
Nesting With Grace gave us another floating design that has a lot to offer. There's a lip for shoe storage and ample room underneath for organizing as well. But it's its simple, rustic design that makes it a winner and an incredibly versatile route to take.
SaveSaveSaveSaveSaveSave