This house, located on a rocky slope overlooking the sea in the Alicante region in Spain, is an architectural masterpiece. Fran Silvestre Arquitectors had to face many out of the ordinary requirements. The most important such constraints are the topology of the site and the fact that the owners requested a house all on one floor. The result is very surprising and definitely not suitable for somebody who might suffer from vertigo. The house has three different levels, but the actual living space is all on one floor, as per the brief. This living space is a white pavilion anchored into the red rock by vertical reinforcing structural walls and perched above the cliff and the Mediterranean sea. The front of the house is fully glazed, opening dramatic views both from the inside and the front terrace, that is separated from the abyss only by a glass balustrade. The first level of the house takes advantage of a flat piece of the site, as the architects tried to impact the geography as little as possible. This level is reachable from the street and is composed of a garage, a platform with an infinity pool and a service area for the pool, with technical rooms and bathroom/shower space. The stairs connecting the pool platform to the main house level turns around the vertical structural wall,creating a small landing at the middle from where different perspectives are opening over the landscape.

The kitchen replicates at a smaller scale the monolithic design of the house. The whole kitchen is immaculate, and made up of distinct massive blocks of different sizes and heights. An almost frame-less window opens wild views on the reddish rocks of the slope, that are within an arm's reach.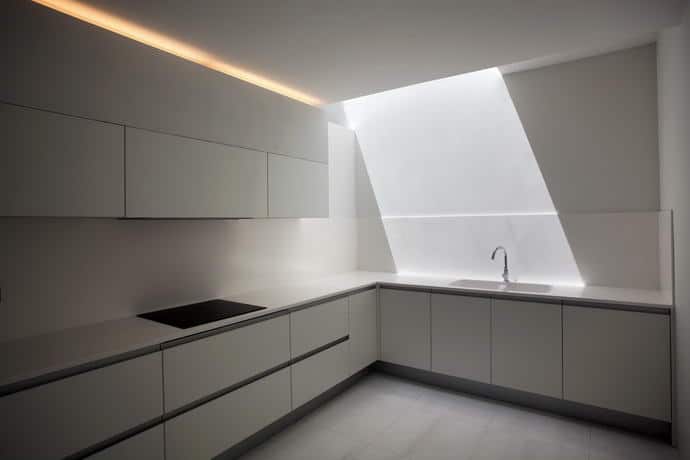 In order to preserve the purity of the shapes, the kitchen appliances are concealed as much as possible.The best examples are the oven, hidden behind a sliding door, and the telescopic hood that only comes out of its niche when necessary.


Set at the back of the house, the bathrooms follow the same pattern, with mat white blocks that seem to compete with the red geology of the site. The rectangular window captures close views of the red rocks like in a framed picture.


Set at the front of the house, the living room and the bedrooms all have access to the front balcony. This is the spot that creates the most dramatic and breathtaking views due to its suspended position and its wide view angles.


The infinity pool is amazing due to its position that seems suspended somewhere between the sea and the sky. It looks like by stretching the arm from the edge of the pool one could reach the peak of the mountain.


The pool lounge is the second main living area of the house. The white sofas and lounge chairs blend in with the white background of the walls, maintaining the all white harmony of the site.