This contemporary view house designed by architecture firm TDC is located in Lima, Peru, overlooking a serene shoreline shimmering with waves. It's this coastal setting that truly sets the tone for this home, which is calm, relaxing and inspiring all at once. The architects created a design that would make the most of these breathtaking vistas with copious outdoor living areas incorporated into a simple silhouette. Bold white walls and volumes are artfully balanced on one another, arranged with openings to incorporate nature into its design, and enticing you to explore further.


This property sits on a steep slope – or rather, it sits in it. Two white volumes balance atop two earthy ones, visually connecting the home to the land. Partially buried in the hillside, the house features an unassuming scale from the back, and as the land naturally drops down it reveals a modern, multi-volume house design.


The crisp white structure is composed of multiple volumes, stacked, cantilevered, combined to create overhangs, openings and sheltered nooks for outdoor living that play with shadow and light.


If you've ever played Jenga, then this house may look familiar as a tower of blocks pushed in and out, like a puzzle. A pool at the foot of the house refreshes residents while adding a pop of color to this minimal exterior.


Every interior room of this seaside house offers direct access to the outdoors. Terraces behind sliding glass doors invite nature in at every turn. The cantilevered volumes become awesome observations decks for nature, while also creating sheltered spots underneath for additional alfresco living.


This terrace is our idea of heaven. Awash in white with minimal furnishings and maximum views, this outdoor living area launches you out into the horizon – at least at a quick glance.


And this view is unreal.


Floor-to-ceiling glass walls divide indoors and out. With the simple slide of the glass, you find yourself out in the warm sun and cool breeze. This kitchen is defined by its views, as is the case with most of this house. Wherever you are in this open concept living area, you'll always find your eyes drawn to the natural light and line of the horizon. Since competing with this natural focal point is futile, the architects rather opted to complement it with a simple interior palette of white and stone, and stainless steel touches in the kitchen lending a contemporary edge.


The multiple volumes that distinguish the exterior also characterize interiors with a progression of heights. Within this open living space, the dropped ceiling defines the kitchen, which opens to the dining and living area, which open to the terrace.


In much the same minimal style of the terrace, the bedroom is as simple as they come, with white walls and ceiling, no clutter whatsoever, and a glass wall that opens to the view.
The home' three levels are partially submerged – an interesting architectural feature that also provides privacy, lots of living space and the ultimate in views: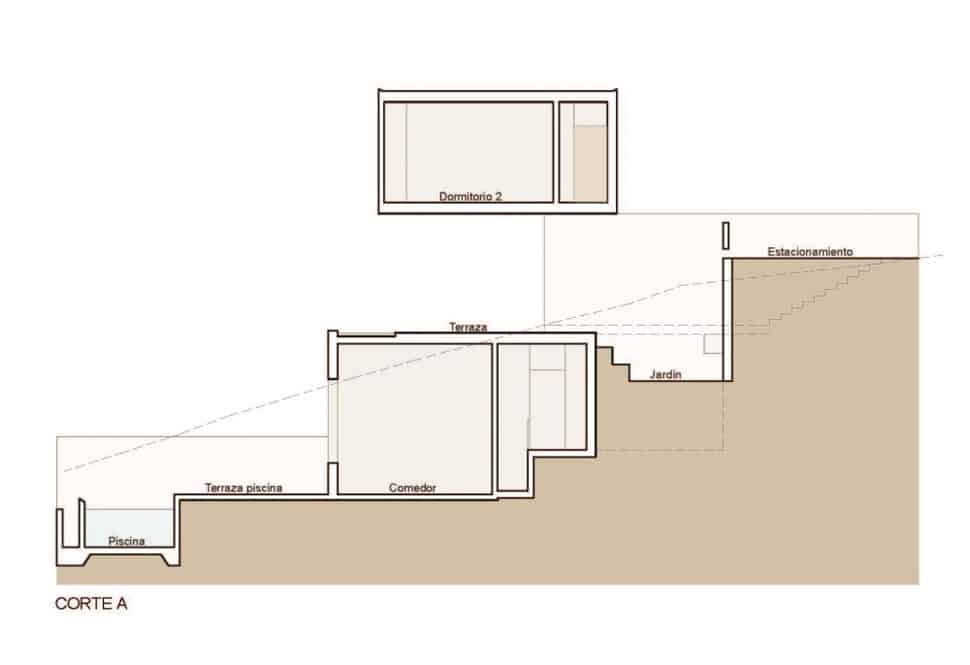 Here are some floors plans of the home's three levels:


And elevations:


TDC
via Arch Daily
photo credit: Sergio Majluf