Now, this is what Mallorca, Spain, living is all about! This south-facing seafront house makes life a pleasure. The slope-side setting ensures unobstructed vista, helped along by the generous use of glass to take it all in. The resort style-home has it all, from the breathtaking views and private bedrooms, to a basement spa retreat designed to soothe body and mind. In fact, the whole house was inspired by a laid-back lifestyle, and reflects a relaxed mentality in its look and feel. Check it out.


Slope-side, the glazed facade swallows up the beach and the endless scenery.


The deep blue pool welcomes, and reflects its vibrant surroundings.


The decks are lines in glass, for an unobstructed view in and out!


Quite possibly the best seat in the house!


The outdoor entertaining areas have a chic and cool aesthetic, much like the interiors only more casual. You can almost feel the warm salty breeze off the sea, can't you?


The views from inside the home are every bit as spectacular. The open concept home and glass walls make the vistas a constant focal point. The white palette is cool, calm and collected.


These open concept interiors create amazing entertaining and socializing spaces – come for the food and the company, but stay for the views!


The kitchen features an amazing range hood that looks more like modern art than a kitchen appliance. The round shape and crisp chrome finish enhance the simple black and white palette.


The dining area is outfitted with a dozen chairs in is brilliant blue hue – what a great way to add a burst of color!


To maintain the home's awesome sense of openness, the stairs are also enclosed in glass, letting light and scenery seep soak every inch of this pace.


Upstairs, you're welcomed with murals that echo the blues of the sky and sea.


An elegant bedroom boasts a private view through sliding glass doors. The tufted leather headboard has a plush connotation, and a clean, contemporary look.


A sliding glass interior wall opens up the bedroom to the adjacent room.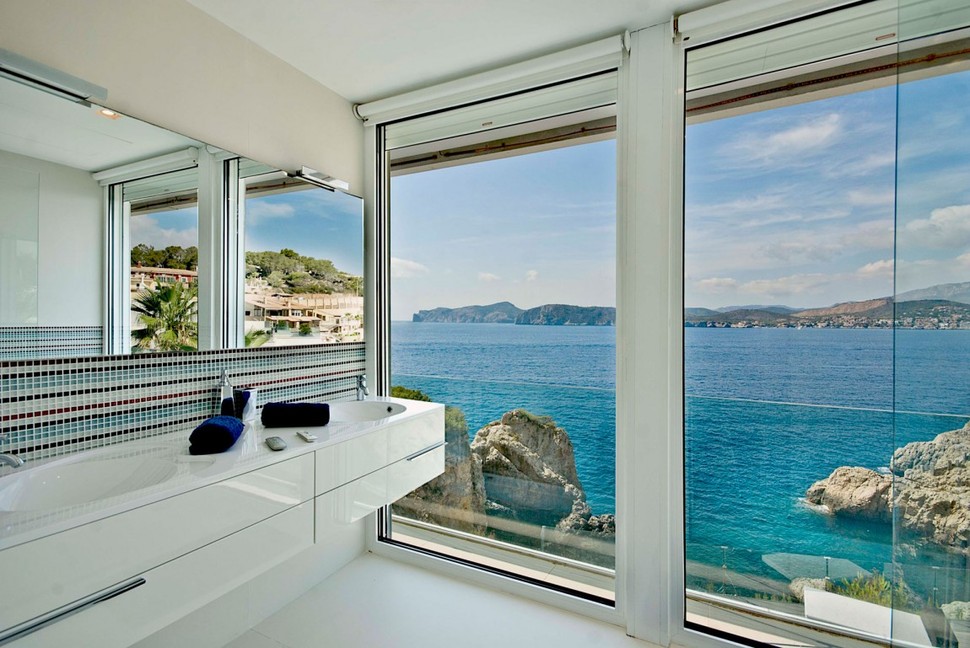 Bathroom bliss!


The basement is home to the ultimate in luxuries – a Turkish bath and sauna, where you can sweat and soak your cares away.
This villa is currently for sale at James Edition