Japanese architecture firm Suppose Design Office created this modern, luminous house with translucent walls that let light pass in and out. Located in a quiet residential pocket of Hiroshima, a long and lean site defines the shape of this narrow lot house design, which is home to a family with three children – and what a great combination of playful, yet sophisticated and serene. Despite the semi-transparency of its shell, the house enjoys total privacy with plenty of natural light. By day, this unusual home glows from outside in, and by night, it emits an alluring glow from inside out.


This urban house is a far cry from its more typical neighbors, although these Japanese architects are known for bringing ultra-innovative, forward thinking designs into the mainstream.


Interiors are open, spacious and bright, thanks to the home's signature translucent walls. The steel tile ceiling and walls wrapping the living area give the home an industrial aesthetic, warmed up by the natural wood floors underfoot.


Simplicity in style and furnishings contribute to the home's great sense of serenity.


The house lacks conventional windows – with these semi see-through walls, glass isn't required for light and views. But panels in the exterior walls swing open for ventilation.


The kitchen is tucked toward the back of this open concept space, perfect for family living and entertaining. The translucent walls create ever-changing views, depending on the light, the season, the weather and even the time of day.


The main living area is located on the second level of this vertical layout, with the garage area on the lower level and the bedrooms tucked privately upstairs. Stairs leading up and down run along the right-hand wall.


Apart from its obvious functions, the kitchen also acts as a divider between the main living area and a private space at the back.


The staircase leading up is a simple steel structure, with open rises and finished in white, in keeping with the home's minimalist aesthetic.


Upstairs, the minimalism continues…


We love the simplicity of the furnishings and the few but thoughtful details, which really let the architecture and materials shine.


The house really focuses on a minimalist lifestyle, proving that less really is more – a good motto, with three kids that undoubtedly keep life pretty busy.


The bathroom is a closed concrete box – the complete opposite of the rest of the place.


The lower level of the house serves as a storage space for vehicles, boots and gear as you come in.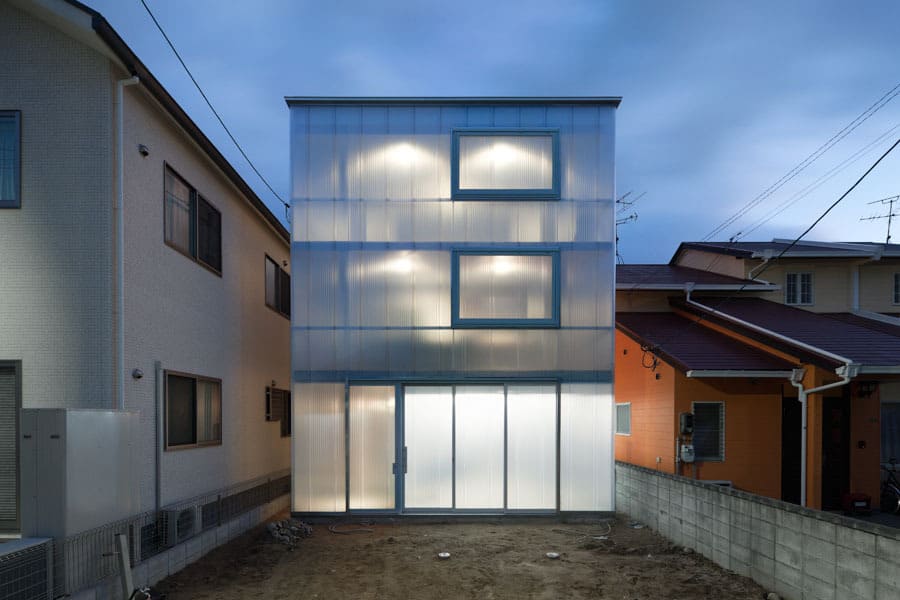 While the light enters the house by day, the exchange reverses by night, with the interior glow emanating outward.
Suppose Design Office
via Arch Daily
photo credit: Toshiyuki Yano, Takumi Ota