The essence of Mount Fuji Architects Studio's design work is observing the site closely and finding its hidden geometry. The architecture of this hillside house was also inspired by the geometry of the site. They created what they call an architecture organized by the land. Which means, in their opinion, simplifying the design process by basically designing the frames and the roof and then taking inspiration from the landscape itself for the rest. In this case, the land inspired them in creating a wooden grid that delimits and sustains the house. This structure is visible in detail, and it works both horizontally and vertically. It is composed of two sets of portal frames of about 12 meters long, that combine in an angle that fits the slope of the land and form a rack assembly with truss structure at the center. The thin structure is achieved by a careful distribution of the force. The beams support the roof and give it just enough pitch to handle the weather conditions. The result is a quite fragile looking "mikado", where you feel that by removing one stick the whole structure would crumble. And yet there is a lot of strength that comes from the symmetry of the wooden geometry.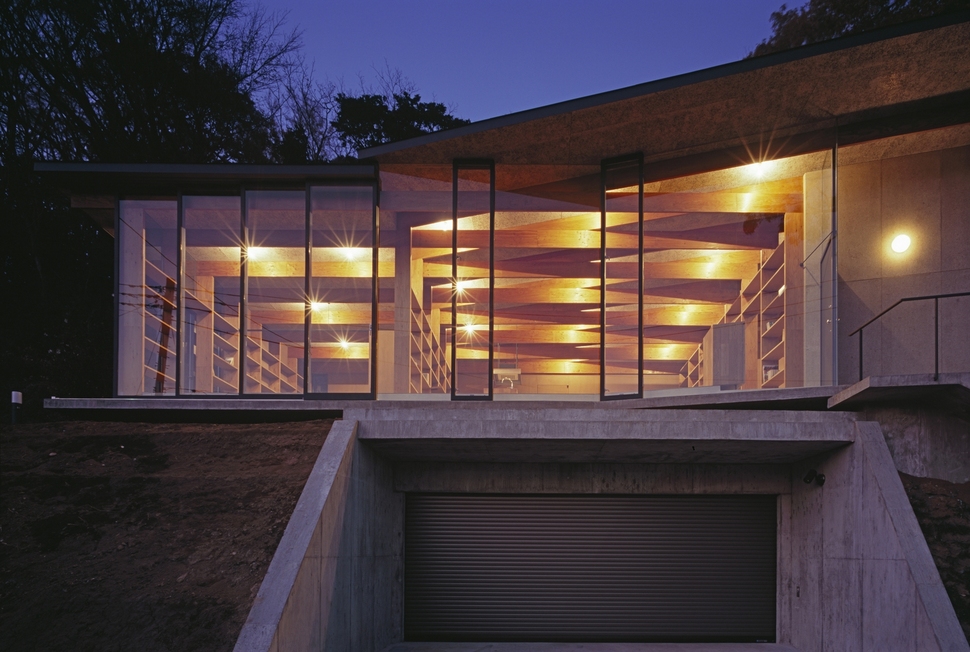 The visual value of the wooden geometry of the house is enhances by the extensive use of glass for both facades and ceilings. From afar, one may even think that it is only the skeleton of the house, and the rest is yet to be built…


The vertical structure in laminated veneer lumber is organized as wooden racks, that form light partitions at the same time, delimiting various functions of the space.


Whenever possible, the pieces of furniture, like this desk, are created from the rack structure. In this case, the self is simply made deeper at the height of a writing table.


Except for the vertical rack structures there is not much furniture in the house, and this "emptiness" gives great depth to the space.


This image summarizes very well the materials used for building this house: wood, glass, metal and concrete.


The beams support the roof creating elegant crossings and angles.