This indoor outdoor house design just outside of Melbourne is an artful balance between architecture and landscape design, bringing living spaces into the outdoors and inviting nature in. When David McCallum of Australian architects DDB Design and Build decided to build his dream home, he enlisted the team of COS Design to transform the outside of the house into one of its main features. The outdoor entertaining areas are the piece de resistance, winning the house the MBAV home design of year award. Check it out.


We'll start the tour outside, because the outdoor living rooms really are the show-stopping feature of the house. The terrace invites alfresco entertaining into the wee hours, in total privacy surrounded by lush landscaping and an open sky.


Natural materials maintain that outdoorsy "patio" feeling, including wood walls, stone floors, and a skylight with an inset pattern looming over the living and dining area.


A rich wood floor adds earthy appeal with a side of sophistication.


The plant life serves two purposes – it provides privacy from the nearby neighbors, and it really defines this as an outdoor entertaining space, not just a yard.


A lap pool lures residents and guests with its calm, crystal blue waters. More amazing pool house photos to follow…


A bank of windows loosely divides indoors and out.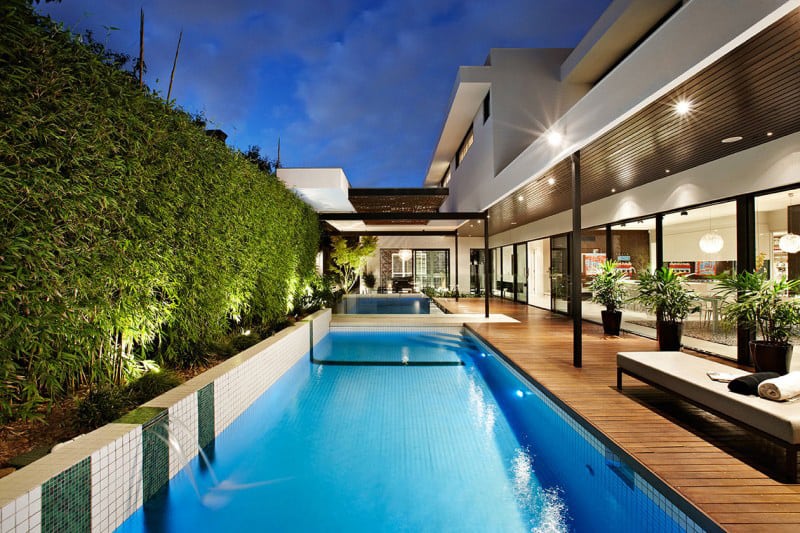 According to COS Design, "The rear pool space is simply breathtaking yet minimal, a true testament to design at its best." We can't argue with that.


The home's ultra modern aesthetic comes together with a clean, contemporary architectural style, white facade and lots of glazing. Visible through the glass walls, modern interiors are a lesson in the latest trends.


The pivoting window walls blur the boundary between indoors and out.


The open concept kitchen and dining area feel all the more spacious, thanks to the barely exterior wall overlooking the patio area.


Cool, bright interiors are never short on drama, which comes in punchy doses like the bold patterned wall in this den.


This office area strikes a balance between beauty and business. A built-in storage wall puts books and work materials within easy reach, and the clerestory window offers plenty of natural light without distracting from the task at hand.


Upstairs, the bedroom offers a private retreat from the socially oriented design of the downstairs. A floor-to-ceiling, wall-to-wall mirror visually doubles this intimate retreat.


Another den area offers a cozy spot to chill out, complete with a walkout to a private terrace, sheltered from the elements for all weather enjoyment, yet still out of doors to satisfy that appetite for alfresco living.


DDB Design and Build & COS Design
via HomeDSGN
photo credit: Urban Angles