Studio Gang Architects created this brick exterior home with an intriguing weave pattern that lets light and views spill in while offering outsiders a sneak peek at the awesomeness contained inside. The Chicago-based architecture firm removed the walls and roof of the original century-old stable, resulting in an interior courtyard house plan that invites the outdoors in. Beyond the brick screen and garden space encircling it, sliding glass walls maintain a continuous dialogue with this private green garden – an element of urban house plans that's hard to come by. The dense urban block boasts an eclectic mix of homes, and among them, this unusual homes certainly stands out from the crowd.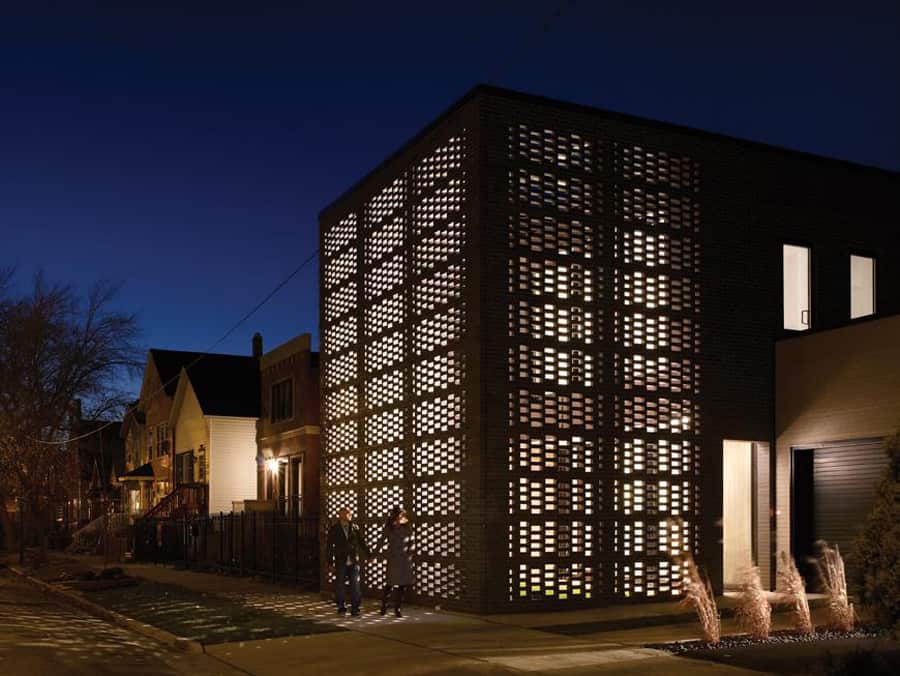 The single-withe screen, steadied with a steel frame and custom anchor system, shades the floor-to-ceiling glass wall and offs privacy from the street without blocking it off entirely. From the architects, "The screen animates the garden and interior with dappled sunlight, establishing a visual connection to and from the street. Rectangular voids in the screen throw hexagonal patterns of light inside. At night, the pattern reverses, and the screen becomes a lantern."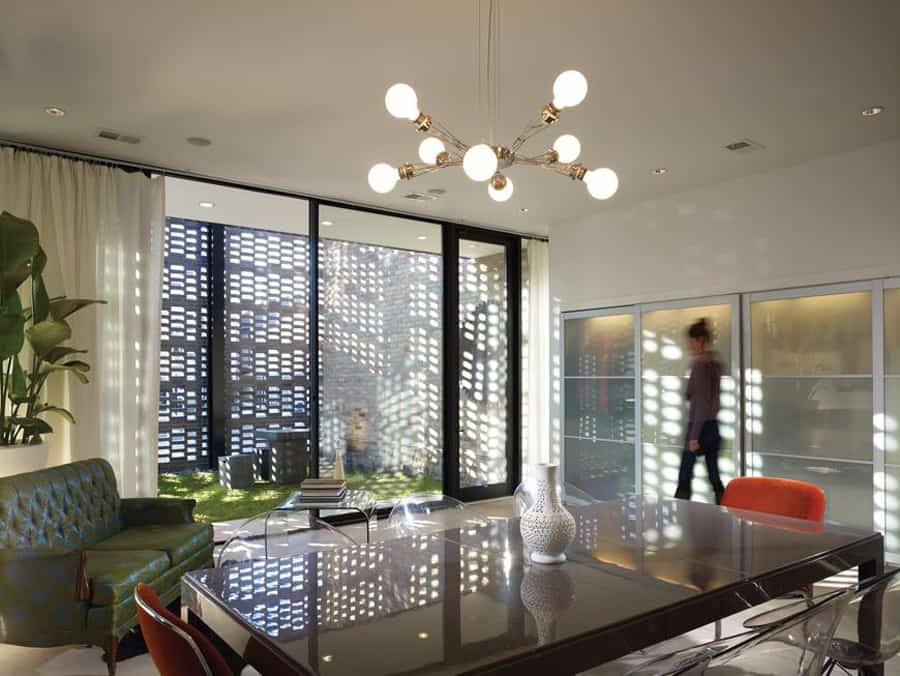 Interiors enjoy bright, natural light and a private garden view reserved only for those lucky enough to find themselves inside. Beyond the floor-to-ceiling glass walls, the home's signature brick veil punctuates interiors with its dappled light as much as it makes its mark on the home's exterior.


Patterns of light fall on the white walls and floors. The minimalist interiors are colored by vibrant furnishings, contemporary lighting, and the unexpected element here and there – like a canary yellow classic car, taking its proud place front and center.


Interiors feature vast, open volumes, with different living areas defined by various heights of ceilings and floors. Skylights, clerestories and massive windows illuminate every corner, every level.


A modern fireplace instantly warms up this sprawling living space, adding a sense of intimacy to its vast scale and ultra-high ceilings.


The stairway is topped by a row of skylights, leading the way up from overhead.


The brick weave wall stretches up two storeys, infusing its unique personality to every level of this home.
Studio Gang Architects