The ability to create your very own custom area is not only a gift but it's quite the lavish task. Let's face it, most of us want to create our dream area, but not all of us can. Whether that be due to not having the funds or not knowing how to do it correctly. One of those main areas that tend to sit in the background is the dining room. Even though the dining room tends to be used regularly, it doesn't seem to get as much decorative attention as it should. For those that have been considering creating a custom dining room, here's a flawless cheat sheet to help you along the way.
Determine the Purpose
Before you even touch anything in the room, before you even decide to redecorate or create, it's important to take a good look and think about what purpose the room will serve? How will it be used? Will you use it regularly, or will it be "only for guests?" You want to have the answers written down or clear, so you know exactly how you want to move forward. Once these questions have been answered you can start planning and selecting the materials that will work best. Furthermore, take a steep look at if you have children.
Create Privacy
One of the best things you can do for your dining room is create privacy. Those that have an open space concept might not see it as an easy task, but it can be if done correctly. The idea is to bring in as much separation as possible. Whether you do that by having large floating screens or you simply embrace the area and bring in large decorative items that instantly give the room a more separated space it is up to you. Keep the room as minimal as possible without going overboard, yet bring in large pieces that create a bold separation.
Make the Table the Focus
While this might seem rhetorical to some and even obvious too many to others not so much. Give your table the shine it deserves by making it front and center the entire time. Pair it with unique chairs and allow the new pairing to be the bold element of the room. When the dining table and chair pairing are the main focus it will instantly make your guests feel invited while still being a part of your main décor. Work your décor around your table to ensure it always remains the focus.
Bold Lighting Piece
If there is one specific item that will instantly make a statement in a room is the light fixture you use. Using a bold light fixture can instantly bring bold, appeal to a room. The piece itself will instantly make conversation within your guests and those we live with you. It's all about bringing beauty, and charm with a focus that makes sense. Work with an enlarged piece or bring multiple pieces to bring the room together in the boldest type of way. Furthermore, work with multiple bold pieces, even with colorful ones for that daring highlight.
Exclaim Personality
Adding a one-of-a-kind touch is perfect for those that want to bring something new and fresh yet works in the room seamlessly. Bring in a painting, a portrait, both hues of color, or even daring chairs. Any of these options will instantly take your dining room to the next level. It's all about brightening the room overall, while making your personality the emphasis of the area you are trying to elevate.
Patterns & Textures
We might have said it 100 times, but we will continue to say it, pattern and textures add a little something different. Having any element with a sense of pattern can instantly highlight the room, it's almost as if these elements will seamlessly bring character where you know and like it best. Consider going bold with as much color a possible when you want that daring area. Whether you create that by using a rich shade or by mixing pattern and color. The idea is to have both ideas together in a seamless manner.
Twin Lights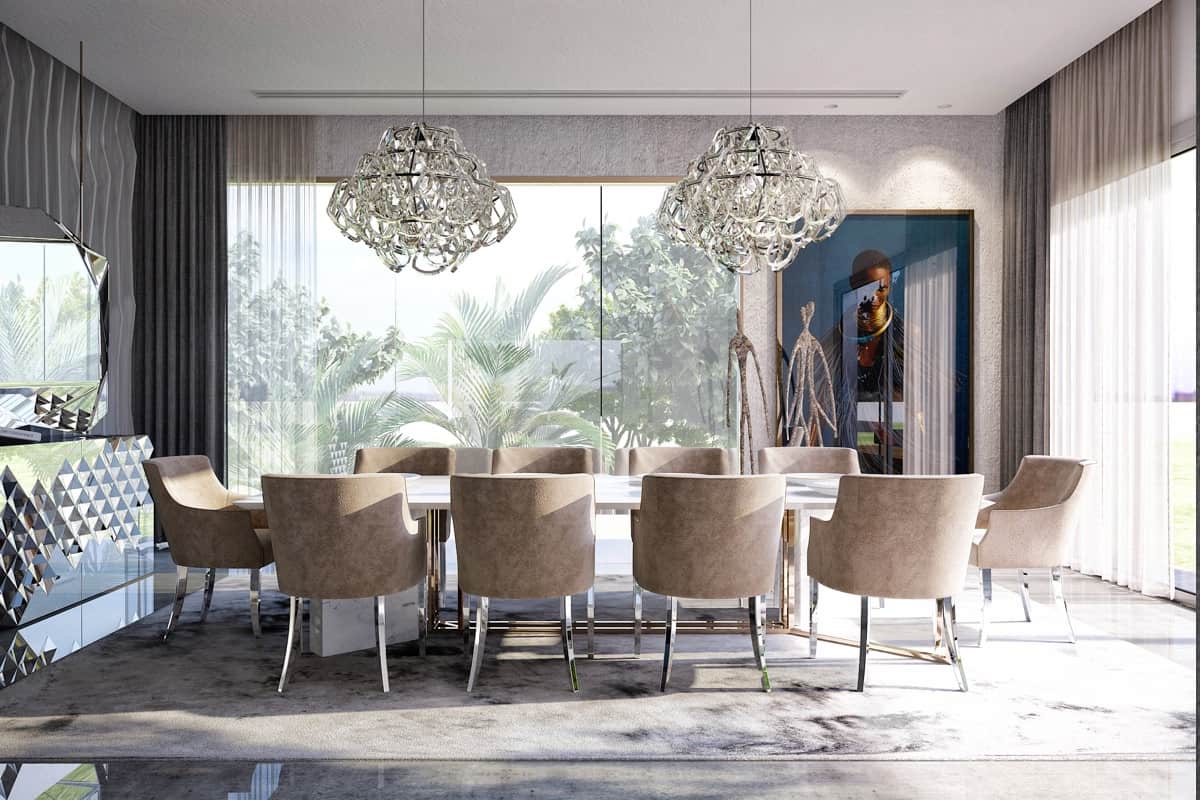 Why worry about having one light fixture when you can have two? Though one fixture is good enough and it will brighten your room overall. Two will create a greater contrast. Consider two light fixtures the perfect excuse to go feminine in the room. It's almost as if both lights will instantly bring that notorious charm that the room needs. Furthermore, it's the perfect way to enlighten a smaller dining space.
Mix & Match Chairs
The point of creating a custom space is that you are allowed to have everything you want and place it exactly where you want it. Keeping that in mind, consider mixing and matching chairs for that straight custom look, that does not require too much decorating or fussing around. The simple act of using multiple different chairs in an array of colors will instantly brighten the room overall. It's all most as if the chairs will make the space seamlessly come to life. The devil is in the details and this idea makes good use of that.
Go Custom
When in doubt, go the custom route. Who says you can't have everything you want in a room and more? We say you can! But it will take some work, and that work involves you going the custom route. Though this will be a bit on the expensive side, it will also ensure you get the most out of the room. It enables you to get the most custom appeal out of the room in general. This is the time to focus on everything you want and make sure you get it.
Wallpaper
Go for a wallpaper. When you want to make the room instantly come to life, go for wallpaper. It's all about making the room feel sleek and grand. The grander your wallpaper the more appealing the room will become. Furthermore, it will give the room character, even if you don't necessarily need it at all times. Choose a colorful wallpaper to enhance the room and give it a bright twist.
Customizing your dining room does not need to be a mission, it can be simple and easy as long as you follow these tricks. Share with us your ideas below.