This ultra modern "2 Verandas House" in Erlenbach, Switzerland, was designed by Gus Wustemann Architects with some very unique features indeed, namely its two verandas (hence the name), no windows, and wonderfully complex interiors that tempt further exploration with their maze-like layout.

This house was designed in two parts to make the most of its site. The sloping property allows for awesome views of Lake Zurich below. Connecting the upper and lower reaches of this location, the architect put the main house on the hilltop and the pool house at the base, separated by a lush landscaped garden and connected via a stone walkway.


The main house is a stony two-storey structure of concrete with a cave-like yet open feel, all at once.


There are no windows, but instead the architect created vast openings that give the home a modern, Mediterranean feel of alfresco living, even when inside. Natural materials like concrete, travertine and wood strengthen the home's connection to the outdoors.


Natural light peeks out from behind concrete walls and corners, guiding you deeper in exploration and breaking up that monolithic, solid concrete feeling.
Occupying the upper level, a living area and dining room invite residents and guests to mix, mingle and take in the views of garden and lake. Below, a family room with walkout to a patio offers a spot to get cozy with loved ones. The patio connects the bedrooms and becomes a more private "public" space before retiring to the bedrooms. Below grade, the basement level houses a home theatre and wine cellar – a den of hidden guilty pleasures – and a gym (for when the indulgences get too much and you need to put yourself through a little pain).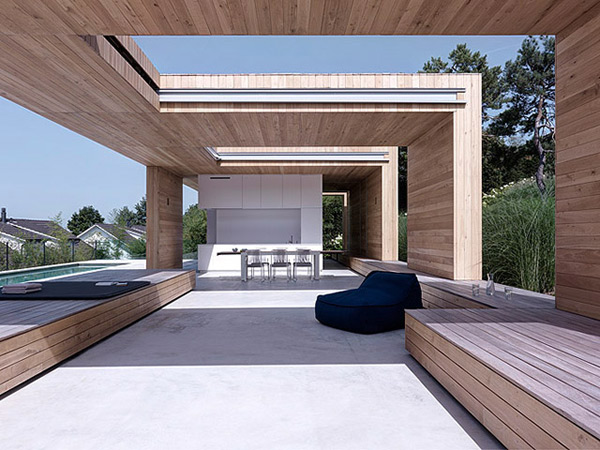 Through the home's openings, your eye is drawn down to the pool house below, where a swimming pool and sheltered lounging area beckon on hot days.
Gus Wustemann Architects