Looks like high-end furniture companies are keeping up with the times in more than just style. Check out the Blogger Large 3-Seat Sofa from Roche Bobois, designed by R. Tapinassi and M. Manzoni. To be successful in blogging, you need to get one of these – pun intended! This cushy couch features an oversized form to keep you comfy for hours on end while you blog, daydream and be inspired by your surroundings. This chic sofa will definitely become the focal point in any room! Its large-scale silhouette boasts a wood frame upholstered in Opus leather, cowhide in a Nubuck finish and buttoned to accentuate its softly stuffed cushions. The base is finished in stained black wood. Though large, this sofa has a streamlined look that's clean and contemporary, the perfect addition to any modern writing room! The Blogger 3-Seat Sofa is also available in other sizes, armchair and ottoman designs.


Photographed inside of a famous Bubbletree's Bubble

This is also a corner version of the Blogger sofa (below) – the Blogger Corner Composition, upholstered in Melopee fabric.


It looks just as cool, and can seat a whole team of bloggers.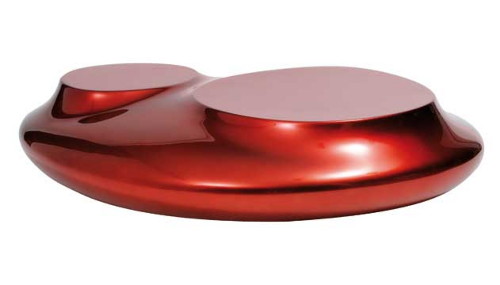 To complement these contemporary style sofas, check out this ultra-modern coffee table, also from Roche Bobois. The Cute Cut XXM Coffee Table designed by Cedric Ragot features an organically shaped base with two flattened surfaces perfect to place your laptop! The table is made from polyester resin and glass fiber, lacquered to a glossy shine and comes in various colors with a plain or metallic finish.
For additional information, please visit Roche Bobois.