In an introverted and quiet village called Santorini, the Villa Anemolia is a pre-existing residence that has been reinvented into a hotel. Embedded into the volcanic soil, the hotel is comprised of 3 traditional and original vaulted rooms that are closed off of the street and only have windows that open to the inner courtyard. The courtyard has been upgraded with new landscaping and a large spa to create a welcoming outdoor ambiance for the visitors to enjoy.

Extremely private, the courtyard offers a quiet place to unwind at the end of the day.


With both a street access via a steep flight of stairs, and access from the lounge area of the Villa, the space, while private, is also social.


The views over top of the walls offer a glimpse of old world charm that can be enjoyed while enjoying a meal at the outdoor table, or from the jetted pool.


There is also a built in sitting area complete with a row of comfy cushions and as the evening approaches, lanterns are carefully arranged in numerous locations to keep the space lit with a soft and flickering glow.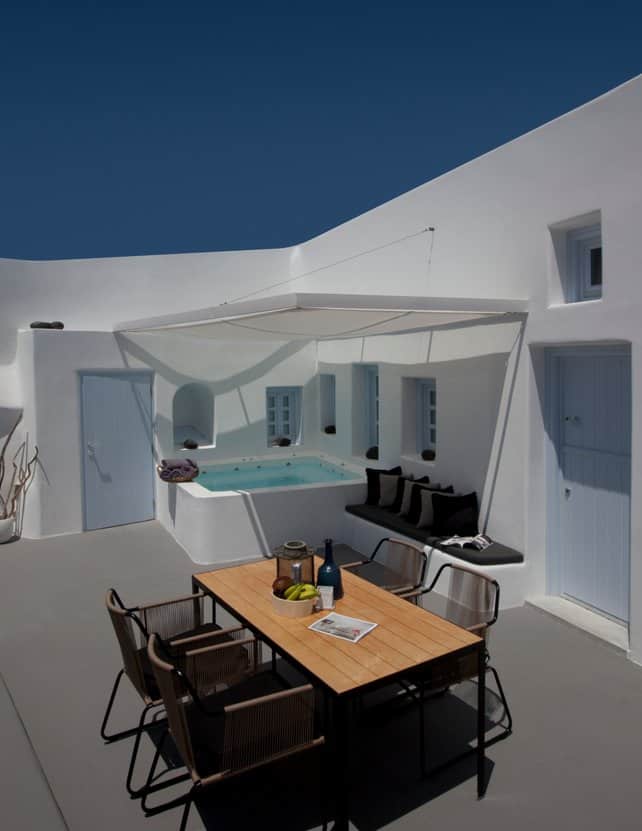 During the day, when the sun is at its strongest, a canopy shields both the pool and the bench.