Set amidst old post-war single-storey homes, at Barwon Heads, Australia, the Seaview House designed by Jackson Clements Burrows is one of the more modern residences that have been working their way into this cozy coastal community. But even among this new wave of neighbors, this unusual beach house is a "triple threat" that gives its contemporary counterparts a run for their money.

This house takes shape as a trio of gabled volumes, all facing a north-ward courtyard and connected by glazed passageways that shield the private garden from public view and coastal winds. These pavilions are separated not only by volume, but also by a varied material palette that goes from timber to translucent polycarbonate panels, highlighting each space as individual, yet part of a bigger picture.


Picturesque riverfront views are framed by the south-facing volume, which houses the main living areas in its open concept layout – living room, kitchen, study, laundry area, and a guest room and bath.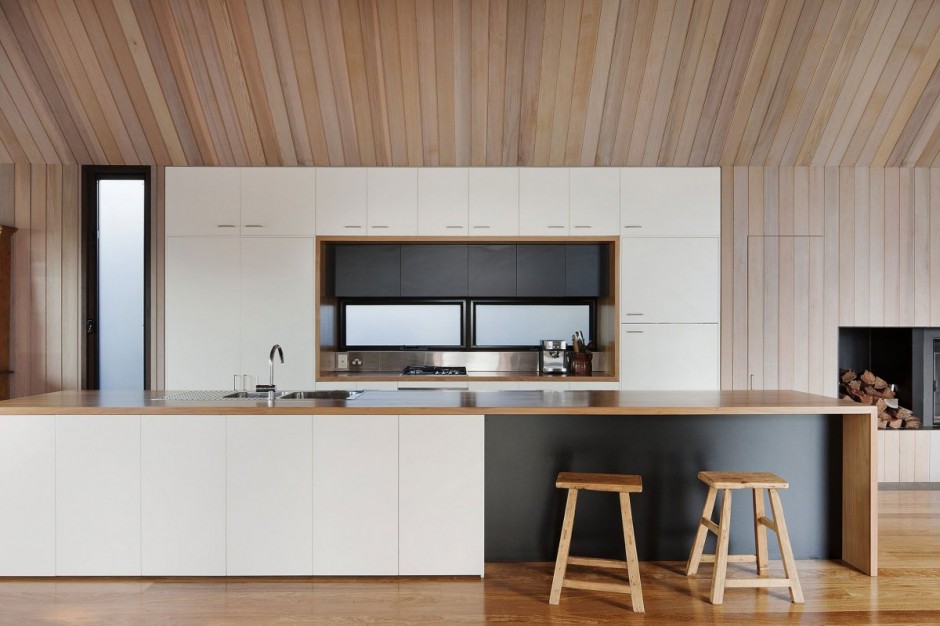 As you continue to the north-west pavilion, you'll pass through an open breezeway complete with an outdoor shower, and enter the sweet retreat of this residence – the master bedroom with ensuite.


Street side, the north-east volume is the stand-out structure, with a translucent facade and an interior featuring floor-to-ceiling timber battens loosely reminiscent of a woodshed. This unique space offers plenty of natural light, and passive cooling in the summer through the massive glazed windows and doors which also serve to passively heat this space during the winter months.


Jackson Clements Burrows
Photo credit: Shannon McGrath