Cane-line recently unveiled a new line of sustainable rattan furniture designed by Foersom & Hiort-Lorenzen, two of Scandinavia's most distinguished furniture artists. And the Scandinavian influence is evident in the clean flowing lines of this collection, called 'Nest'. Designed in Denmark and crafted in Indonesia where makers have been honing their craft for centuries, the quality of this rattan is top level. From the Nest Lounge Sofa to the Nest Footstools – which can double as coffee tables or works of art – you'll feel like you've stepped into the tropics each time you walk in the room. For the stools, four colors of cushion are available to choose from: red, blue, black or grey. The Nest lounge sofa and lounge chair come with natural cushions to accentuate the rattan. Can't you just see this collection in a room with ferns and ceiling fans? And you don't have to worry about social conscience when you buy a Cane-line product. These products are certified by Bureau Veritas as complying with rigorous standards in environmental and social responsibility. The philosophy of this quality manufacturer — and the Nest collection of sustainable rattan furniture — is summed up in their own three words: "Life Made Comfortable".

A footstool on the wall becomes art.


Nest footstool with red cushion color choice.


Nest lounge chair and lounge sofa.


Nest lounge chairs in conversational grouping.


Nest footstools come in two sizes.


The rattan weave is quality work.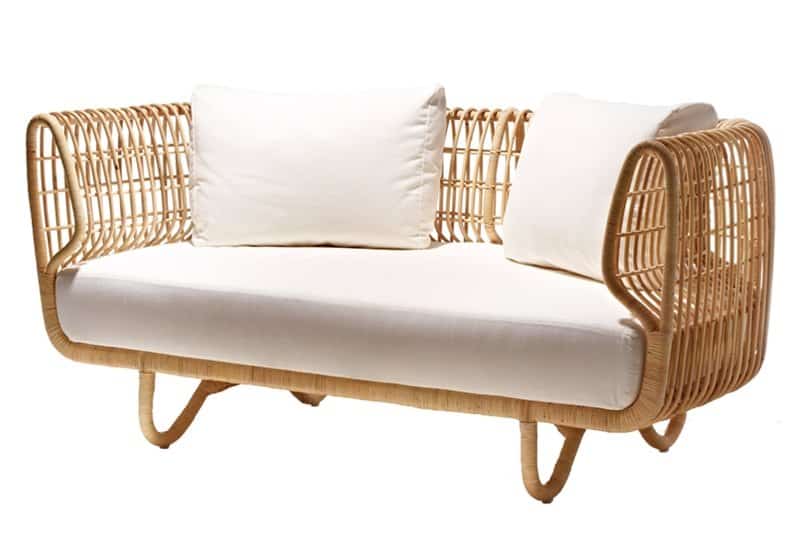 Natural color fabric on the Nest lounge sofa compliments the rattan.
More information: Cane-line