Today, we're going to focus on rustic modern houses because they're beautiful and we need more of them in our lives. Modern rustic homes mix the rustic open plan that makes it easy to keep in contact with everyone in your home, with the modern architectural elements, like large windows to let the light in.
You'll also enjoy the preserved and exposed natural architectural elements, and the modern furniture throughout the house. It's the perfect mix between the rustic lifestyle and the modern amenities of today's life. There's a certain charm to them and if you love them as much as we do, we will dive in and check out quite a few ideas that you can implement in your future home.
Rustic modern houses design inspiration
1. Vermont Getaway
This beautiful home is up in the Vermont mountains and it beautifully mixes the modern with the rustic, with expansive windows, lots of wood, and rock, and metal, lots of wildflowers to look at, and an open concept. it's a complete beauty and you can admire more of it here.
2. Sands Point
This home designed by HMA Architects in Sands Point, New York, has a dramatic look about it, with a geometric vibe and huge windows. The wood is visible everywhere and so are the stony walls and floors. The furniture is not over the top and it leaves a lot of open room. Check out more of the house from Contemporist.
3. Scandinavian Inspiration
An hour from Quebec City, you can find this jewel created by Maizon Construction Libre. Inspired by Scandinavian houses, these simple chalets are a perfect mix of rustic and modern, with a completely open plan, lots of exposed wood and huge windows to enjoy nature through. Enjoy more photos via Joli Joli Design.
4. Tahoe Home
This beautiful home near Lookout Mountain features 5 bedrooms and about 3,900 square feet and costs north of $4 million. But is it not breathtaking? The perfect mix of wood and stone, open plan, huge windows, and mature trees in your very garden. The home is part of the Martis Camp development.
5. Lucky Man
This ranch up in Montana is what dreams are made of. Dubbed Lucky Man, the ranch allows the wood to be the star of the home with exposed beams, while the large glass windows allow natural light inside, while also giving you the feel that you are part of nature. The large open space gives everyone a chance to catch up, while the modern furniture is as comfy as it looks.
6. Texas Ranch
Our next ranch uses natural materials throughout the home, focusing on limestone as the prime material. Exposed wooden beams share their charm with the limestone walls and hardwood floors, beautifully allowing the large windows to overlook nature. The interior design is fresh and modern in muted tones. Check out more photos here.
7. Green Moon House
Over in Antioquia, Colombia, this beautiful house sits hidden in the middle of a huge lot surrounded by forest. A stunning home that perfectly balances the presence of wood and rock. The large glass doors roll out to give access to the manicured garden, but you'll want to cozy up on those wonderful couches or up at the dining table. Get more pics from ArchDaily.
8. Tiny in Portland
You don't need a sprawling mansion to have a beautiful rustic modern house, so this tiny home is certainly something you should be checking out. Using lots of wood and plenty of windows, this tiny home offers all the comfort you need without all that extra baggage you carry around. Check out more pics here.
9. Hot Sauce House
This next entry on our list was actually designed by the famous Joanna Gaines, famous for the Fixer Upper show on HGTV and the Magnolia Network. Along with her husband and team, they went and redid this wonderful home, turning it into a wonderful rustic modern location you'll want to hang out in. It has lots of light, natural materials, allows the wood beams to shine, while bringing a dash of modern through the design elements they chose. Check out more of this wonderful house here.
10. Tennessee Home
Over in Tennessee, this wonderful home was built, with the woods acting as a backdrop. The log home got transformed with a lot of love by its owners, allowing the wood to be the star of the show, paneling covering the walls and the roof beams being exposed. The huge windows give a sense of inclusion with the nature outside. The modern furniture looks cozy enough that you'd want to chill out in the living room yourself. Check out more of this wonderful home here.
11. Railway House Santpoort
Based in Utrecht, Zecc Architecten is the team that renovated and expanded this wonderful historic railway cottage in The Netherlands. The home mixes in the modern and clean cut look with the rustic feel given off by the exposed beams, the natural brick, and the stone floors. It's a wonderful design that deserves all the praise. Check out more of this home.
12. Indiana Home
Over in Zionsville, this home brings out everything that's beautiful about the mix between rustic and modern – the exposed wood, the bare support teams, the hardwood floors, and the lovely open plan, as well as the modern and sleek furniture and decor choices. It's a home that's worth checking out, thanks to Weitkam Interior.
13. Hilltop House
California living is already idyllic, so a house that looks like this one will only make you want to move to Cali too. With the right touch, any home can be turned into a wonderful rustic modern abode you'll want to reside in, mixing in lots of wood, an open floor plan, and modern furniture and decor to set everything off. Read more about this home from Interior Design.
14. Cali Home
Down in California, you'll find some amazing homes, but this one – it's just breathtaking. This rustic modern home allows wood and stone to be the stars of the show. Designed by Studio Schicketanz, the home allows for an indoor/outdoor living, making use of solid stone woods throughout the home and through the exterior, making use of glass for almost all walls of the house. Minimal modern family is peppered around the house, allowing plenty of sitting areas. Learn more about this creation here.
15. Mountain Mansion
In Wyoming, up in the mountains, you'll find an incredibly cozy home that is the perfect mix between rustic and modern, using lots of wood and stone in the construction. With its ranch style, the home features loads of chill-out areas, including a theater and recording studio, and yes, we want to move in. It looks stunning both inside and out, and its huge windows will help transport you into the snowy grounds without actually steping a foot outside.
16. Ranch House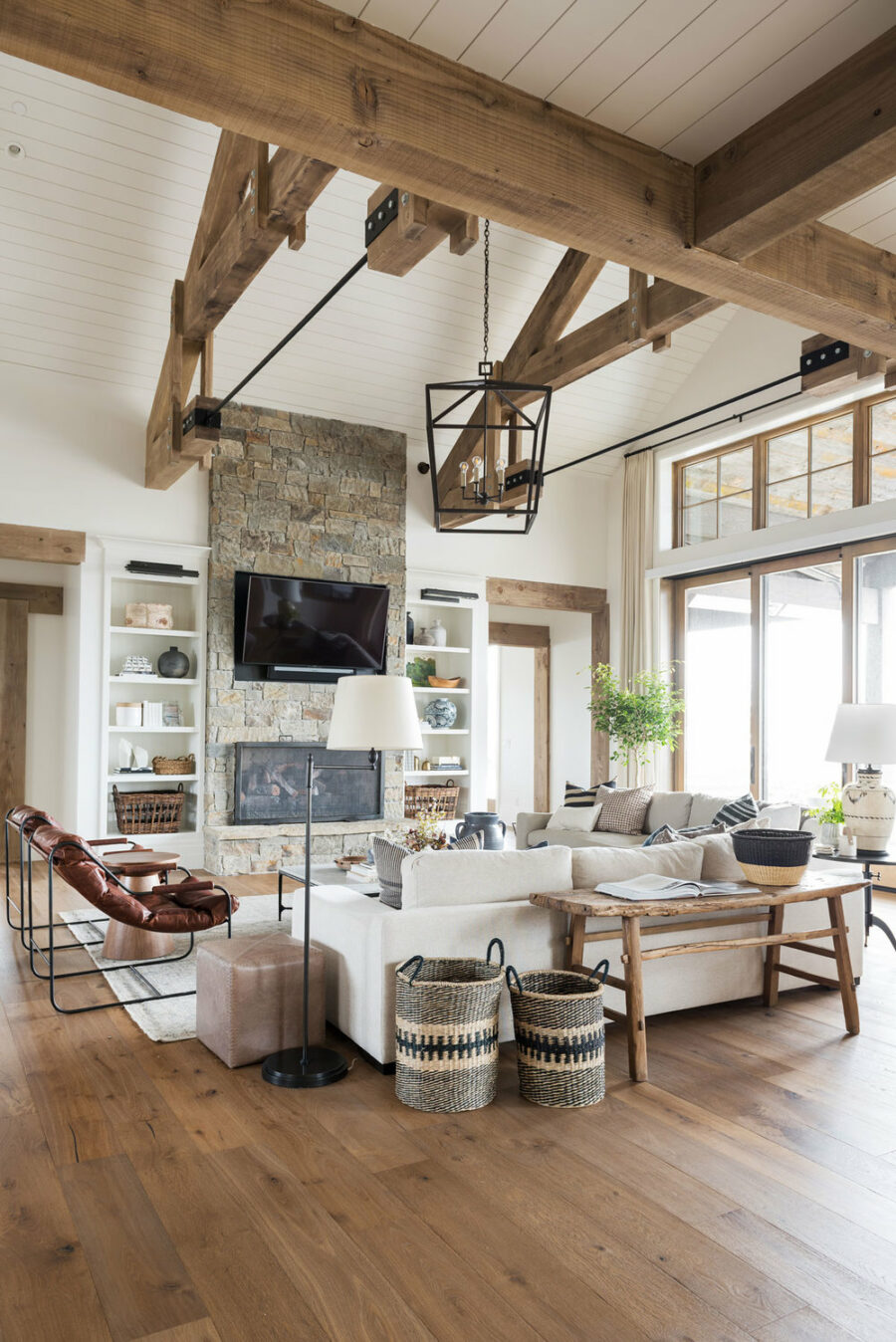 This next home is the perfect mix of rustic and modern, with all the exposed wood, all stained with a custom shade to tie everything in with the floors. The folks at Studio McGee do a wonderful job by bringing warmth and coziness into the home by adding modern furniture and lots of greenery. Check out more pics from this really cool home you'll wish was yours from here.
17. Rustic in Cali
Dubbed "the Shack," we can see why this modern cottage would get the name – it's on the smaller size, but it's wonderful. The interiors hold a lot of wood elements, especially in the ceiling, and also hardwood floors, the fireplace is nicely hugged by stone. The furniture is simple and features both modern and rustic elements, creating a beautiful blend. Check it all out on OneKindesign.
18. Rustic Modern Kitchen
This home brings in the high ceilings, the wooden beams, and this breathtaking kitchen with storage enough for a huge family. We love the wood cabinets, the white paneling on the walls, and the exposed beams, resulting in a breathtaking kitchen. You can see even more pics of this design on Home Bunch.
19. Rustic in Texas
Sure, finding rustic in Texas isn't that much of a chore, but this beautiful design comes from the home of Paige Hull, and we get to enjoy it through a post on MyDomaine. The interiors are a beautiful mix of white and natural wood, as well as various vintage elements. Thoughtful elements are all over the place and help bring out the rustic modern air of the house.
20. Cape May Farmhouse
This next entry is actually a plan you can buy so you can have your home built. Created by Mark Stewart Home Design, the whole thing looks like something we'd want to have, featuring a rustic modern wood farmhouse exterior, and an interior you can customize as you please. To keep with the theme, we do recommend going for wood and natural stone, which will go wonderfully with the large windows you have.
21. Pacific Northwest Home
Surrounded by greenery, it's only right that this house with a wonderful view of nature would also have a great interior design, right? The wood elements of the interior mix well with the wood and natural fabrics used for the furniture. A wonderful design along with a great-looking house. Check out more pics on House Beautiful.
22. Mountain Chalet
Located in the Manigod mountains in France, this beautiful home was designed by Studio Razavi Architecture. The inside of the house is just as stunning, featuring wood paneling, plain wood stairs and furniture, and lots of great-looking elements. It's simple, it's chic, it's modern and rustic. The best part about the whole thing is how it blends with the nature surrounding it.
23. Log Home
When you build a log home, it's pretty much already understood that the interior will be rustic, right? Well, these folks added in plenty of modern touches, especially when it comes to lighting fixtures, and the wired stair railing they chose. Yet, it all blends in wonderfully in a rustic modern style that we just love. You check out more pics here.
24. Rustic and a Touch of Modern in Idaho
We actually found this pic over on Instagram, coming from home designer Kasey Living. She created a wonderful design that perfectly mixes in rustic elements like the exposed beams, the high ceilings, and tall windows, and the soft shades for the modern furniture. A beautiful design that we can all draw inspiration from.
25. Black Mountain Farmhouse
Up in the Black Mountains, this modern rustic home brings an open floor plan and has a great approach towards making all spaces functional for the family – lots of storage and clean shapes. It also comes with exposed wooden elements, cozy furniture, and a view that will take your breath away.
Final Thoughts
Rustic modern homes certainly have a charm about them and we're always eager to check out more and more designs, get inspiration, and build up our own dream homes. We hope our list of home designs and home interiors have been enough to spark something inside you too.