It sounds a little out there, not to mention eerie, but this prehistoric-looking, skeleton inspired desert home is one you've simply got to see for yourself. The steel, copper, concrete and glass house reminds us of a ribcage, peeking out from beneath the rocks and sand, bleached by the sun, buried for what seems like eternity. The modern architectural design here in Joshua Tree National Park was actually conceived in 1988 and completed in 1993 by architect Kendrick Bangs Kellogg, known for his distinctive organic architectural style. Apocalyptic, alien, ultra-modern industrial – they're all words that only begin to scratch the surface of this home's complex aesthetic. But the unusual architectural features aren't relegated to the exterior; interiors also boast the same raw quality which makes is such a draw. And if you're looking for luxury homes for sale, this one comes with a $3 million price tag. Check it out!


The home is nestled at the foot of a steep rocky slope, taking shape as a series of panels which organically "fall" down the hillside, becoming one with the terrain.


The home's sculptural roofs nestle together, like beautiful rubble. The panels overlap to create a sense of movement while providing large shaded outdoor areas underneath by virtue of their deep overhangs.


The home's arching facade creates intimacy and privacy – not that there are many passersby out here!


Entering the home feels like walking through a picked-clean ribcage. Perhaps not he "homiest" first impression, but certainly a most memorable one!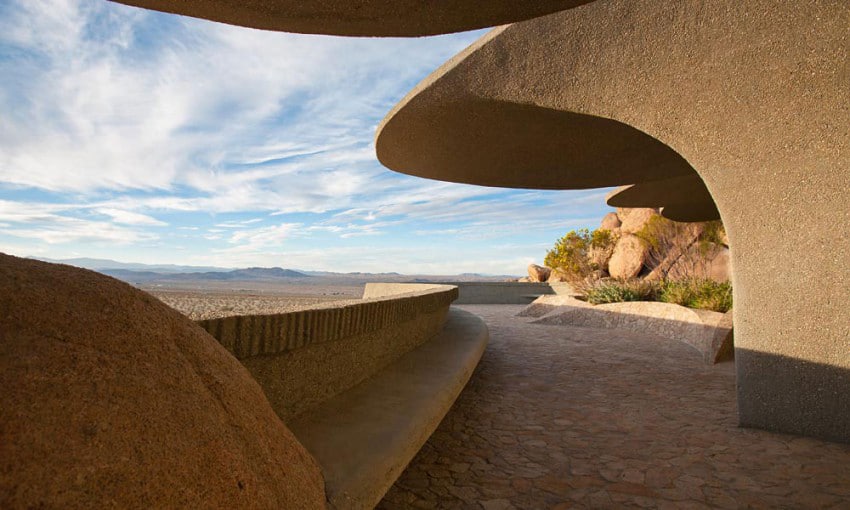 The organically shaped roof panels create a massive "wave" of concrete overhead.


And what a view! Looking out on this endless rocky landscape, you really get the sense that you're part of it, and the only one in it.


The home has an almost prehistoric quality to it.


Inside, unusual architectural features and furnishings become one. You'd be hard-pressed to him up your local mall to outfit these digs! Windows overhead create lines of sunlight and sky in an otherwise dark, brooding interior.


The kitchen is as beautiful as it is functional. We love the rusty cabinets and the whole sculptural element of the space, which appears to be carved into the rock.


The home's spiraling lines and curving walls lure you deeper into its core. You may never come out!


The long tables remind us of Venus Fly Traps, luring you in with their sweet nectar. The tables are built into the house itself, attached to a massive steel spiral winding its way through the living and dining space.


There's not a flat, boring surface to be found in this home.


The bedroom is indeed a private lair. Beneath the jagged windows overhead, a bed offers just the right amount of privacy and views. The circular room is surrounded by built-in shelves and what remind us of teeth, putting the sleepers directly in the jaws of…


Outside, the under-lit roof glows eerily from beneath, warm against the cool dusk sky.


One word – awesome.


Kendrick Bangs Kellogg