Modern windows are a far cry from those framed panes we're most familiar with. Sleek and elegant, contemporary design allows windows of not only various shapes but those featuring unusual frames. Sizes can, too, vary from tiny slender slits to the big pool-like openings.
Big Square Mirrors
Big square mirror-like windows are definitely a major trend in contemporary architecture. They feature a single large pane, and make a perfect addition to any building – old or new.
Besides having a flattering shape, a square window has a very contemporary vibe to it. It can make even ruins look modern.
Slightly reflective glass also makes an impact, amplifying the natural beauty of environment. Many architects choose to combine rectangular and square windows into façade puzzles that make for an unconventional look.
Protruding Windows
Protruding windows with special extending frames are another big trend in architecture right now. These don't just add dynamic to your façade but can also throw in a few inches of space to any room.
In a kitchen, such windows make for perfect window seats. In some cases, they may even become small balcony-like areas with an indoor/outdoor feel.
An extending frame is a great way to make some room for your favorite plants on a windowsill. And slit or oddly-shaped protruding windows make for amazing decorative architectural elements.
Tall & Slim Modern Windows
Tall and slim windows are mostly there to provide more natural light to a certain area. These are very popular in transitional spaces such as staircases and hallways.
Of course, tall slit windows can also find a place in a house with picturesque views. A row of these can break the picture up in a stylish way, each giving up a portion of the whole panorama.
A wider variant is a great choice for a hallway, where you usually need both visual enhancement and natural light. Such a window can often continue as a skylight.
Oddly-Shaped Modern Windows
Odd shapes and sizes are the most exciting features of modern windows. Anything is possible – from unconventional spheres to angled imaginings of an architect.
Unusual, creative forms aren't only shaping windows. Interior architecture, window frames, and windowsills are very much affected by those forms.
These can also be quite expensive in terms of planning and building, but they definitely are impressive.
Skylights Extraordinaire
Modern skylights come in more than one shape. These incredible openings can help harvest even more daylight as well as they can bring much to home aesthetic.
A modern skylight isn't just an odd sloping window in the attic. The thing can be shaped as a transom, and extend from floor to ceiling as well as from wall to wall.
A window that would otherwise look pretty standard can benefit from an adjoined skylight all the while enhancing the amount of daylight in a room.
Unconventional Window Frames
Modern windows abandon those wooden frames that split the pane into small squares, obstructing lots of light. Now they protrude and extend to harvest as much daylight as possible.
Unconventional window frames also look positively attractive to the eye. A building façade full of these certainly has more detail to discern and admire.
These frames can also help turn the windows to more picturesque sides of your locale or, conversely, lessen the amount of sunlight in the room.
Modern Window Positioning
Window positioning is another important factor in a building's appearance. Some architects prefer to visually randomize the positions of windows, while others opt for a deliberately unconventional order.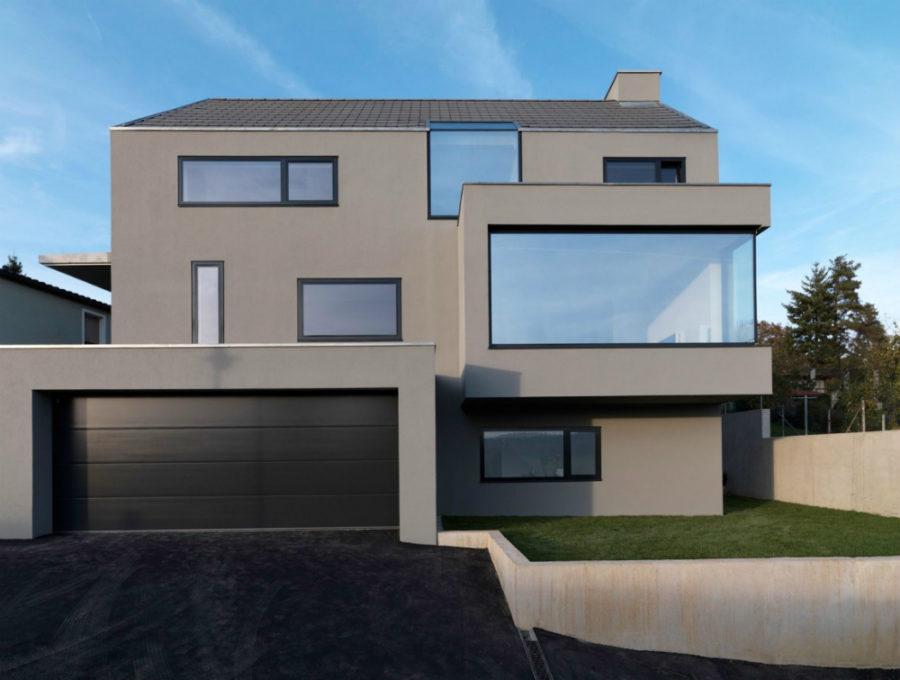 Forget a traditionally neat row of windows. Now you can see anything from the Spiral Window House to a seemingly random order of Haus F.
Of course, not only exterior architecture dictates window positioning. Sometimes it is a matter of function. T Space house creates a private escape with a tiny bottom corner window, providing just a glimpse of the outside world. Big windows under ceilings are getting more popular, because they are great at harvesting sunlight.
Window Architecture
Window architecture is more complex and yet somehow simpler than ever. There can be so many elements at play. With modern mechanisms, it's also become quite easy to create interrupted solid surfaces like that in a Garden House (below) by DCPP Arquitectos.
Again, anything is possible. If you want a myriad of windows in your room, you only have to tell your architect. Any area can now enjoy the virtues of windows.
A window doesn't have to even look like one. One of the perks of modern architecture is that there are no strict rules.
Picturesque Windows
Picturesque windows are what we call the windows that open up to some breathtaking views. They are usually big, and decorate a bedroom or bathroom.
There's no need for wall art when there is such a view outside. The only challenge is to plan a window that would capture and frame it well.
Tall walls of glass do benefit double height staircases, but you can get away with smaller sizes in other rooms.
Windows as Accents
Windows are building's accents – that's a fact. They create dynamic in the façade, making a house look lively and livable. Though they are mostly functional, windows can truly decorate a building.
Take, for example, the window from Ripolles-Manrique House. Although it allows far less light in, that angled exterior windowsill makes an attractive and dynamic accent in the exterior.
Modern windows can really be used to enhance your new house. There is no limit to what they can look like. And with the modern security technology, you can afford many more fragile elements in your architecture.