Modern fans aren't just appliances. They can be a focal point of the decor or one of its decorations. Available in a wide variety of not only materials and finishes but also shapes and forms modern fans can fit into almost any interior.
Since the term 'modern' encompasses both mid-century and contemporary styles, at least in everyday language, we decided to show you different designs that are modern in more than one way.
Mid-Century Modern Fans
Emerged in the late 19th century, electric fans were small and almost steampunk in their aesthetic. Toward the middle of the last century they became a bit more designing.
Otto fan, though, produced recently borrows from the mid-century modern style with its bent bamboo shell and a small round body.
Back then, however, the fans looked more like Urbanjet Desk Fan here. Metallic rounded design and a painted shell with its blades safely screened behind the closely set rods.
Small and powerful, these fans may be a bit noisy, especially compared with some of the more recent designs.
If you really want to channel that period, you want something in the spirit of Vornado Vfan. Small, cute, and very vintage glam, it will punctuate a mid-century interior like nothing else.
It's a good deal too, as the fan price is just below $100. It is a perfect accent for small rooms, awkward corners, and sophisticated bedrooms.
A tripod floor fan is like a tripod floor lamp – looming, eye-catchy, and space-consuming. A perfect way to punctuate a mid-century modern decor.
Since it requires quite a bit of space it's only practical to keep it in a big room, which it may not cool as well as a ceiling fan.
Wooden Ceiling Fans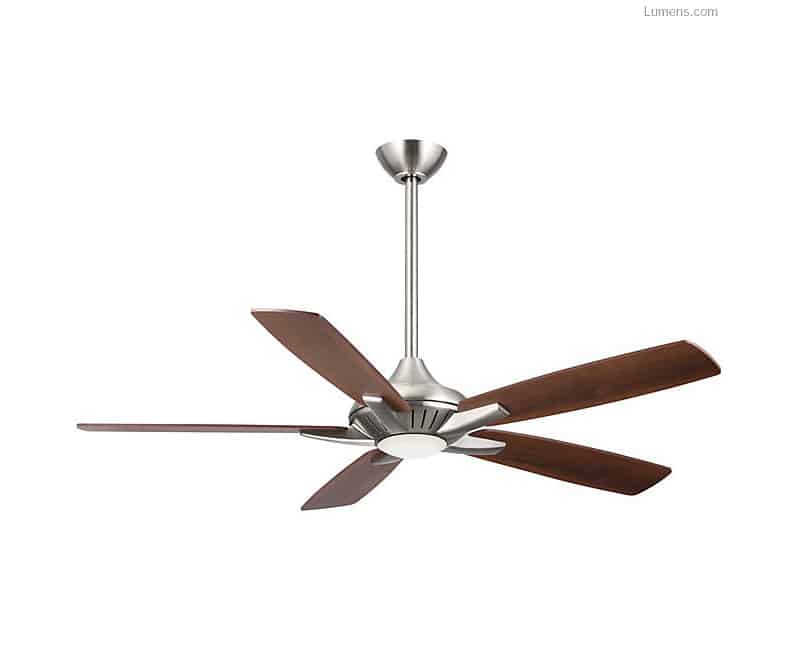 If you find a floor fan bulky and impractical, a ceiling fan is the epitome of literal cool. Facing downwards, it cools a good chunk of the room, which is perfect for bigger rooms as well as the outdoors.
There is some mid-century modern charm about wooden ceiling fans. Dark, light, bent, and molded – they all look elegant and sophisticated in their minimal style.
This Emerson fan with double blades is a stylish departure from paddle-shaped designs. This is a sharper and (literally) edgier ceiling fan that is more transitional in style.
Featuring a light kit, it's a multi-functional design that can fit into interiors of different styles.
Paddle-shaped blades, on the other hand, give a fan this soft modernist look that will complement bent plywood furniture and a minimal style decor.
Contrasting with chromed base, the light wood fan escapes the old-fashioned aesthetic all the while keeping the nostalgic vibe.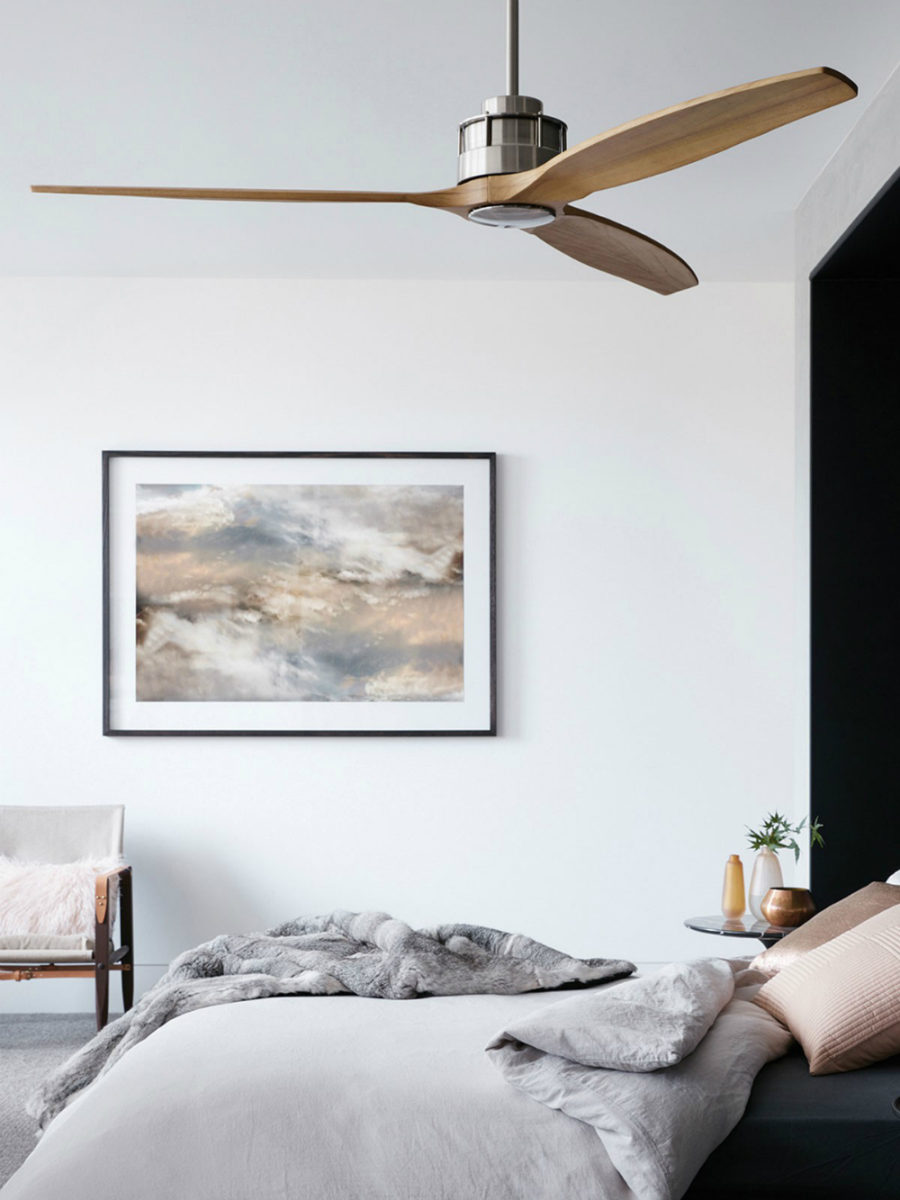 This design has got a more industrial feel to it with its complex steel base complemented with the flower petal blades.
With light wood softening the look, the fan is a perfect addition to an industrial style loft bedroom or living room. Not too minimal but also not too big on details.
Futuristic Modern Fans
Futurism was one of the main themes in modern design, so we cannot omit futuristic fans like this Irene model from the Matthews Fan Company.
Its minimal bent wood blades look positively stylish and a cylinder base distinguishes it from all the other designs.
Y-shaped and incredibly sleek, this Boffi fan would fit perfectly with both modern and contemporary interior designs; it's wooden finish softening the paddles' sharp edges.
Here, the fan complements equally sleek chairs and curvilinear furniture that exudes the notes of retro futurism.
Metallic, slim, and unconventionally-shaped Marea fan looks like it came off some kind of a spaceship.
Standing out among the rest of the designs it's definitely for those who don't like the look of ceiling fans considering them old-fashioned.
Metallic Ceiling Fans
Metallic fans, both open and guard-protected, bring a totally different aesthetic to the room. They look more contemporary and high-tech.
Lapa Ceiling Fan, while simple in its design, looks sharp and stylish. Thanks to its versatile design it may easily decorate a modern or contemporary interior.
With rose gold and metallics in general being a hit of the year, the Jarold Directional fan makes for an equally stylish and practical addition to the decor.
Looking sturdy, it has that mid-century look that will bring a note of vintage to the place. It's also mounted to the ceiling, which makes it more practical than other retro-looking fans.
Tired of the open ceiling fan? How about adding a protecting guard just for aesthetics rather than safety? These can look quite decorative.
Big springy guards may find their place in a minimal contemporary home, a Scandinavian interior, or even a mid-century room.
Modern Fans With a Light Bulb
Multi-functionality is too important for modern lifestyle to ignore. That's why ceiling fans paired with light bulbs are so popular.
Torsion fan offers a modern design complete with Opal glass shade hiding a halogen light. Designed by Ron Rezek, it makes for a great kitchen light that doubles as a fan.
Minimalist but elegant this Monte Carlo fan is for quality connoisseurs. Prepare to shell out for Balsa Wood blades, Etched Opal glass, and an energy saving 6 speed reversible motor that make this exquisite fan so expensive.
LED technology further ensures the design appeals to the eco-conscious while a hand remote adds it a few points with the high-tech lovers.
Stella looks like a good old kitchen fan that used to hang in your parent's house. Now it can serve you, if only given a chance and set against a different backdrop.
In a contemporary room such a design can really invoke nostalgia but without the old-fashioned tired aesthetic.
A double guarded fan is a practical solution for an open plan room that requires active air circulation in different zones and areas simultaneously.
Complete with a generous light, it can also provide general lighting to the room. Smart, functional, and also kinda cool.
Mini Fans
Open blades are too basic? Guard-protected fans are too last century? How about a cage ceiling fan that disguises itself as a lamp? No, it doesn't double as one, but rather features a shade that could fool anyone that it's a lighting fixture.
A metal cage encasing the fan shade further decorates and disguises it, while a WhisperWind motor ensures it doesn't betray its purpose with a characteristic fan rattle.
Korean studio 11+ created a USB-powered mini fan that can be kept on a desk providing the user with individual breeze of desired intensity. Cute and small it can easily get lost among your pen cups and binders.
Being almost completely silent, O-fan is a useful office accessory that you can manipulate to try and tailor the perfect temperature for the day.
Contemporary Modern Fans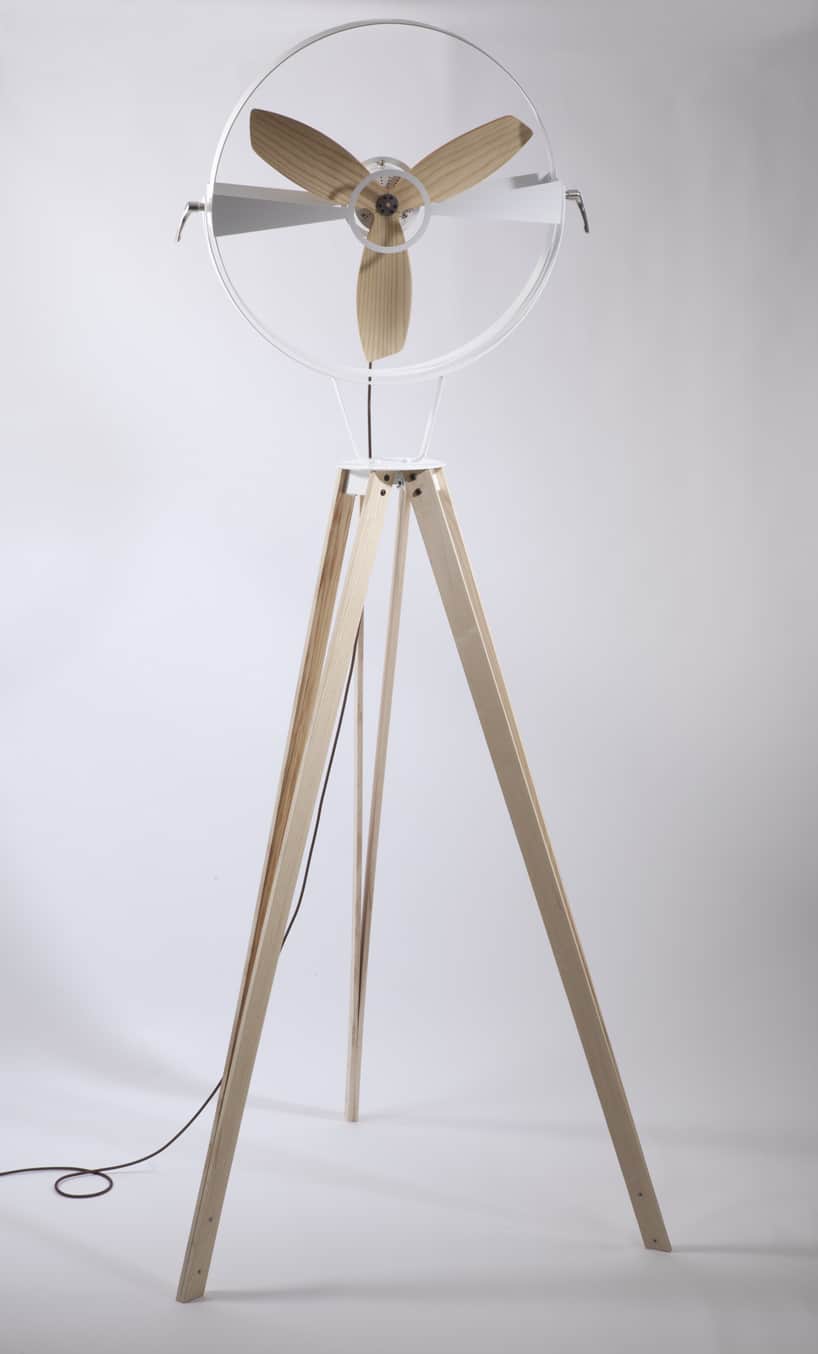 Marco Gallegos recreated a tripod floor fan in his own way and it turned out fantastically. Thin pale plywood ensures that it's lightweight and versatile. Whereas a 28 inch ring was reduced to make the air move more efficiently.
Elegant and positively contemporary 'Rethinking…' looks like it belongs in an open plan house with a contemporary minimalist design.
Another Fanimation contemporary fan comes with three unusual ribbon-shaped blades as if caught in a swirl.
Available in a variety of colors, Torto looks best in dark grey Brushed Nickel bringing a look of a contemporary sculpture to decor.
Dyson offers fans with the ultimate high-tech bladeless design that are both silent and powerful. They are also safe for kids and are easy to clean.
The all-around contemporary design allows you to control them remotely, program them for up to 9 hours, and use them anywhere from kitchen to kid's room.
If AC is not an option, modern fans can be if not as efficient then at least a lot more decorative. Take them out, show them off, and choose what works with your decor. As you can see, the designs are as numerous as they are exciting.