The sunroom- an almost magical place that allows you to be indoors yet have the outdoors almost at your fingertips. There is something quite blissful about sitting in your sunroom with a cool glass of wine and enjoying the sunset after a long tedious day. Whether you are taking a nap or simply enjoy a summer breeze here are 11 ideas that are too good to be true, but could make your sunroom feel like your new oasis.
Pavilion Style
We love the idea of having a sunroom eating area, but not just that we love having it with a pavilion aesthetics. A vintage garden table paired with fresh greenery and matching chairs is a great way to bring that old world feel with a modern yet whimsical appeal.
Earthy Twist
An earthy twist could be just what your sunroom needs. Wood elements paired with green tones and open sunroom windows with little to know décor brings a cool vibe that connects the outdoors with your indoors.
Wintery View
If you live in a cold area or even an area that has snowfall throughout the year, a wintery aesthetics are quite the charming look. Keep the room simple with soft hues of white, blue, beige and taupe and top it off with a chic fireplace. The fireplace itself is an excellent element to have to keep the home warm yet with that warming effect.
Bold Ceilings
The ceiling is one of those areas that many of us do not think about when it comes to decorating. We simply decorate the bottom half and continue on our way. However, for the sunroom, you might want to take a closer look at bringing a chic twist to your ceiling. Paint it a bold shade or the same hue as the rest of the room for a sleek pairing.
Farmhouse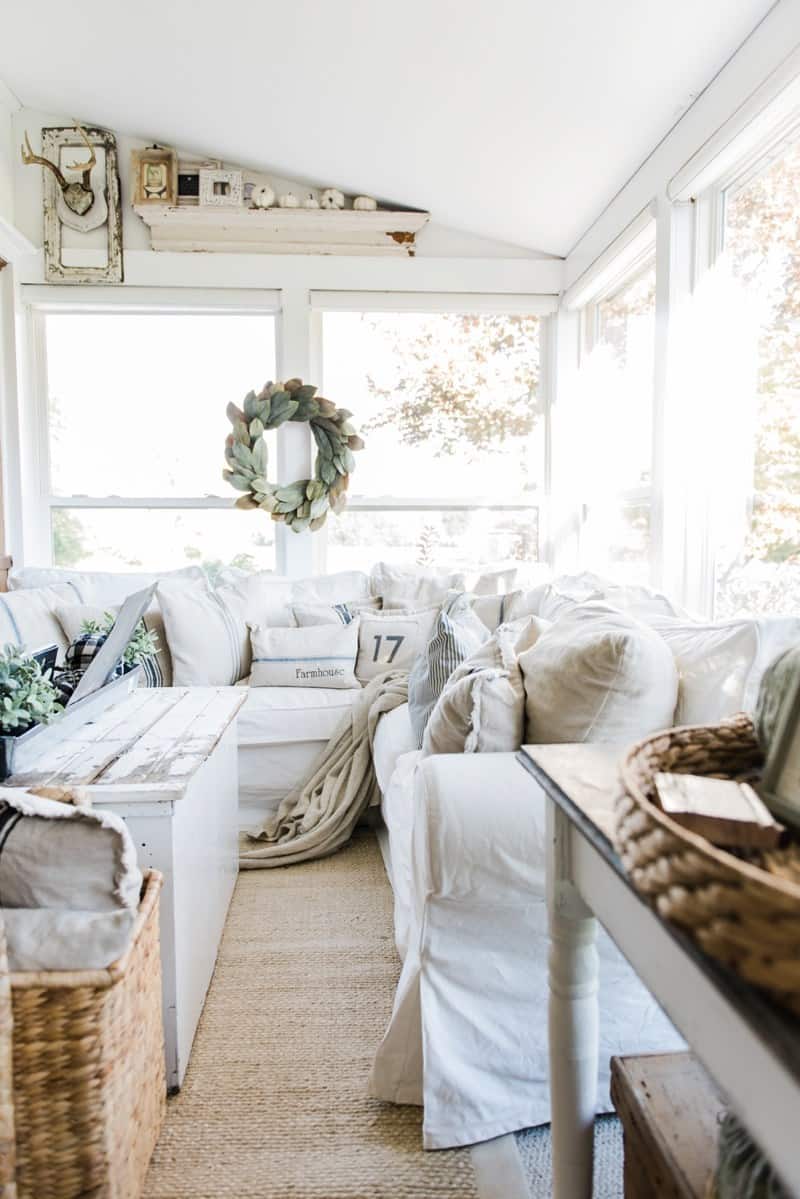 Yes, we are mentioning farmhouse décor once again. Bring a farmhouse dining room table in your sunroom and make it the main staple of the room. Additionally, you want to keep your sunroom windows bare and truly let the light come inside. A few lantern light fixtures will complete the look.
Bring on the Comfort
Have you ever had the desire to sit back and relax in your sunroom? If so, they one is just for you. Add a large sofa in the room, and a few comfortable accent chairs to give you that bold feeling of comfort while embracing the size of the space.
Embrace the Windows
If you have large windows in your sunroom, embrace them! You want to keep them uncovered and allow the sunlight to shine through. Add a dining room table or a large bench to complete the look. You want to ensure the room feels grand thanks to how large and exposed the windows are.
Stylish & Minimal
As an active reader of ours, you might have caught on to the fact that minimal décor is very much on trend. So much so, that it is actually a top contender for any and every room. A simple table paired with minimalist chairs and a bright chandelier will do the trick.
Don't forget the Texture
Whether you are working on adding more comfort or you want the room to have a little something extra texture is always a good idea. Bring in a texture chair or sofa cushions to add that little bit of uniqueness to the room.
Match your Living Room
Why have your sunroom feel a bit out place when you can make sure it feels like part of your living room, essentially you want it to feel like an extension of the main living room space. Use similar décor in the same color scheme to bring it all together.
Custom Table
If your sunroom is an odd shape, adding a custom table is an excellent form of embracing the space while enhancing the architecture of the room. Pair with unique chairs to bring a new vibe into the room that is cool and offers a hint into your personality.
Is your sunroom your favorite part of your home? Share with us your ideas below.